Winter and the Weather Channel…
2006-12-05 08:16:08.000 – Jim Salge,  Observer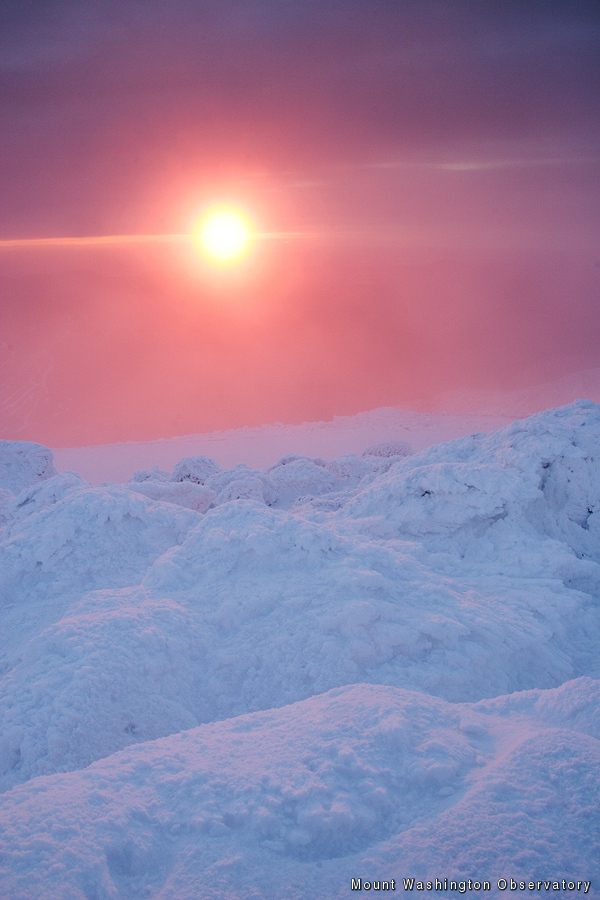 Cold Sunrise…
The summit shed its coat of fog early this morning, allowing the crew to survey the effects of the newly fallen snow on the peak. Bare ground has been transformed to large drifts, as six inches of snow combined with hurricane force winds overnight to sculpt the summit. The winds have actually transformed the snow itself, grinding yesterday's wonderful 5% density snow into drifts firm enough to walk atop.
Gazing upon the valley, you can't miss the lights of ski resorts lit up, most for the first time this season, as they continue snowmaking overnight. Temperatures this morning on the summit have fallen to -8F, with windchills around -40. Winter has truly returned.The picture above shows the summit at sunrise this morning, with the last wisps of fog leaving the peak. While the scene may look peaceful and serene, it was anything but. Time to get acclimated to the cold again!
The other news of the day of course was the Weather Channel's broadcast live from the base of the Mount Washington Auto Road last night. While the crew wasn't able to see the show as it aired, we have been able to see the videos this morning. The clips are now online, so if you missed it, so be sure to check them out by CLICKING HERE! It certainly gives some good insight into the Obsevatory's work as well as life on the rockpile. Additionally, you can see pictures from The Weather Channel visit by checking out the comments archive section.
Lastly, and on a side note, the retail and museum staff has worked hard before the holiday season to upgrade our online Weather Store and gift shop, and have added a lot of new items. All sales go directly to benefit the non-profit Mount Washington Observatory!
Jim Salge,  Observer
Ellen Estabrook
Adjusting to Life on the Summit By Charlie Peachey Working on the summit of Mount Washington is not your average job. There aren't too many other places where the employees work and live together for
Ellen Estabrook
A Surprise Aurora By Francis Tarasiewicz After 17 months of working at New England's highest peak, it finally happened. On the night of November 12th, 2023, I was lucky enough to view the famous and
Ellen Estabrook
A Glimpse at METAR Reports By Alexis George, Weather Observer & Meteorologist METAR observations are submitted every hour of every day at Mount Washington Observatory. METAR is a format for reporting weather information that gets