Winter returns
2009-06-01 05:25:04.000 – Mike Carmon,  Observer and Meteorologist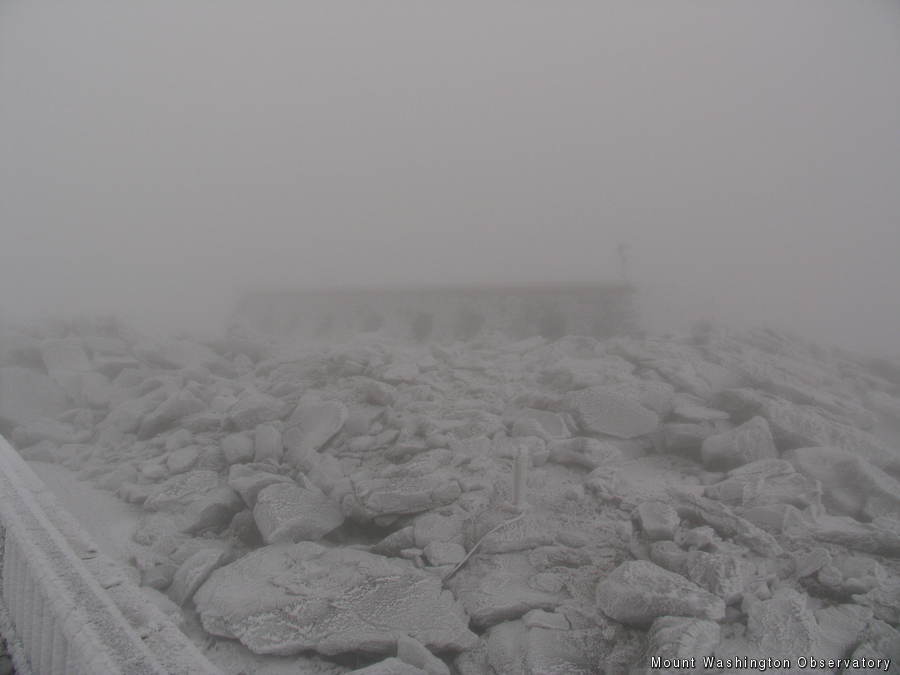 Winter Returns!
Stubborn is a word that comes to mind when I think of winter. The most cold and callous season of the year has decided once again to rear its stubborn head, making a (somewhat unwelcome) return to the summit yesterday. For most of this week, we had been enjoying temperatures in the 40s and experiencing weather more indicative of summer (wet and soupy fog, thunderstorms, hail, etc.). However, a nasty cold front blasted its way through yesterday, bringing about some dramatic changes.
At 4:45 p.m. EST yesterday, the temperature was a reasonable 33 degrees. By 6 p.m., the temperature had plummeted to a chilly 23 degrees. And finally, by 7 p.m. it had settled around 19 degrees.
Probably the most dynamic part about yesterday's weather was the precipitation. We witnessed almost every possible type in the course of an afternoon.
It all began around 9 a.m. with a little bit of light rain. Nothing too impressive, right? Well, then the rain mixed with a bit of small hail around 11:45 for a few minutes. Still not SUCH a big deal–we saw hail the day before. Then a thunderstorm came through around 1:30, along with more rain and hail showers. Ok, now it was getting interesting. After the thunderstorm passed and after a brief break in the action, some more rain and hail showers came along around 3:45 p.m. Then, it got pretty quiet, the fog became intermittent, and the sun came out for a while. It was definitely impressive, I thought, but nothing too crazy at this point. Well, I spoke too soon! The sun's emergence only acted to provide fuel for even more storms. All three observers and two interns stood in the weather room around 5 p.m. and watched as towering cumulus and cumulonimbus clouds (indicative of thunderstorms) developed all around us. The sun quickly became obscured by these foreboding monsters, and the radar revealed that in deed thunderstorms were firing to our north, and a line of storms was headed straight for us.
Sure enough, around 5:15 p.m., the impressive cloud mass engulfed the summit, giving us the impression of fog. Minutes later, ice pellets (sleet) began to fall from the sky, and winds jumped to near hurricane force. Then, around 5:30 p.m., the ice pellets mixed in with snow pellets, both of which lasted for a good half hour. This was all amidst that impressive temperature drop I alluded to earlier. It was quite a thing to witness, and we were scrambling to keep up with keeping track of all of the phenomena that occurred.
During the night, temperatures hovered around 18 degrees while fog continued to engulf the summit. As a result, rime ice has returned with a vengeance. All buildings, rocks, towers, instruments, windows, and surfaces are now coated with a healthy layer of this feathery rime ice. So if you decide to take a trip to the summit today, you will find it very different from the past few weeks. The wintry white aura abounds, which is ironic considering today, June 1st, is the first day of meteorological summer.
Mike Carmon,  Observer and Meteorologist
Ellen Estabrook
Adjusting to Life on the Summit By Charlie Peachey Working on the summit of Mount Washington is not your average job. There aren't too many other places where the employees work and live together for
Ellen Estabrook
A Surprise Aurora By Francis Tarasiewicz After 17 months of working at New England's highest peak, it finally happened. On the night of November 12th, 2023, I was lucky enough to view the famous and
Ellen Estabrook
A Glimpse at METAR Reports By Alexis George, Weather Observer & Meteorologist METAR observations are submitted every hour of every day at Mount Washington Observatory. METAR is a format for reporting weather information that gets