Winter Storm Wrap-Up
2012-01-13 00:37:13.000 – Mike Carmon,  Weather Observer/Meteorologist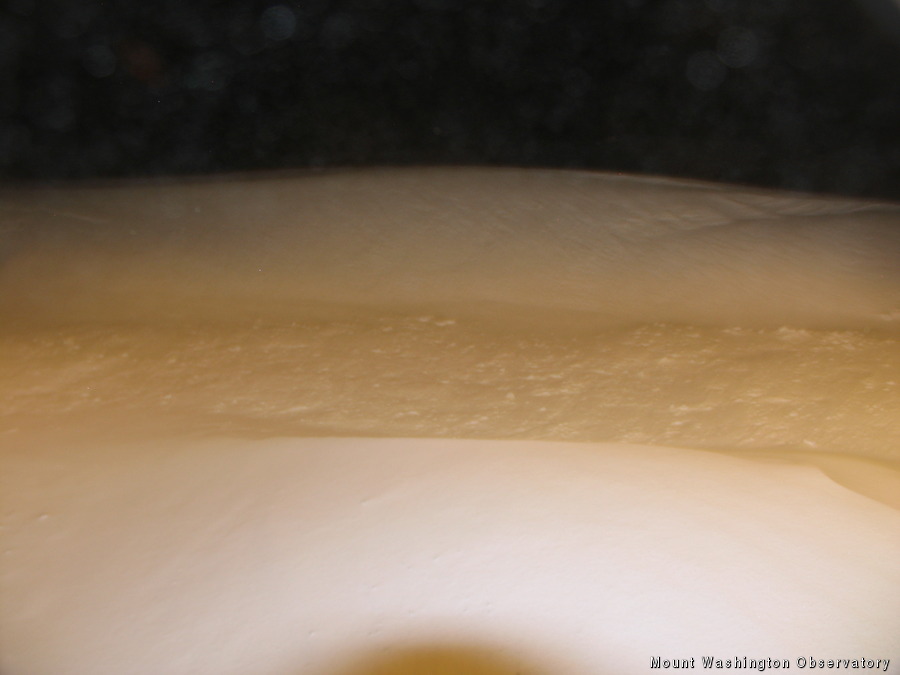 Thank You, SE winds.
Part one of the two-pronged winter storm has come to a conclusion, as the radar is currently clear throughout the state of New Hampshire.
A low pressure system brought snowfall to the region today as it raced along the New England coastline. Up here on the summit, we received an estimated 6.5′ of snow, with plenty of large drifts to go around thanks to accompanying winds ranging from 50-70 mph.
Some additional higher snowfall totals from around NH (inches):
Madison, NH: 8.5
Randolph, NH: 7.8
Laconia, NH: 7.0
Berlin, NH: 6.5
One night's break is all we receive, however, as another low pressure system along with a duo of cold fronts approaches tomorrow. Not nearly as much snow is expected out of the low, but the cold fronts will harbor the coldest temperatures of the winter season yet as they usher in a frigid arctic air mass. Models are suggesting lows on Sunday morning approaching a frosty 20 below F on the summit, which is only 6 degrees shy of the coldest temperature I've ever experienced in my three years here.
Worry not…we'll share the love with y'all in the valleys. Temps in the Conway area are forecasted to drop to around 10 below on Saturday night/Sunday morning, while locations further north will approach 20 below during this time period. In fact, many valley locations (especially those north of the Whites) could see temperatures bottoming out below our readings on the summit.
It appears as though winter has finally arrived, as no substantial warm ups are in the foreseeable future.
Mike Carmon,  Weather Observer/Meteorologist
Ellen Estabrook
Adjusting to Life on the Summit By Charlie Peachey Working on the summit of Mount Washington is not your average job. There aren't too many other places where the employees work and live together for
Ellen Estabrook
A Surprise Aurora By Francis Tarasiewicz After 17 months of working at New England's highest peak, it finally happened. On the night of November 12th, 2023, I was lucky enough to view the famous and
Ellen Estabrook
A Glimpse at METAR Reports By Alexis George, Weather Observer & Meteorologist METAR observations are submitted every hour of every day at Mount Washington Observatory. METAR is a format for reporting weather information that gets