100 – we finally got it!
2009-10-07 21:33:52.000 – Ryan Knapp,  Staff Meteorologist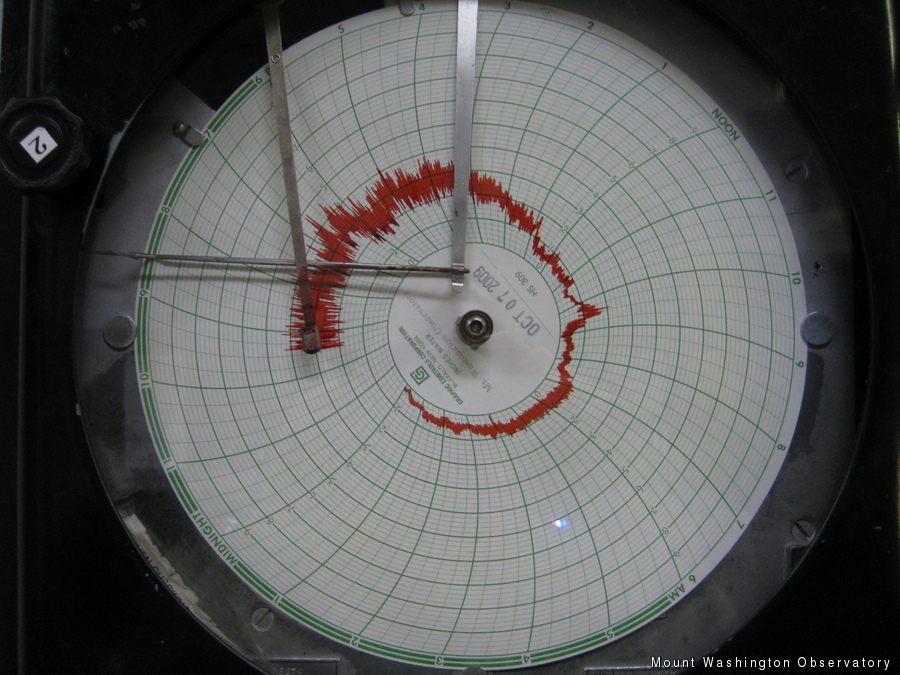 It had been 167 days since we saw a similar chart
167! No, I am not exclaiming that because we reached that wind speed. I am exclaiming that because that is the number of days that have passed since a wind gust over 100 mph passed over the summit. That is more than a third of the year and just shy of being over half the year without the sight of a wind over the century mark. That is a long time on the summit but sort of not that surprising. The summer months tend to be less windy than our winter months but I had no idea how long it had been until I looked back today that our last 100 mph gust occurred all the way back on April 23, 2009. A long time no doubt but something our two shifts were vying for.
When I left home this morning, I was eagerly waiting to return to the summit to see the snow and rime that has coated the summit since we departed on September 30th. The leaves are starting to fall at home and are peaking in the notch passing their prime at about 2500 feet. As we climbed the summit this morning past the vibrant colors of the north, past the remaining leaves at lower elevations, past tree-line and finally the rime line from the past night, it just felt right. And I won't lie, I was a bit jealous my last week off to see the summit getting its first inch of snow for what marks our usual start of the "winter months". In past comments, we have wrote about how there is a "good weather shift" and a "bad weather shift" and it seemed like before today, my shift had landed on the good weather shift. Warm temperatures, fog-less skies, and low winds are good weather for hikers this time of year but as a meteorologist, I wanted the bad weather marked by high winds, low visibility and ice pellet facial scrubs.
As I woke up this afternoon for my shift, the bad weather finally arrived as I was met by climbing winds, plenty of ice pellets and the high winds I had been wanting (we even had a thunderstorm earlier in the day). And as of this writing, we have reached 101 mph, the highest wind gust, like I said earlier, since April. So the other shift may have received the first snow of the season but my shift reached the century mark first this season. A bragging right that the other shift was hoping for so much that Stacey called this evening to tell me of her and her housemates jealousy. But just like fishing with my dad and his friends, there are three "prizes" to aim for: first, biggest, and most. So this season, we may have been "first" but biggest and most are still up for grabs. And with the summit averaging hurricane force winds (winds over 73 mph) one out of every two days in the winter and winds over 100 mph one out of every four days, it won't be until next summer that we know which shift claims the other two bragging rights for the year. So now we just have to play the waiting game…
Ryan Knapp,  Staff Meteorologist
Ellen Estabrook
Adjusting to Life on the Summit By Charlie Peachey Working on the summit of Mount Washington is not your average job. There aren't too many other places where the employees work and live together for
Ellen Estabrook
A Surprise Aurora By Francis Tarasiewicz After 17 months of working at New England's highest peak, it finally happened. On the night of November 12th, 2023, I was lucky enough to view the famous and
Ellen Estabrook
A Glimpse at METAR Reports By Alexis George, Weather Observer & Meteorologist METAR observations are submitted every hour of every day at Mount Washington Observatory. METAR is a format for reporting weather information that gets