A 50-Degree Swing
2016-11-17 14:02:52.000 – Mike Carmon, Senior Weather Observer & Education Specialist
Fall 2016 continues to be a chaotic one in New England, and another abrupt change is on the way—perhaps one of the most extreme of the season yet!
A strong ridge of high pressure centered over the southeastern United States will build into New England today through the weekend, bringing with it some extremely warm temperatures to the White Mountains region. Due to the very warm flow of air with this ridge, high temperatures on the summit of Mount Washington will be pushing 50°F tomorrow (Friday)! Considering our average daily temperature for November 18th is only 20°F, this is a significant daily anomaly. Our daily record for the day is 46°F, so we're certainly anticipating breaking that record tomorrow, with room to spare.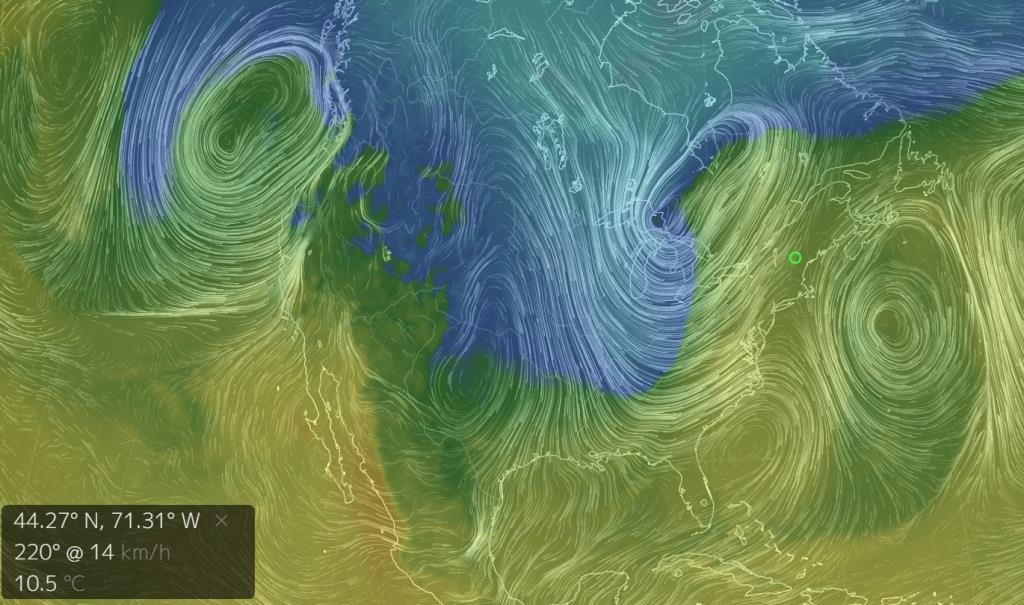 7AM Saturday 11/19 shows a strong warm flow in the lower-levels of the atmosphere. In the lower-left hand corner, note the forecasted wind direction & speed (SW at 8 mph) at Mount Washington's lat/lon, along with the forecasted temperature (51F).
With the sun continuing to shine and the air mass moderating over the eastern U.S., more warm temperatures are anticipated to kick off the weekend as well, with
50

°

F
in sight as a high temperature for a second consecutive day. Our record high as of right now for November 19
th
is even chillier-only
45

°

F
. This temperature peak is also looking quite vulnerable.
Our meager young snow pack will likely completely succumb to this noteworthy November warmth, giving the summit a more August-like appearance.
However, a brusque end to this November "heat wave" is very much in sight for later this weekend into early next week, as a dynamic cold front brings about some compelling changes to Mount Washington. A hasty metamorphosis from August to January conditions is in the forecast over a scant 48-hour period from Saturday night through Monday, with our first sub-zero (°F) readings of the season possible by Monday morning!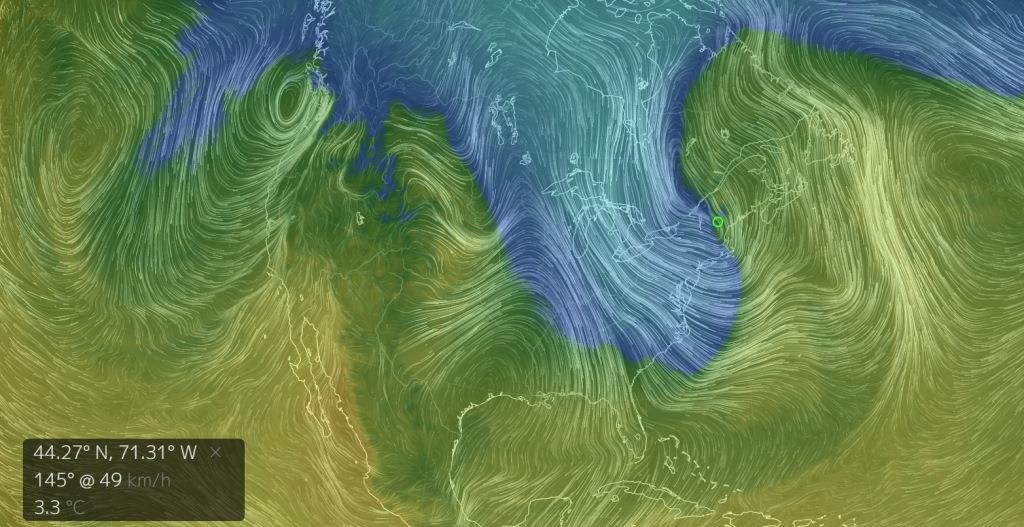 7AM Sunday: Note the sharp contrast in temperature nearly right over Mount Washington–that's the cold front. The anticipated winds at this time are out of the SE at 30 mph, with temperatures down in the upper 30s F.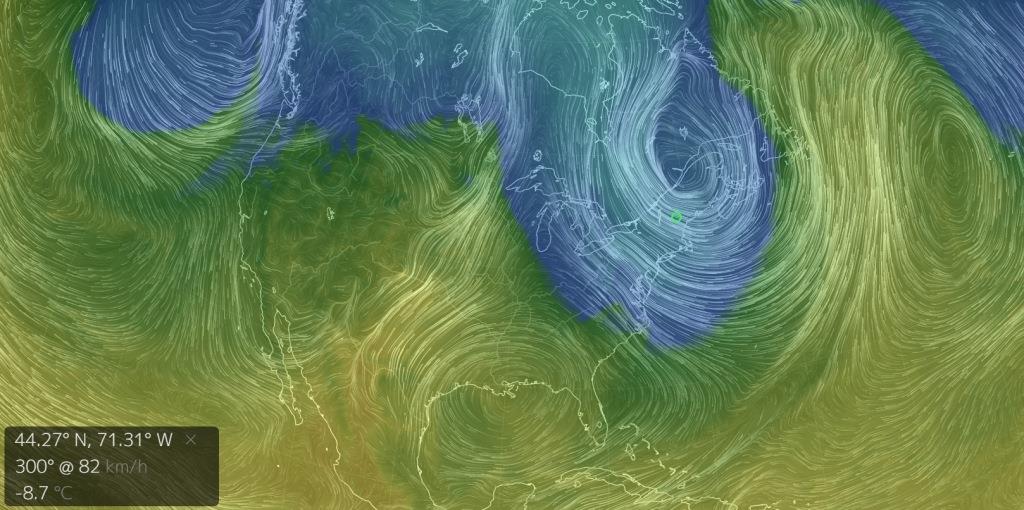 10PM Monday: Note how the cold flow into New England has taken over. Winds are now out of the NW at 50 mph, with temperatures down in the mid teens F.
That's the possibility of a
50

°

F
temperature swing in a 48-hour time frame. We're certain it'll take some ferocious winds to bring about that sort of transmutation!
And snow-lovers won't be disappointed either.
Note: All maps courtesy of earth.nullschool.net
Mike Carmon, Senior Weather Observer & Education Specialist
Ellen Estabrook
Adjusting to Life on the Summit By Charlie Peachey Working on the summit of Mount Washington is not your average job. There aren't too many other places where the employees work and live together for
Ellen Estabrook
A Surprise Aurora By Francis Tarasiewicz After 17 months of working at New England's highest peak, it finally happened. On the night of November 12th, 2023, I was lucky enough to view the famous and
Ellen Estabrook
A Glimpse at METAR Reports By Alexis George, Weather Observer & Meteorologist METAR observations are submitted every hour of every day at Mount Washington Observatory. METAR is a format for reporting weather information that gets