A little about the Sling Psychrometer
2011-09-18 18:24:01.000 – Roger Pushor,  Weather Observer/IT Specialist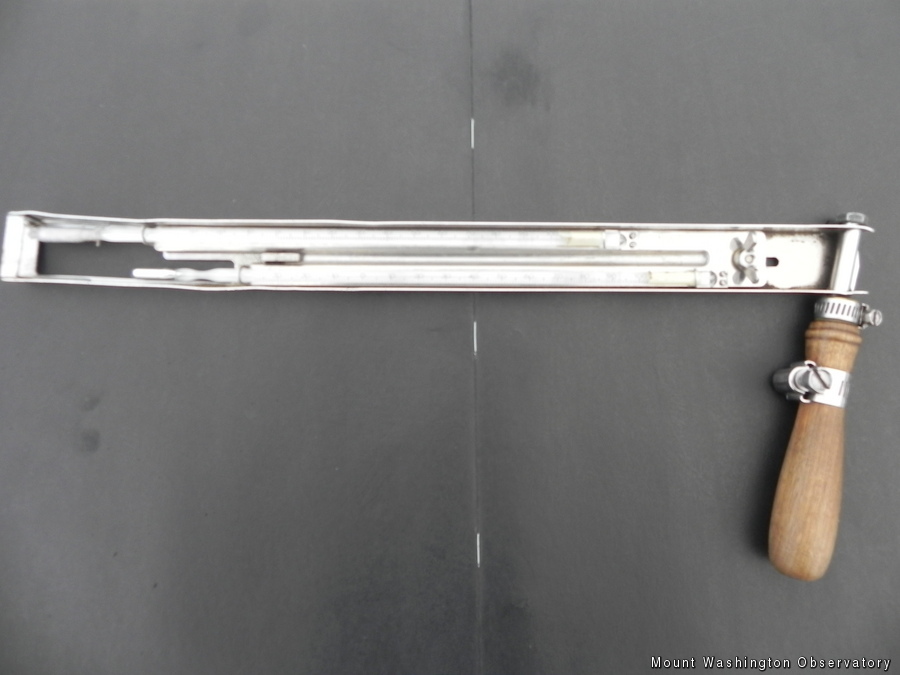 Sling Psychrometer
Invented in the late 1700s by James Hutton the Sling Psychrometer is used to measure the amount of water vapor or humidity in the air. The Sling Psychrometer has two thermometers. One thermometer is kept dry and is used to measure the ambient air temperature while the other thermometer is covered with a cotton wick which is wet with distilled water.
The instrument is "slung" in the air for several minutes so that air moves quickly over both thermometers causing the water to evaporate from the "wet bulb" thermometer thus lowering its temperature. This evaporative cooling is the same effect you feel when getting out of the shower. The lower the water content of the air the quicker the water evaporates from the "wet bulb" thus giving a lower temperature reading.
Once the dry bulb and wet bulb temperatures are known the dew point can be determined by looking it up on a chart. The Dew Point is the temperature at which water vapor starts to condense out of the air (the temperature at which air becomes completely saturated). Above this temperature the moisture will stay in the air. If the dew point temperature is close to the ambient air temperature the relative humidity is high however if the dew point is well below the ambient air temperature the relative humidity is low.
Roger Pushor,  Weather Observer/IT Specialist
Ellen Estabrook
Adjusting to Life on the Summit By Charlie Peachey Working on the summit of Mount Washington is not your average job. There aren't too many other places where the employees work and live together for
Ellen Estabrook
A Surprise Aurora By Francis Tarasiewicz After 17 months of working at New England's highest peak, it finally happened. On the night of November 12th, 2023, I was lucky enough to view the famous and
Ellen Estabrook
A Glimpse at METAR Reports By Alexis George, Weather Observer & Meteorologist METAR observations are submitted every hour of every day at Mount Washington Observatory. METAR is a format for reporting weather information that gets