A Little Bit of White Mountain Tornado History
2020-08-03 19:33:11.000 – Nate Iannuccillo, Weather Observer/Education Specialist
This past week, I spent some time researching tornadoes in preparation for a distance learning program on tornado development. Aside from learning some fun facts for the presentation, I got rather curious about tornado history in New Hampshire…
While Mt Washington isn't exactly known for its tornadic activity (to my knowledge there has never been an observed tornado on Mt Washington), but New Hampshire does average around a tornado a year, and tornadoes have been observed in every state in the US.
After exploring some of the historical tornadoes throughout the state, it seems that most of them occurred in the southern half of the state, which is no surprise considering the impeding effects the mountain terrain would have on the required vorticity.
I also learned about another F0 tornado that touched down on the south side of Pequawket Pond in Conway Village on June 23, 1965, and a little further south, Tamworth experienced two F1 tornadoes both in the month of August of 1972 and 1976. The 1972 tornado was 77 yards wide and tracked northwest from just east of Chocorua village to just north of Silver Lake. The 1976 Tamworth tornado touched down just north of the center of town with 5 reported injuries, the only injuries reported of the mentioned tornadoes.
For anyone in need of a refresh on the Fujita scale, the metric for classifying tornadoes is based on wind speed and its associated damage. The Fujita scale is named after the prominent Japanese American severe storms researcher Tetsuya Theodore Fujita.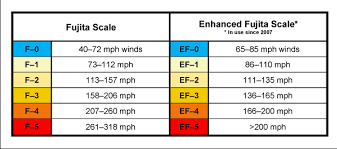 Also not too far away was the August 1969 F3 tornado that tracked up the Interstate 93 corridor from around Thornton to just south of Woodstock. An F3 tornado classifies a tornado as having wind speeds ranging from 158 to 206 mph, and I find it remarkable to think that while we experience winds of that magnitude every once in a while, tornadic events could potentially bring such violent winds to a fairly wide range of locations.
At the dinner table this evening, weather observer David Decou and I chatted about the idea of whether or not a tornado could touch down on Mount Washington. We both agreed that it is fairly unlikely, but not impossible. One of the common misconceptions about tornadogenesis is that tornadoes can't form over mountains because of the effect the mountain would have on the twister. This isn't exactly the case… The reason tornadoes don't often form over mountains has more to do with how they impede the convective and cyclonic development needed for tornadogenesis. Essentially, it often proves to be a bit of a scrambler for clouds that might ordinarily have conditions favorable for tornado development.
So I'm not sure that we'll ever see a tornado up here, but if it were to happen, we'll surely be keeping an eye out.
Nate Iannuccillo, Weather Observer/Education Specialist
Ellen Estabrook
Adjusting to Life on the Summit By Charlie Peachey Working on the summit of Mount Washington is not your average job. There aren't too many other places where the employees work and live together for
Ellen Estabrook
A Surprise Aurora By Francis Tarasiewicz After 17 months of working at New England's highest peak, it finally happened. On the night of November 12th, 2023, I was lucky enough to view the famous and
Ellen Estabrook
A Glimpse at METAR Reports By Alexis George, Weather Observer & Meteorologist METAR observations are submitted every hour of every day at Mount Washington Observatory. METAR is a format for reporting weather information that gets