A Look Back at the First Nor'easter of the Season
Nor'easters are named after the direction in which the strongest winds blow typically from the northeast. Nor'easters commonly form along the east coast of the U.S. and then progress northeastward, usually reaching maximum intensity near New England. As these storms attain maximum strength, they bring heavy rain or snow, strong winds, and the threat of coastal flooding to the northeast. This was the case this year as a late-winter nor'easter struck New England mid-March unleashing widespread, heavy snow and gusty winds upon the region.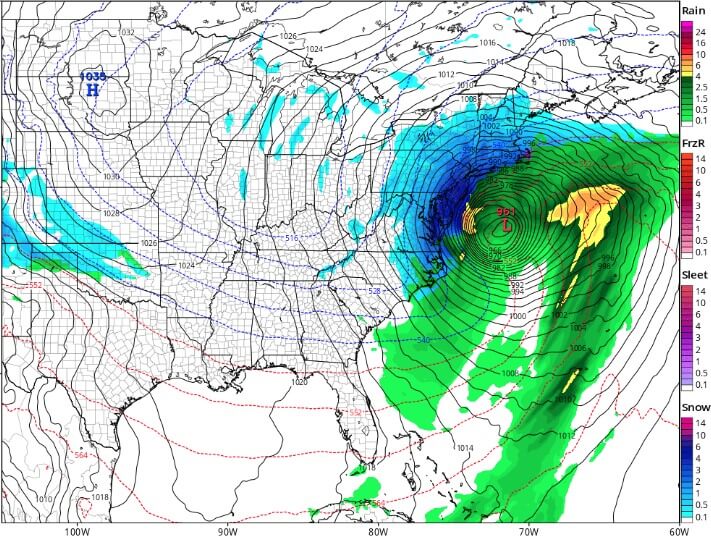 Early GFS forecast model depicting a significant coastal storm
that impacted the New England region mid-March
Image credit: weatherboy.com
This storm began impacting the region on the night of March 13th and continued pummeling northeastern states with heavy, wet snow along with strong winds throughout the day on March 14th. Enhanced development of intense snow led to a significant difference in snow totals over a short distance, with some totals ranging from a few inches to more than three feet. Here are just a few of the highest snow totals reported from this storm:
• Beacon, N.Y. – 43 inches
• Landgrove, VT – 40 inches
• Marlborough, NH – 37 inches
• Colrain, Mass. – 36 inches
• Peterborough, NH – 35 inches
• Acton, Maine – 22 inches
In comparison, locations at higher terrain like Mount Washington measured 7.6 inches of snow, 32 inches at Pinkham Notch and 14 inches at Monadnock on March 14th.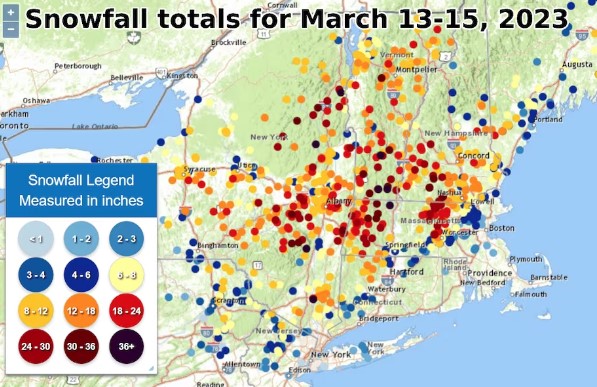 Snowfall totals across northeast states from the March 2023 snowstorm
(Image credit: National Weather Service)
This storm also produced high winds in addition to heavy snow, with many areas at lower elevations having experienced wind gusts around 50 mph. This storm left a major impact as the combination of heavy snow and strong winds then downed trees and power lines, causing tens of thousands of people to lose power for days. Strong winds even created blowing snow and drifting snow at all elevations. While we commonly observe blowing snow at Mount Washington, drifting snow reduced visibility enough that shift change did not occur on March 15th and our crew stayed up at the summit an extra day.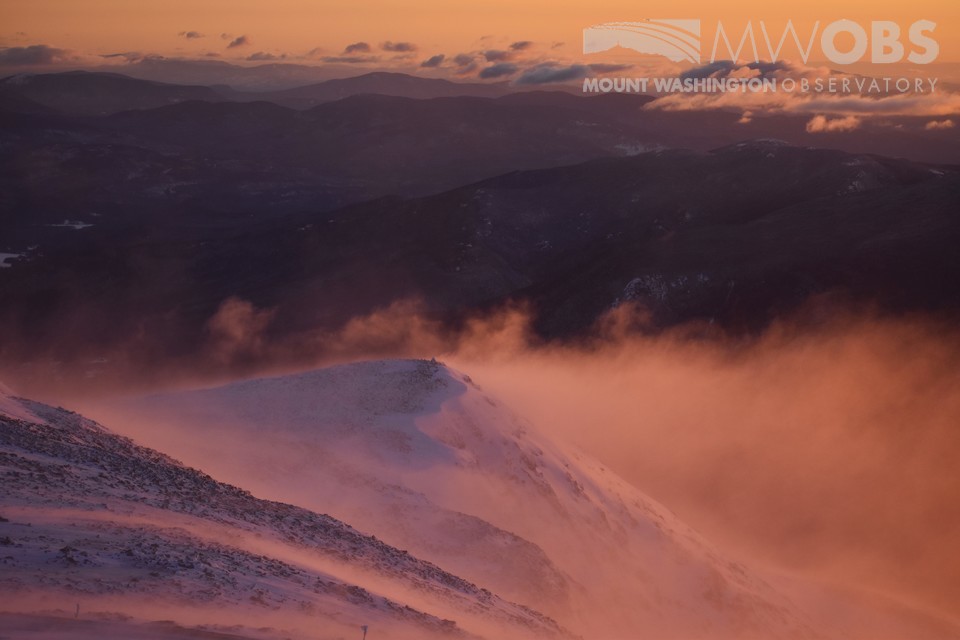 Blowing snow coming off of Nelson Crag as clouds finally cleared on the morning of March 16th
While it may seem odd that the first nor'easter of this winter hit late this season, these storms can occur at anytime of the year and frequently form between September and April. Nor'easters are usually more severe during the winter season for the Northeastern United States because these storms thrive on converging air masses. As a cold arctic airmass interacts with warmer air over the Atlantic Ocean and a nor'easter forms, the greater the difference in temperature between these air masses can produce a more severe nor'easter. Some well known nor'easters that occurred during the winter season include the Blizzard of 1888, the New England Blizzard of February 1978 or the famous 100-hour New England Snowstorm of 1969.
Allow me to set the stage for the February 22-28th snowstorm of 1969. This storm is deemed as the famous "100-Hour storm" because heavy snow fell across parts of the northeast relentlessly from February 24-28th as a strong nor'easter stalled off the New England coast. By the end of this storm, the heaviest of snow fell across northern New England southward and over parts of eastern Massachusetts and into Rhode Island.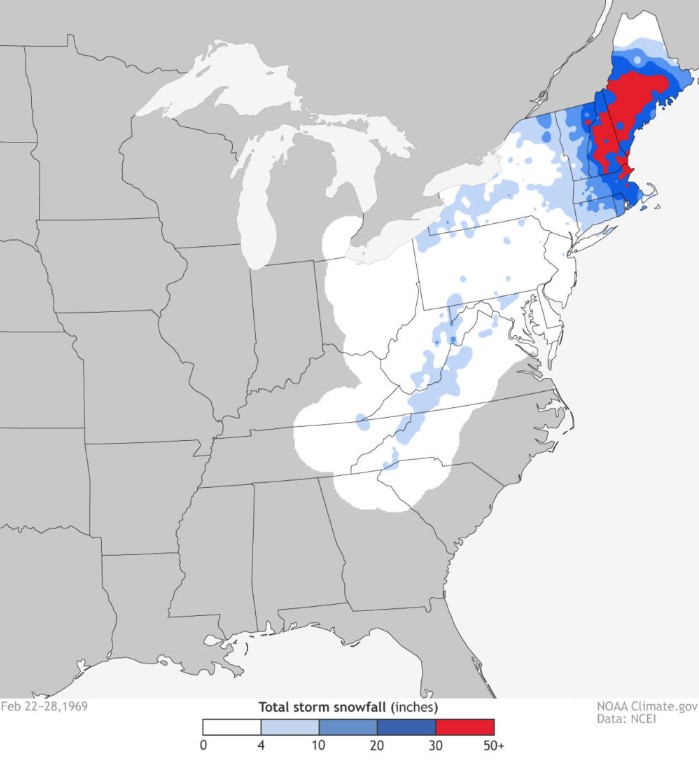 Meanwhile, a one day snowfall record was set with 49.3 inches of snow falling at Mount Washington on February 25th, 1969. Mount Washington measured 97.8 inches of snowfall fall from February 24-27th and received a whopping 172.8 inches of snow in total for month of February in 1969!
Alexis George, Weather Observer & Meteorologist
Ellen Estabrook
Adjusting to Life on the Summit By Charlie Peachey Working on the summit of Mount Washington is not your average job. There aren't too many other places where the employees work and live together for
Ellen Estabrook
A Surprise Aurora By Francis Tarasiewicz After 17 months of working at New England's highest peak, it finally happened. On the night of November 12th, 2023, I was lucky enough to view the famous and
Ellen Estabrook
A Glimpse at METAR Reports By Alexis George, Weather Observer & Meteorologist METAR observations are submitted every hour of every day at Mount Washington Observatory. METAR is a format for reporting weather information that gets