A Once In a Lifetime Experience
2019-01-14 10:05:41.000 – Stephen Durham, Summit Intern
When I was younger in middle school, I visited New Hampshire for the first time back around Thanksgiving of 2006, my family drove near Mount Washington for the first time ever and fell in love with the mountains and the sights. My dad showed me videos of what it was like up and seeing videos on the television of how extreme it can get. I wished to get the chance to be up there one day. In January of 2014 I visited Plymouth State University just about an hour away, and found out about a winter internship opportunity at the Mount Washington Observatory. Between that and a great meteorology program, I knew I had a chance to fulfill a dream.
I waited until my junior year of college to apply for the internship, since I knew it only took juniors or senior students mostly. I wasn't able to get it the first time around. The second time around was key and is the proper way of sending me off into the future of meteorology. Knowing Id get to spend two weeks in some of the worst weather conditions possible in the world, I was ready and couldn't wait for the day to come.
Since I was little: wild, bizarre, and brutal winter weather has been my favorite growing up in the Hudson Valley of New York. Blizzards and nor'easters are easily my favorite weather events to happen. Leading up to my internship I kept watching the weather and the pattern setting up to hopefully get a chance at a snowstorm and get some hurricane force winds while being at the Mount Washington Observatory. The pattern seemed a little tranquil at first, but things began to shape up in my favor.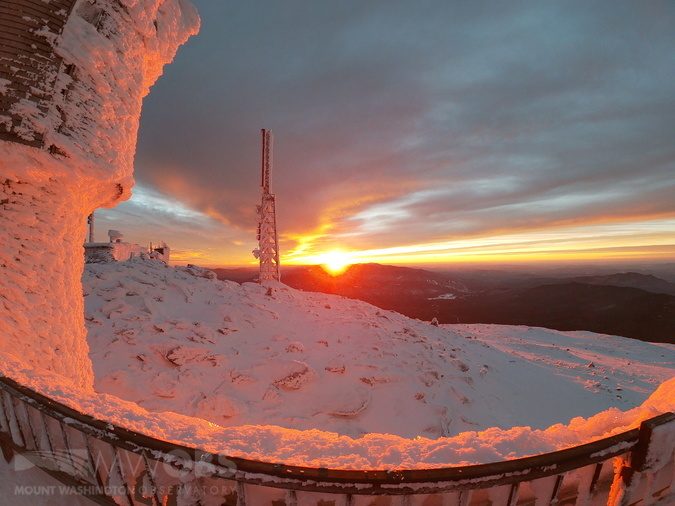 It seemed perfect the beginning of my internship, my first day up would be the "calm before the storm" as it was a picturesque day at the base of the Mt. Washington Auto road to load up on the snow cat to get set for the shift change. The following day had snow in the forecast, so I was already giddy with excitement. The ride up the auto road was beautiful as the Atlantic Ocean could be seen while riding up, and the views were just breathtaking and there was so much to take in at once.
When we got to the summit, it was hard to believe I was up there, especially in January, the best time to be up on a mountain. There was visibility of 130 plus miles. Going to bed that first night was hard as I knew snow was coming and I wanted to see what it was like up there with the snow and wind. I woke up around 4:30 AM and was ready and excited. When I went up to the parapet with moderate to heavy snow and winds up to 70 mph, I felt like I was dreaming. It had me pumped up and excited to be feeling snow hitting me like tiny stones at a high rate of speed, even if it made my face a bit chilly. The observers said I haven't seen anything yet as winds were about average and that I should wait until we get over 90 mph and over 100 to see what that is like. I wondered then if I'd get the chance of getting over the century mark for winds.
That opportunity would come over the first weekend, and it put me at another level of excitement. Nothing is like 100+ mph wind gusts ripping across the deck or over the tower while deicing instruments. The pure force of nature made me feel like a child in a candy store. And then later in the week we got a bigger storm that brought in winds gusting over 110+ mph and those winds were just unbelievable. We got around 20" during a two-day span of synoptic snow and a good upsloping snow event. We even got VERTICAL snow to start the synoptic event as winds were calm and tranquil.
The sunrises and sunsets were unbelievable and hard to put into words what they are like. The beautiful glow off the top of the White Mountains after some fresh snow and rime ice. Mother Nature is a beautiful and powerful thing and is often underestimated.
While up here at the Mount Washington Observatory, it was awesome working with both shifts and learning the processes of what goes through forecasting and managing the observatory. Between educational trips spending overnights here at the summit to helping with Facebook lives, it was a fun experience and I feel I have learned some valuable skills in the 2 weeks I have been here at Mount Washington. It was a once in a lifetime opportunity that I will remember forever and hope I can come back again to experience more thrilling and extreme weather here at the Mount Washington Observatory.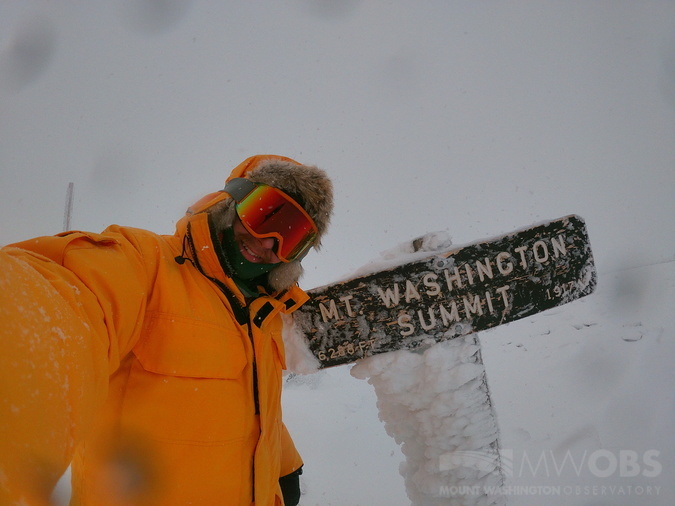 Stephen Durham, Summit Intern
Ellen Estabrook
Adjusting to Life on the Summit By Charlie Peachey Working on the summit of Mount Washington is not your average job. There aren't too many other places where the employees work and live together for
Ellen Estabrook
A Surprise Aurora By Francis Tarasiewicz After 17 months of working at New England's highest peak, it finally happened. On the night of November 12th, 2023, I was lucky enough to view the famous and
Ellen Estabrook
A Glimpse at METAR Reports By Alexis George, Weather Observer & Meteorologist METAR observations are submitted every hour of every day at Mount Washington Observatory. METAR is a format for reporting weather information that gets