A Week on the Summit
2015-04-22 15:52:25.000 – Barbara Marino, Summit Volunteer
Where did the week go? When I arrived the volunteers from last shift kept me company till they were ready to go down. Thanks to John Donavan and Gates Ingram for leaving the living quarters in great shape and even leaving dessert for the evening. Once they were gone it was time to figure out dinner and my shift began!
This is my third time as a volunteer on the mountain, and it never gets old. Baking, cooking, and planning meals is oddly satisfying for someone who never cooks at home. (Have you seen the pantry and kitchen up here? You just can't fail!). And every day there is time to be outside to meet hikers or just enjoy the weather. Hi to Amanda and her 2 intrepid buddies who had climbed up Pinnacle Gully and then came the rest of the way to watch the sunset from the top, and recharge before heading down. Sunday was gorgeous: they couldn't have had a better day for the adventure. They were raiding John's supply of candy and still excited from the ice in the Gully. After visiting with me for a while, they headed down Lion's Head for a nighttime hike out. I heard that people saw them coming down around 9pm, so they made it ok. I'll bet they didn't want to go to work the next day!
Right now the weather is foggy, with low visibility; and the ice that formed yesterday is breaking off the building and falling on the external part of the hood vent. Sounds like it will come right into the kitchen onto the range. Earlier this week the wind was howling out of the SSE and coming right down the hood vent. Dropped the temperature in the living quarters pretty dramatically until we blocked the vent. And we've had rime ice…gorgeous stuff and a treat I didn't expect to see in April. The highlight of the weather week was the thundersnow. Pretty exciting storm to watch and to hear, snug and safe inside the observatory.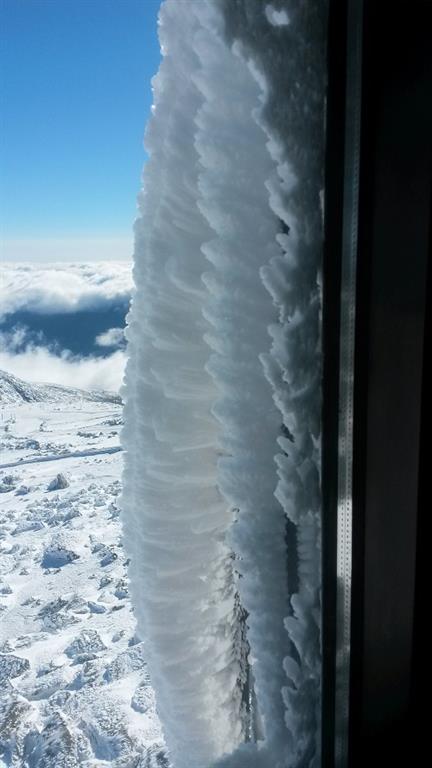 Other highlights: Kyle's meatloaf recipe (think a loaf of ground pork, beef, cheddar crackers, hot sauce, eggs, and cheese wrapped in bacon) was weirdly colored but surprisingly good; Tom finally got up in time to get a breakfast sandwich; Adam had enough hot sauce with every meal to get an ulcer; and Mike led the shift like a pro, including making the executive decision related to spoiled sausage. Ed joined the shift late and was a trooper. Thanks guys for making me feel welcome.
So the guys just came through looking for afternoon coffee and snacks. There are dinner rolls rising, and lots of leftovers for dinner. Tomorrow we head down, and I'll turn over the kitchen to the next lucky volunteer. Where did the week go?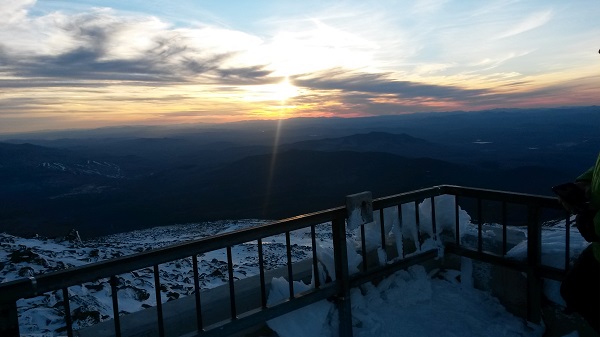 Barbara Marino, Summit Volunteer
Ellen Estabrook
Adjusting to Life on the Summit By Charlie Peachey Working on the summit of Mount Washington is not your average job. There aren't too many other places where the employees work and live together for
Ellen Estabrook
A Surprise Aurora By Francis Tarasiewicz After 17 months of working at New England's highest peak, it finally happened. On the night of November 12th, 2023, I was lucky enough to view the famous and
Ellen Estabrook
A Glimpse at METAR Reports By Alexis George, Weather Observer & Meteorologist METAR observations are submitted every hour of every day at Mount Washington Observatory. METAR is a format for reporting weather information that gets