A Wonderful Week!
2016-06-15 08:33:40.000 – Linda Bliss, Summit Volunteer
My first volunteer experience at the Mount is coming to an end. I have met and enjoyed the company of a bright, friendly and engaging staff who welcomed me into the Observatory family. Ryan, Tom, the two Mikes, Meredith, Chris, Tim and A.J. quickly made me feel at home. Marty, the Observatory cat has become my buddy. He will often sit under my chair when I am using my computer, or sit still while I scratch his head.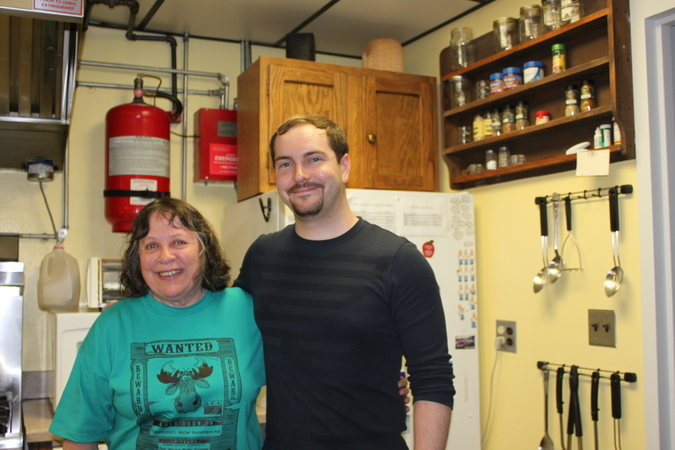 Arline and Tom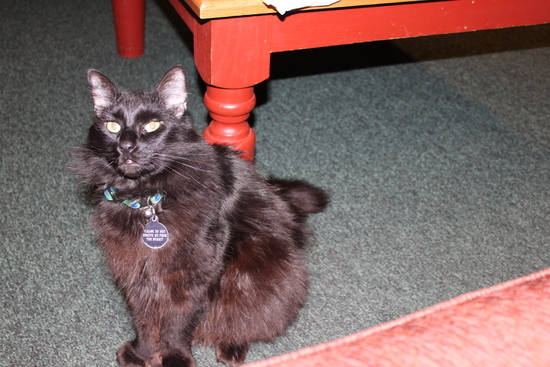 Marty the cat
The weather has been as unpredictable as I expected, with winds gusting to 100 mph, snow, rain, poor visibility, and beautiful rime ice. The view on a clear day was spectacular.
Mike Pelchat, a long time employee of the NH Park Service, safely escorted Arline and me to the Tip Top House during 60+ mph winds. The House is undergoing renovations in keeping with the original Tip Top House Hotel that was built in 1853.
Tip-Top House after a fresh snow
Cooking at the 6200 foot high Summit has been a learning experience, and the staff has been very appreciative of the meals we have served. It has been fun preparing meals for such a great group.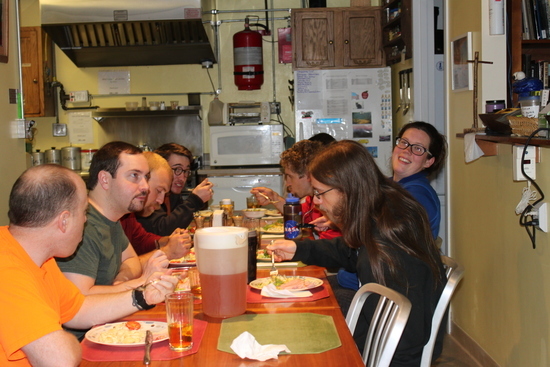 The shift enjoying dinner
The opportunity to spend a week working with and visiting with my younger sister Arline has been the icing on the cake. We live a distance apart now, and do not see each other as often as in the past.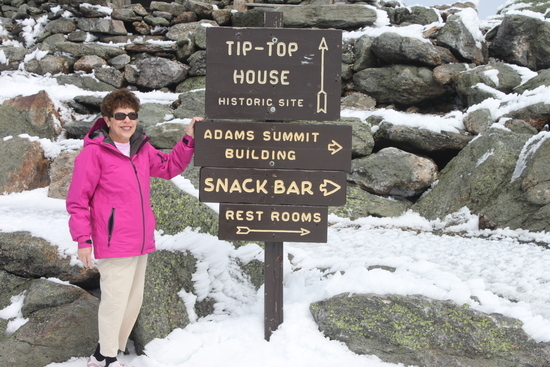 Again, thank you to all of the wonderful people who do such a great job tracking the weather. It has been a week that I will not soon forget.
Linda Bliss, Summit Volunteer
Ellen Estabrook
Adjusting to Life on the Summit By Charlie Peachey Working on the summit of Mount Washington is not your average job. There aren't too many other places where the employees work and live together for
Ellen Estabrook
A Surprise Aurora By Francis Tarasiewicz After 17 months of working at New England's highest peak, it finally happened. On the night of November 12th, 2023, I was lucky enough to view the famous and
Ellen Estabrook
A Glimpse at METAR Reports By Alexis George, Weather Observer & Meteorologist METAR observations are submitted every hour of every day at Mount Washington Observatory. METAR is a format for reporting weather information that gets