A Year's Worth of Snow In Review
2018-07-01 16:35:30.000 – Simon Wachholz, Summit Intern
At Mount Washington (and other weather sites) the conclusion of June marks the end of our yearly weather season. This is to encompass a complete winter, instead of splitting the winter up at the end of the calendar year. This means that yesterday was the end of the 2017-2018 snow season, and that starting today any snow (or sleet or hail) will count towards the 2018-19 winter season.
Rapidly changing weather is something you should expect at the summit of Mount Washington, and this past year was no exception. The year's highest temperature of 67 happened in September. September 2017 ended up being 5 degrees above average and was even warmer than August, the first time this occurred since 1999. Winter 2018 was especially volatile for the summit. While over 80 inches of snow fell in December less than 30 inches fell in January. Daily temperature swings greater than 40 degrees occurred on 4 occasions, with two days where highs rose above freezing and lows dropped below 0. Additionally, February 2018 saw some record wintertime heat. Temperatures climbed to 48°F on the 21st, tying the all-time record high for meteorological winter (defined as the months of December, January, and February).
Winter made a comeback in March and ended up being colder and snowier than February. 68.6 inches of snow fell in March with a peak depth of 23". Snowy conditions continued well into April with another 68.9" of snow falling – most of which fell in the second half of the month. While April ended up being the summit's 7th snowiest April on record, things turned around quickly in May with no accumulating snowfall after the 0.1" on May 1st, making it the summit's 3rd least snowy May on record. Conditions once again flipped in June; 0.8" of snow fell on June 5th, making it the first time since 1998 that more snow fell in June than in May. I suppose it's not surprising that the weather pattern is once again changing as we head into July with record warmth in the upper 60s and lower 70s possible throughout the upcoming week!
Some quick 2017-18 stats:
Average annual temperature: 28.5 degrees (1.2 degrees above average)
Total Liquid Equivalent Precipitation: 88.56" (8.31 inches below average)
Total Snowfall: 345.1" (63.9" above average)
Average Wind speed: 36.2 mph (1.2 mph above average)
Quite an interesting combination if you think about it – while the 2017-18 season was drier and warmer than average, it was also snowier than average. Unfortunately as a summer intern, I missed out on 99.768% of the season's snow (yes, that's the actual percentage; I did the math). However, I did still get a chance to build a June snowman, and at least was able to see snow in July (today) thanks to the Jefferson snowfield that is just barely hanging on!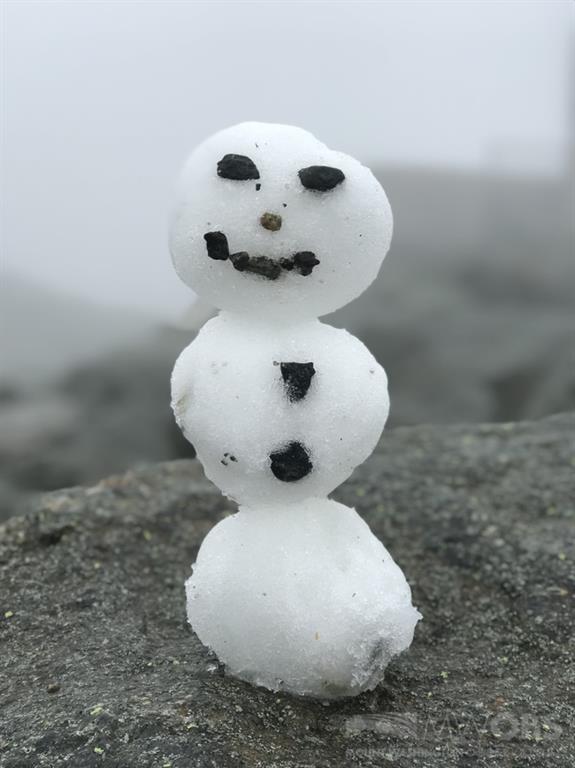 Snowman I built after our June snowfall.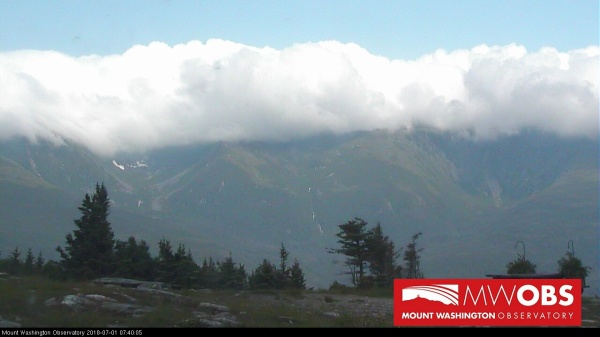 Webcam image from this morning of the last remaining snow in Tuckerman's Ravine
Simon Wachholz, Summit Intern
Ellen Estabrook
Adjusting to Life on the Summit By Charlie Peachey Working on the summit of Mount Washington is not your average job. There aren't too many other places where the employees work and live together for
Ellen Estabrook
A Surprise Aurora By Francis Tarasiewicz After 17 months of working at New England's highest peak, it finally happened. On the night of November 12th, 2023, I was lucky enough to view the famous and
Ellen Estabrook
A Glimpse at METAR Reports By Alexis George, Weather Observer & Meteorologist METAR observations are submitted every hour of every day at Mount Washington Observatory. METAR is a format for reporting weather information that gets