An Amazing Mountain
2011-05-27 17:17:34.000 – Brian Clark,  Observer and Meteorologist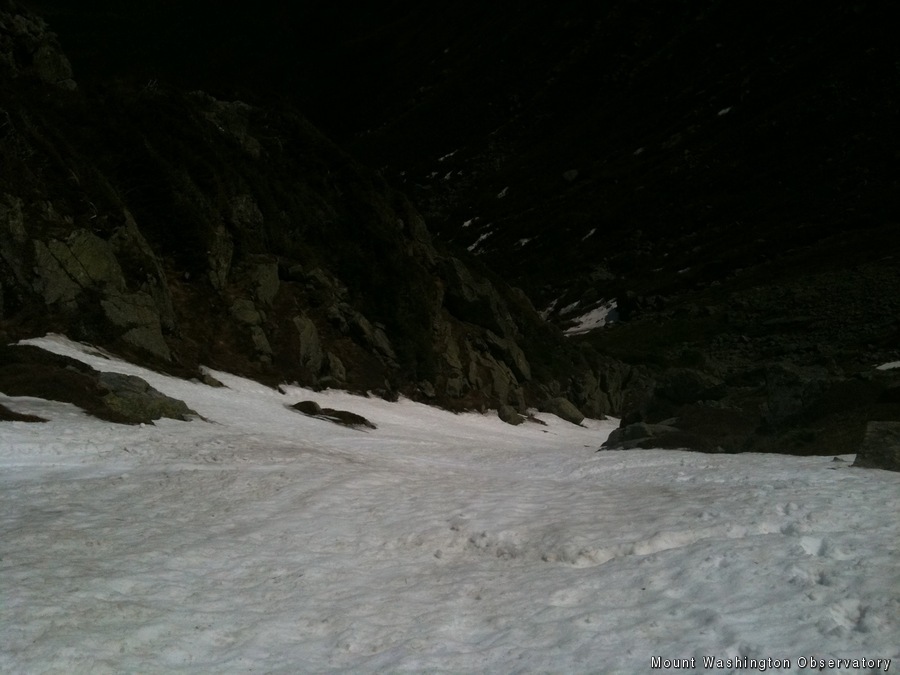 Still some snow left out there
There are certain things about this mountain that never cease to amaze me, and I was reminded of several of those things today.
First, there's the unpredictability of the weather. Now, I think that Ryan, Mike Carmon, and the rest of us that forecast for the mountain's weather do a great job. A few years back, a couple of our interns completed projects that looked at the accuracy of various aspects of our Higher Summits Outlook. The results showed that our forecasts were roughly 70% accurate on the whole. That percentage is pretty darn good for anywhere, much less a place like Mount Washington. Of course, there is the other (roughly) 30%, and today would fall into that category. All signs pointed to a 'mostly in the clouds' kind of day, but instead it ended up being mostly in the clear!
Second and third (they're related), it never ceases to amaze me how much snow drifts into some of the gullies and snowfields on the mountain, and how quickly that snow can melt if the weather is just 'right'. Over the last two weeks, we have seen a lot of fog, rain, drizzle, and unseasonably warm temperatures. Any one of these on their own will act to melt quite a bit of snow, but all of them together melts an incredible amount of snow. As an example, check out this picture of a particular gully and ski run on the Great Gulf Headwall, taken on May 13. Now look at this picture, taken today, exactly two weeks later. Some parts of this gully lost as much as 10 or 20 feet of snow in the matter of 2 weeks!
Luckily, one last thing that never ceases to amaze me is how some places on the mountain will hold snow better so much better than another place that might only be a short distance away. The thumbnail picture attached to this comment is a great example. That picture shows Airplane Gully, on the Great Gulf Headwall. It is only a few tenths of a mile away from the other gully that I showed you pictures of, yet it still has skiable snow down nearly the entire headwall.
I thoroughly enjoyed that snow for a short time today as I took advantage of the unexpectedly nice weather to get what will probably end up being my last ski turns of the 2010-2011 ski season. The snow was perfect and the weather was too. I can't think of a better way to close the book on another great ski season!
Brian Clark,  Observer and Meteorologist
Ellen Estabrook
Adjusting to Life on the Summit By Charlie Peachey Working on the summit of Mount Washington is not your average job. There aren't too many other places where the employees work and live together for
Ellen Estabrook
A Surprise Aurora By Francis Tarasiewicz After 17 months of working at New England's highest peak, it finally happened. On the night of November 12th, 2023, I was lucky enough to view the famous and
Ellen Estabrook
A Glimpse at METAR Reports By Alexis George, Weather Observer & Meteorologist METAR observations are submitted every hour of every day at Mount Washington Observatory. METAR is a format for reporting weather information that gets