An Incredible Experience
2016-01-23 16:21:36.000 – Kyle Clauss, Digital News Writer, Boston Magazine
I don't think I've ever met a group of people prouder of the awful weather they endure for eight days at a time than the folks who live and work in the Mt. Washington Observatory. But as relentless as the winds are, and as troublesome the ubiquitous rime ice is for their instruments, the weather yields some of the most breathtaking views of New England, New York, and, albeit faintly, Canada.
A snowcat whisks you—"whisk" might be too strong a word for a 60,000 lb. vehicle with tank treads of angled metal slats–to the summit 6,288 feet up, making periodic stops along the Mt. Washington Auto Road to allow for proper appreciation of the subtle (and less than subtle) changes with every thousand or so feet. The gnarled, bonsai-like pines at 4,000 feet have this otherworldly verdancy, while the scene at 6,000 feet is like something plucked from the Battle of Hoth in The Empire Strikes Back.
The Observatory itself, despite all the state-of-the-art technology and brilliant meteorologists buzzing around charting weather patterns and twirling sling psychrometers, still has all the warmness and woodwork of your favorite ski lodge. Coffee is immediately served upon arrival (thank goodness), and before long, you forget the extraordinary circumstances in which you find yourself and start to feel at home—that is, until you see the panoramic views from the rotunda again.
Around sunset, the observers took us up to the parapet, the highest point in the observatory, and I didn't fully realize until afterward that, in that moment, there was no one higher than me in the entire Northeast. The sun sinking down beneath the horizon ahead, and the full moon ascending at my back, growing brighter as it inched up skyward, was the most beautiful thing I had ever seen, and it's something I'll always carry with me.
Admittedly, I was less than thrilled to spend a weekend at a place that prides itself in a record-setting 231 mile-per-hour wind gust that rolled through more than 80 years ago. But as I descended the mountain with a head full of memories and a newfound appreciation for the boundless power of nature and the beauty wrought from it, I couldn't recommend it more.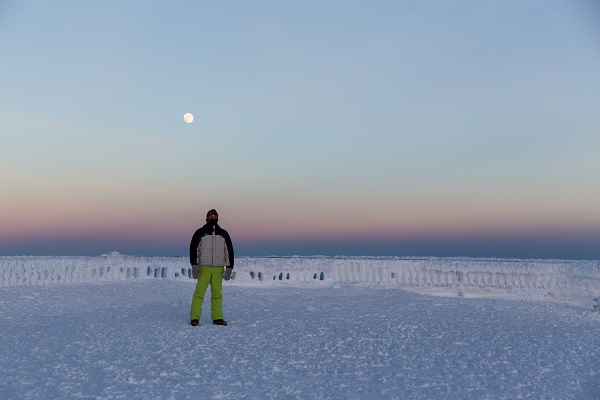 Kyle Clauss, Digital News Writer, Boston Magazine
Ellen Estabrook
Adjusting to Life on the Summit By Charlie Peachey Working on the summit of Mount Washington is not your average job. There aren't too many other places where the employees work and live together for
Ellen Estabrook
A Surprise Aurora By Francis Tarasiewicz After 17 months of working at New England's highest peak, it finally happened. On the night of November 12th, 2023, I was lucky enough to view the famous and
Ellen Estabrook
A Glimpse at METAR Reports By Alexis George, Weather Observer & Meteorologist METAR observations are submitted every hour of every day at Mount Washington Observatory. METAR is a format for reporting weather information that gets