Another day in the office with the best views in the Northeast
2011-10-28 18:00:25.000 – Roger Pushor,  Weather Observer/IT Specialist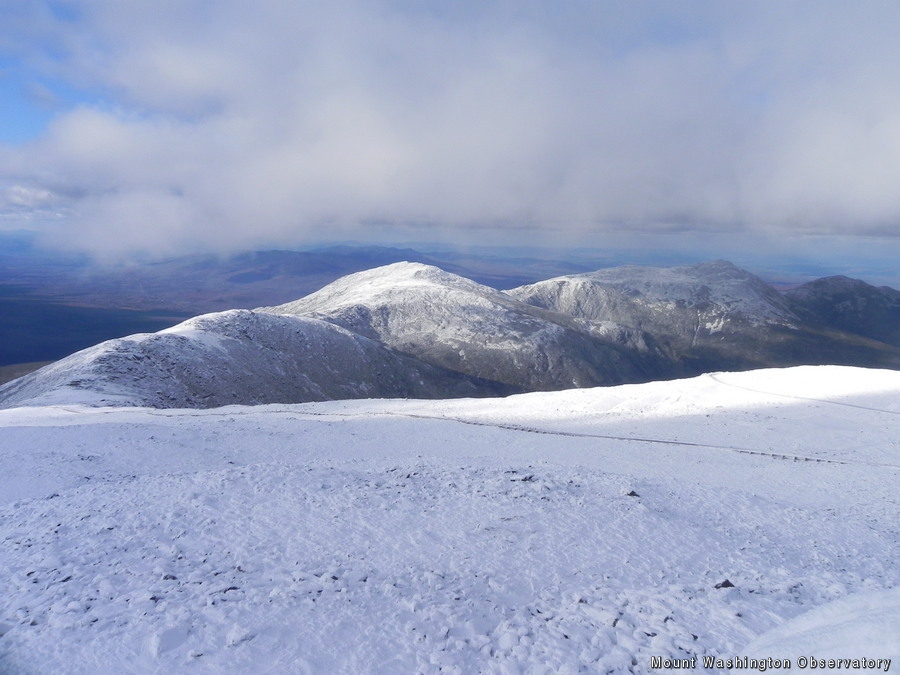 View of the Northern Presidentials from the office
A few inches of snow and rime ice are now covering the Summit and the Northern Presidentials making for spectacular views now that the clouds have lifted. As I write this its six degrees outside with the winds blowing from the West at 44 miles per hour making for some subzero Wind Chills. The air is clear with 100 miles of visibility and the sun is starting to set low in the Western sky. As an IT professional I can't think of a place that would provide a nicer view from the office window than this one. A quick walk up one flight of stairs and out onto the Observation Deck provides a beautiful view of Wildcat with its slopes showing the first snow of the season.
The talk around the office today has been of the news that Killington and Sunday River will be opening this weekend for the first skiing of the year. Brian brought his skis with him this shift and is hoping to get his first runs in sometime over the weekend. With four to six inches of snow predicted for the weekend the question arises will shift change Wednesday include the first ride of the season in the Snow Tractor from the Summit to half way or will the 4WD van with chains be all that's needed?
Our two volunteers for the week, Judy and Marylou have been cooking up a storm downstairs in the kitchen with not only dinner but fresh baked homemade pizza for lunch the last two days along with some breads and cookies for snacks. If you think you might like to spend a week on the Summit as a volunteer check out the opportunities here: Volunteering at Mount Washington Observatory
If you want to check out the conditions at the Summit for yourself the Cog still has a few trains scheduled dependent on weather conditions of course and The Mount Washington Museum is still open for self-guided tours.
Roger Pushor,  Weather Observer/IT Specialist
Ellen Estabrook
Adjusting to Life on the Summit By Charlie Peachey Working on the summit of Mount Washington is not your average job. There aren't too many other places where the employees work and live together for
Ellen Estabrook
A Surprise Aurora By Francis Tarasiewicz After 17 months of working at New England's highest peak, it finally happened. On the night of November 12th, 2023, I was lucky enough to view the famous and
Ellen Estabrook
A Glimpse at METAR Reports By Alexis George, Weather Observer & Meteorologist METAR observations are submitted every hour of every day at Mount Washington Observatory. METAR is a format for reporting weather information that gets