Baby, It's (Going To Be) Cold Outside
2016-12-13 22:10:28.000 – Ryan Knapp, Weather Observer/Staff Meteorologist
A broad upper level low centered near the Hudson Bay will slowly be creeping east over the coming days swinging a trough deep across the eastern half of the US. This will result in cold air from the arctic pouring down over the lower 48 plunging the mercury in the coming days.There are several other factors involved but this isn't a forecast discussion and this comment is to address two questions – one we are already getting and one that is sure to come about when the cold air arrives – what are the record lows for this time frame and what will be the windchill?
As I write this Tuesday evening, we are experiencing temperatures around 10F (above), the warmest temperatures we will have until the weekend. After this point, temperatures will be in a freefall until Friday. During the coldest period, surface models so far are bouncing in the 25F below to 30F below range. Looking at model soundings though, there is even colder air present just aloft in the expected timeframe. With winds ramping over this period, there is a chance some of this colder air could mix down plunging temperatures even further. I would suspect this will likely be the case so the mercury plunging as far down as the 30 below to 40 below seems realistic to me. If this occurs, how low does the mercury have to drop to possibly tie/break a daily record low for the time frame? We have been keeping a continuous record set on the summit since 1932 and in that timeframe, our current daily record lows are as follows:
15th: -32F (1980)
16th: -37F (1942)
17th: -37F (1942)
As the mercury plunges, you can track the weather
HERE
. Note that temperatures on this Current Summit Conditions page are from a digital thermometer and are not official readings for our station. So official readings can be taken from various METAR pages around the web or from our daily
F-6 form
which is updated nightly by 3 am.
Next up is wind chill. As anyone who knows me will tell you, I have a love/hate relationship with windchills. Windchills are important for awareness so that you dress adequately and ensure that you have no skin exposed. It drives home how cold it will be to someone who might only glance at a forecast or has never been out in temperatures below 0 and it might make them reconsider their plans until better weather returns. It is also important to note them so you know to dress adequately since extreme cold and high winds can provide frostbite or hypothermia in a matter of minutes if skin is not adequately covered. Those are the positive aspects but what troubles me with windchills comes from how ingrained people are becoming that they are real temperatures and are all people seem to ask about or focus on in more recent years.
Ambient temperatures are real numbers that are physically measured/recorded and are the numbers to prepare and dress for. Windchills on the other hand are perceived temperatures or "feels-like" temperatures and are solely based on assumptions in an equation. The current equation (2001 edition) assumes:
-You are 5ft tall
-Your face/skin is exposed to the cold/wind
-Your clothing is allowing for heat transfer
-You have a wind greater than 3 mph
-You have average skin tissue thickness
-You are outside on a clear night
So, if you take away one of these elements, windchill is no longer what is necessarily making you cold and it is instead the ambient air temperature that you are feeling. For example, if you are wearing windproof boots and not porous tennis shoes, your feet are going to feel the cold of 30F below and not a wind chill. If you are wearing wind pants, thick overcoats, mittens, hat, etc like you would if it were 30F below and no winds, even if a wind picks up, all you are going to feel is that 30F below. When I go outside, that is what I focus on – dressing to stay warm in 30F below (or whatever it might be) and ensuring my skin is completely covered. So I focus on ambient as that is at the core what matters and what I will feel if the winds die down or I am in the lee of a building. I don't look at windchills nor do I even care what they are at any given point in my week up here. As many a guest, volunteer, co-worker, etc will tell you, when they ask what the windchill is/was, I just answer with "I don't know" and if pressed, will go to a calculator and find out for them. However, with all this being said, I know windchill does provide a "wow" factor to many out there; so if you are interested in tracking it in the coming days, it is calculated and posted on our
Current Conditions Page
or you can play around with it
HERE
. Bottom line though, no matter what temperature you focus on, please stay warm and well prepared when heading
outside
in the coming days.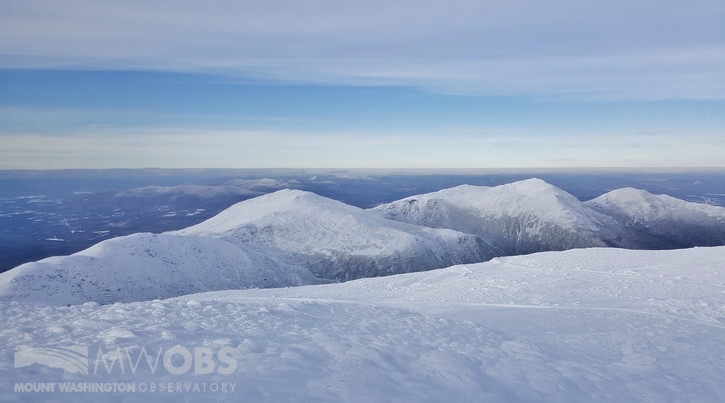 Ryan Knapp, Weather Observer/Staff Meteorologist
Ellen Estabrook
Adjusting to Life on the Summit By Charlie Peachey Working on the summit of Mount Washington is not your average job. There aren't too many other places where the employees work and live together for
Ellen Estabrook
A Surprise Aurora By Francis Tarasiewicz After 17 months of working at New England's highest peak, it finally happened. On the night of November 12th, 2023, I was lucky enough to view the famous and
Ellen Estabrook
A Glimpse at METAR Reports By Alexis George, Weather Observer & Meteorologist METAR observations are submitted every hour of every day at Mount Washington Observatory. METAR is a format for reporting weather information that gets