Breakfast of Champions
2019-06-29 16:09:04.000 – Anna Smith, Summit Intern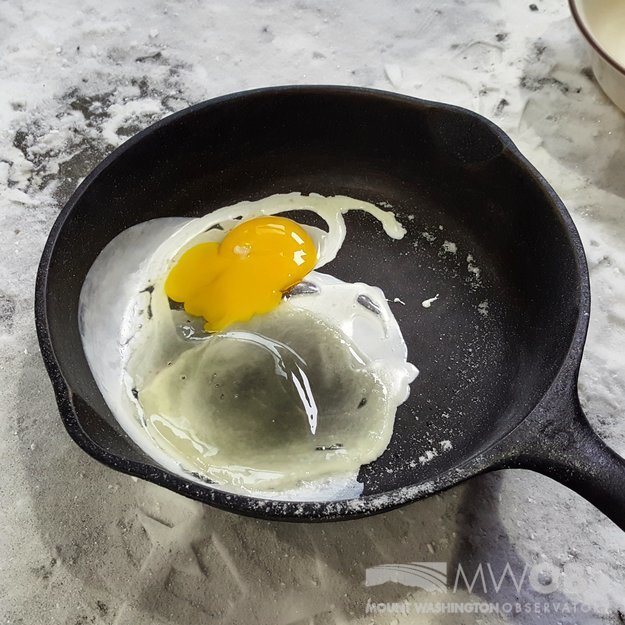 "Freeze-frying" an egg in -30°F (-34°C) temperatures.
Breakfast on the summit is whatever you make of it. Whether it is pancakes from last night's "breakfast for dinner" (very convenient leftovers), a bowl of oatmeal and fruit (a personal favorite), or just a cup of Joe, hopefully it's something that will get you through a full day of work and weather. Yet, one breakfast rises above the rest, figuratively and literally…
The Breakfast of Champions.
It isn't necessarily the food itself that gets you going, nor the caffeine in your morning tea or coffee. What really wake you up, particularly in the winter, are the fierce winds and cold temperatures. A bowl of cereal? Hold on to your toast! Certainly, your brain will wake up as you rush around trying to catch the coffee in your cup. Make sure to watch your eggs or they'll stick to the pan… as they freeze to it.
Many on the mountain have tried this breakfast, but thus far it has not received five-star ratings from critics. However, thanks to the Observatory, you can now watch and laugh hysterically as observers and interns attempt to start their mornings on the summit. Better yet, you can now do so from the comfort (and warmth!) of your own home. Rather than at Observatory itself, the many renditions of this morning meal are now available online for all to watch. Start with two friends trying a new cereal in "Rockpile Crunch," or watch food and drink get blown away as observers experiment in the "The Home of the World's Worst Breakfast." And of course, we hope you have a chance to enjoy the original extreme breakfast from 1990, where the pioneers of this trend sit down on the Obs Deck in "Breakfast of Champions."
Whatever the weather conditions, we wish you a good morning, flying cornflakes and all!
Link to original "Breakfast of Champions": https://www.youtube.com/watch?v=J37u_usbJHc
Anna Smith, Summit Intern
Ellen Estabrook
Adjusting to Life on the Summit By Charlie Peachey Working on the summit of Mount Washington is not your average job. There aren't too many other places where the employees work and live together for
Ellen Estabrook
A Surprise Aurora By Francis Tarasiewicz After 17 months of working at New England's highest peak, it finally happened. On the night of November 12th, 2023, I was lucky enough to view the famous and
Ellen Estabrook
A Glimpse at METAR Reports By Alexis George, Weather Observer & Meteorologist METAR observations are submitted every hour of every day at Mount Washington Observatory. METAR is a format for reporting weather information that gets