Brighter Times Ahead
2019-02-23 21:44:30.000 – Ryan Knapp, Weather Observer/Staff Meteorologist
This morning I viewed something from the summit that I hadn't seen since late October, 2018 – morning blue hour. Over my 13 years working up here, this event is one of the things I look forward to annually working my night shifts on the summit. To some it might be mundane and something they see every day while getting ready or heading off to work or school. But for me, during the late October/early November to late February/early March time-frame, I have to either lose sleep and/or make a real effort to witness this color in the sky or the brighter event that follows it – sunrise!
While on the summit, my night shift spans from 1730 EST to 0530 EST the following morning. Around the summer solstice, my time in the dark is at its shortest with sunrise occurring at ~0355 EST and sunset taking place at ~1940 EST. So I easily get to view sunrise and sunset on a daily basis and even get to enjoy some sunlight while starting and ending my shift. On the flip side, around winter solstice, my life is a dark abyss with sunrise occurring at ~0715 EST and sunset at ~1610 EST. While I am typically up before sunset during the winter months, for sunrise, I would have to wait up. After working for 12 hours deicing, shoveling, going out to gather every hour, and various other duties, by the end of it, sunrise is furthest from my mind as sleep always is the preferred option.
With days starting to get longer and sunrises occurring earlier and sunsets later, brighter horizons are ahead. Astronomical/Nautical/Civil dawn along with sunrise will continue to get earlier. So for the next shift week or two, I will continue to see more and more blue until I finally get to see my first summit sunrise of 2019. Sunrises will be occurring while I am on duty by the end of March but for the next few weeks, if it looks like it is going to be a colorful one, I will choose to lose a few minutes of sleep to take it in. And like usual, I will share my point of view with you all via our various social media feeds (Facebook, Twitter, and Instagram) as well as right here in our blogs. Until then though, my coworkers will continue to share their views of daybreak and other vistas with you.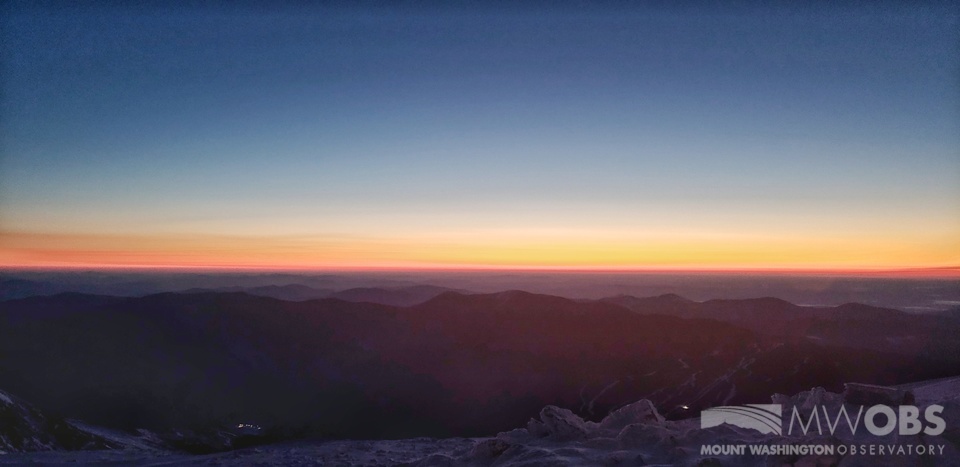 Ryan Knapp, Weather Observer/Staff Meteorologist
Ellen Estabrook
Adjusting to Life on the Summit By Charlie Peachey Working on the summit of Mount Washington is not your average job. There aren't too many other places where the employees work and live together for
Ellen Estabrook
A Surprise Aurora By Francis Tarasiewicz After 17 months of working at New England's highest peak, it finally happened. On the night of November 12th, 2023, I was lucky enough to view the famous and
Ellen Estabrook
A Glimpse at METAR Reports By Alexis George, Weather Observer & Meteorologist METAR observations are submitted every hour of every day at Mount Washington Observatory. METAR is a format for reporting weather information that gets