Change
2008-04-25 23:03:08.000 – Matthew Morin,  Space Grant Intern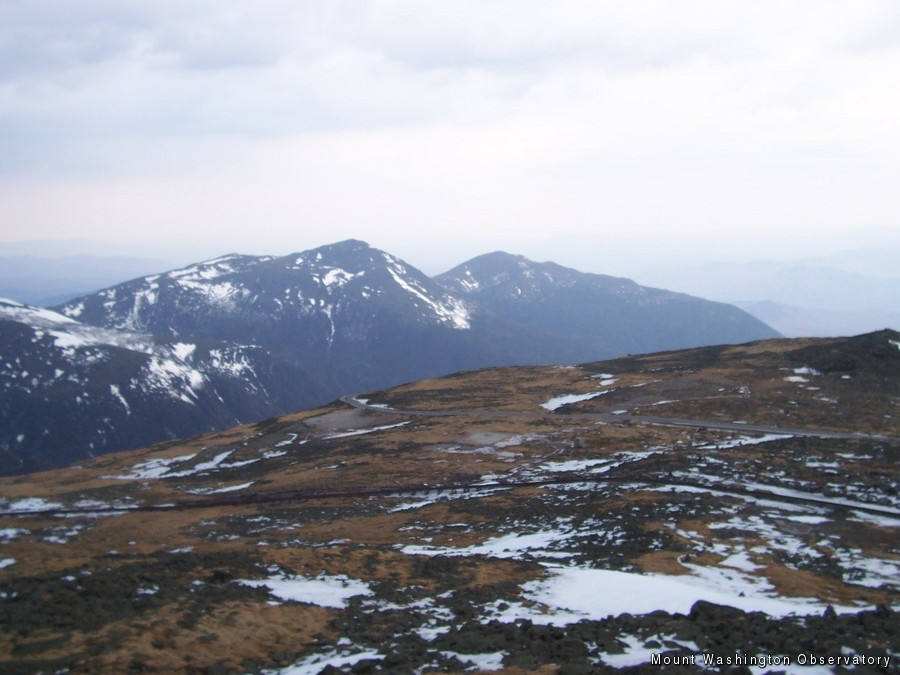 Early spring scenery
Change is something that I used to dread. I am not talking about the money you get back after a purchase or the coins under your sofa cushions. Those are not scary at all. I am talking about situations where you are forced to leave a familiar and comfortable reality. Fortunately, over the last few years, I have changed the way I view the world and all of the new opportunities it has to offer. I now embrace change with a mindset that it will always have a positive impact on my life. And that is has!
As winter changes to spring, the icy landscape of the summit fades away to reveal lichen covered rocks and patches of alpine. The Cog Railway will eventually open up bringing tourists and mountain enthusiasts up here to observe winter's last remaining grips on the Northeast. Around the same time as the return of the Cog, the State Park will open up its doors to the public. Soon the quiet life, experienced for several months by the MWO staff, will change and a new reality will unfold.
I never thought that I would be a part of that new reality due to the end of my internship occurring in mid April. However, after expecting to be without an internship this summer, I recently received an offer to continue my current research during a Summer Space Grant Internship. Therefore, I will get another chance to visit the summit and perform the duties of an Operational Meteorologist in somewhat of a different setting.
This sort of change does not bother me at all. In fact, I feel it will give me a chance to hone and improve my social skills as I interact with the public. I look forward to working in a more populated environment even though I am used to, and very comfortable with, being on an almost deserted summit. It will be very interesting to interact with people on Summer Edu Trips and see tour groups moving throughout the observatory being led by the new Summer Interns. Another change I expect will involve being accosted by curious visitors as I am outside on the observation deck performing hourly duties such as taking temperature measurements and noting cloud type.
During the next couple months, changes will occur that will cause me to be in unfamiliar situations. I have learned that if you have a positive mindset and consider changes in your life as newly open doors to great opportunities, then the outcome usually yields just that.
Matthew Morin,  Space Grant Intern
Ellen Estabrook
Adjusting to Life on the Summit By Charlie Peachey Working on the summit of Mount Washington is not your average job. There aren't too many other places where the employees work and live together for
Ellen Estabrook
A Surprise Aurora By Francis Tarasiewicz After 17 months of working at New England's highest peak, it finally happened. On the night of November 12th, 2023, I was lucky enough to view the famous and
Ellen Estabrook
A Glimpse at METAR Reports By Alexis George, Weather Observer & Meteorologist METAR observations are submitted every hour of every day at Mount Washington Observatory. METAR is a format for reporting weather information that gets