Christmas Bomb Cyclone Sweeps through the Northeast
Strong winds and heavy snow came to Mount Washington just in time for Christmas thanks to a nasty bomb cyclone sweeping through the Northeast. I wrote this comment Christmas morning at our summit weather station, where sustained winds exceeded 100 mph.
What is a bomb cyclone and how does it form?
A bomb cyclone forms when two very different air masses interact. Commonly, a cold, arctic mass shifts down from the north and a warm airmass is drawn into the storm.
This type of system is defined by how rapidly it intensifies, with pressure at the center of the storm dropping at least 24 millibars over a 24-hour period. The rapid decrease in pressure produces a sharp pressure gradient between the two airmasses, which leads to strong winds.
Arctic air masses regularly shift down to the United States, but this strong system was unusual in that it affected states farther south with the potential for places like Florida to have one of its coldest Christmas holidays since 1983!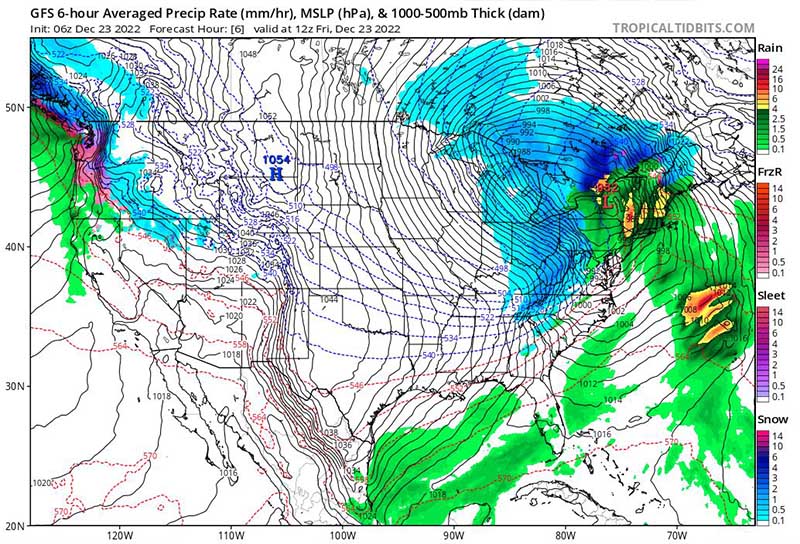 A bomb cyclone formed when cold, dry air met warm, moist air on Dec. 22.
This massive low-pressure system brought a perfect mess of hazardous weather conditions to Mount Washington, especially on Dec. 23. The most noticeable hazards were the strong winds. Weather conditions really started to deteriorate right around 1:00 a.m. on Dec. 23, with winds quickly ramping up and sustaining at 100+ mph. The storm also produced substantial snowfall across the higher summits.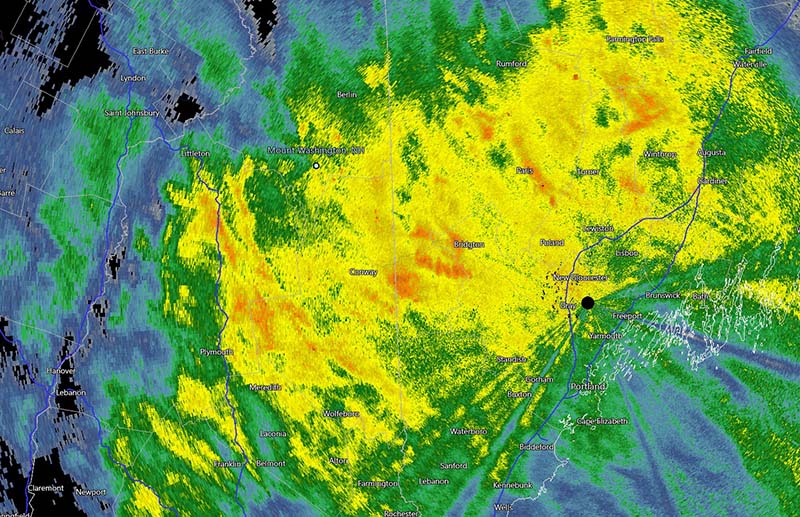 Radar shows that heavy snowfall started around 4:00 a.m. on Dec. 23 and lasted through most of the day.
Strong winds paired with heavy snowfall created white-out conditions at the summit. Rime covered the walls within the tower, and winds were so strong that snow piled up against the inside of the door leading to the observation deck, even though the door remained closed.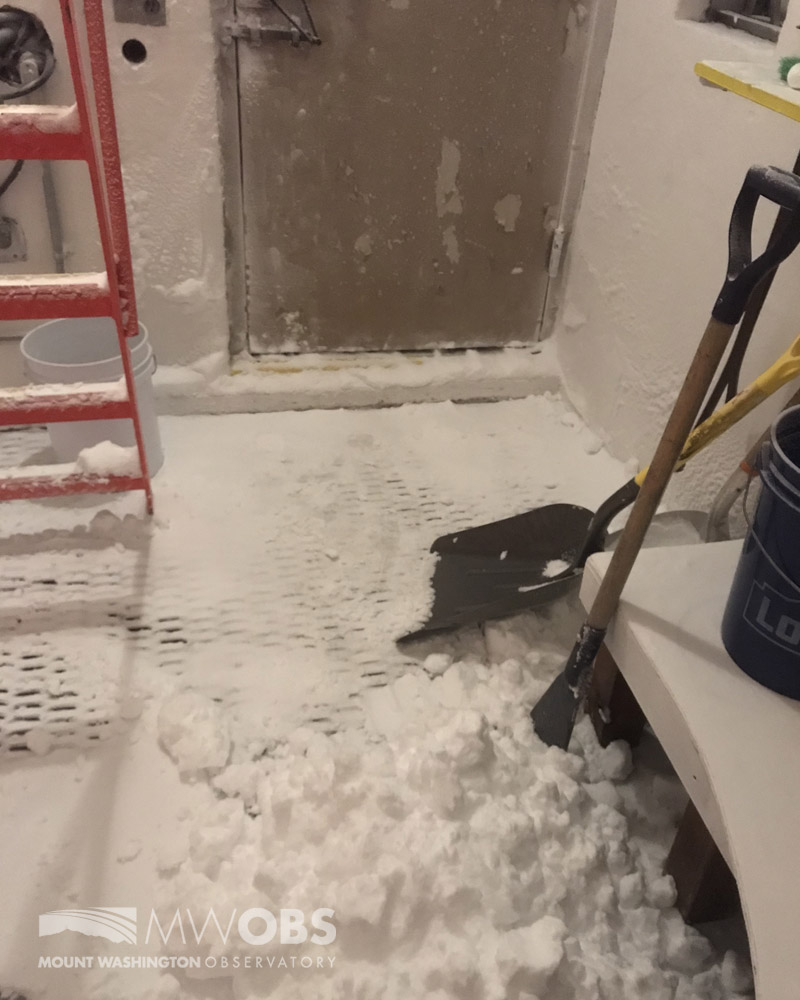 Observers worked to shovel snow and ice away from the door leading out to the observation deck.
At the end of the day, this strong low-pressure system dumped close to 9 inches of snow at the summit. In addition to heavy snowfall, the system produced particularly strong winds. Winds were so strong by the morning of Dec. 23 that the day observer was unable to collect the precipitation can for the synoptic observation due to how dangerously high the winds were. Winds peaked at 150 mph early during the morning on Dec. 23.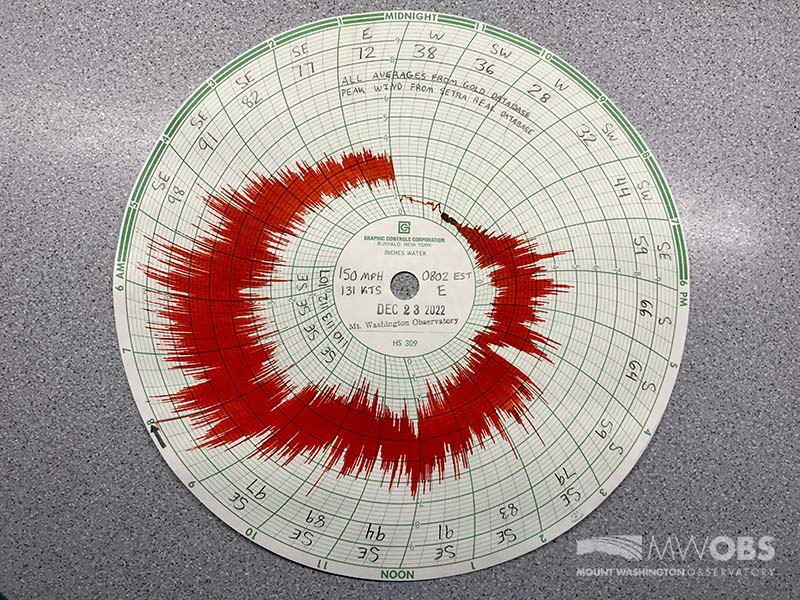 Our Hays Chart for Dec. 23 shows huge spikes in wind speeds with the peak gust of 150 mph around 8:00 a.m. – my highest peak wind to date!
Alexis George, Weather Observer & Meteorologist
Ellen Estabrook
Adjusting to Life on the Summit By Charlie Peachey Working on the summit of Mount Washington is not your average job. There aren't too many other places where the employees work and live together for
Ellen Estabrook
A Surprise Aurora By Francis Tarasiewicz After 17 months of working at New England's highest peak, it finally happened. On the night of November 12th, 2023, I was lucky enough to view the famous and
Ellen Estabrook
A Glimpse at METAR Reports By Alexis George, Weather Observer & Meteorologist METAR observations are submitted every hour of every day at Mount Washington Observatory. METAR is a format for reporting weather information that gets