Cold Snap Coming To The Southeast
2013-02-28 18:13:08.000 – Michael Kyle,  Summit Intern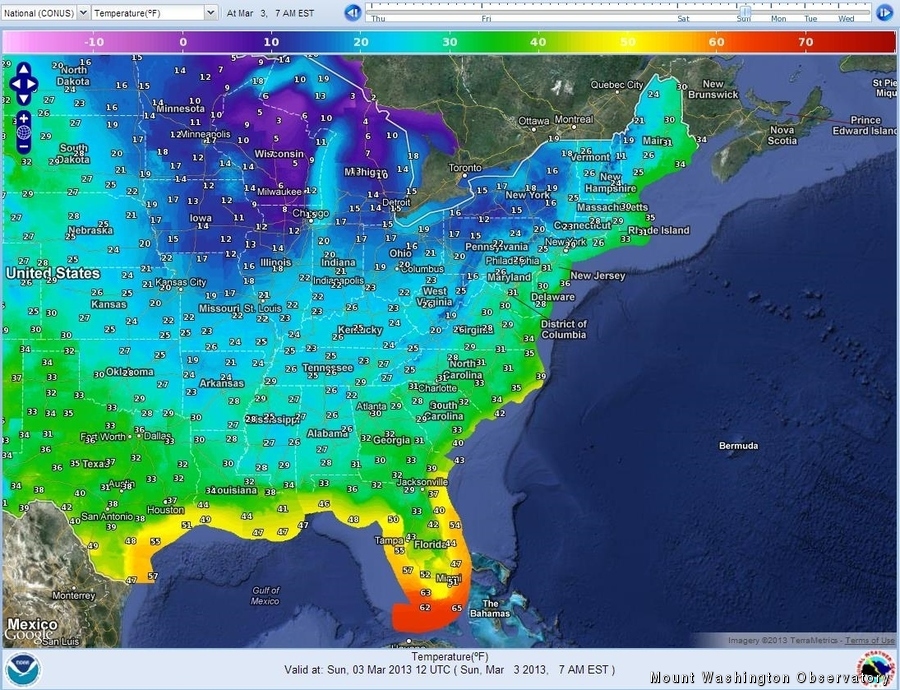 Graphic Courtesy Of The Nation Weather Service
The Northeast is accustomed to the cold temperatures of winter and so far this season we have seen our fair share of cold days. In just the past three weeks the Northeast, along with many other regions of the country have seen multiple snowstorms. Here on the summit the mercury has dropped to some of the coldest temperatures seen in recent years. With the recent weather patterns nearly the entire country has experienced a cold snap; except the Southeast. The only region spared from the chilling grasp of winter thus far has been the Gulf Coast, but only until this weekend.
Starting tomorrow cold air will plunge south as a result of a deep upper level trough encompassing the eastern half of the United States. Nighttime lows will be dropping into the lower 30's for much of the Gulf Coast. In fact over the weekend, low temperatures along the Gulf could rival the low temperatures along the Northeast's coast. The cold temperatures will not last all day; once the sun rises temperatures will quickly warm along the Gulf
For anyone reading this in the southeast be sure you listen to your local meteorologist for more details. Taking appropriate precautions for your outside pets and plants during this cold snap will most certainly be needed. Lastly when you think temperatures are too cold to handle; take a minute to visit the current summit condition page at the Mount Washington Observatory website. I promise after seeing the temperatures your temperatures outside will seem warmer.
Michael Kyle,  Summit Intern
Ellen Estabrook
Adjusting to Life on the Summit By Charlie Peachey Working on the summit of Mount Washington is not your average job. There aren't too many other places where the employees work and live together for
Ellen Estabrook
A Surprise Aurora By Francis Tarasiewicz After 17 months of working at New England's highest peak, it finally happened. On the night of November 12th, 2023, I was lucky enough to view the famous and
Ellen Estabrook
A Glimpse at METAR Reports By Alexis George, Weather Observer & Meteorologist METAR observations are submitted every hour of every day at Mount Washington Observatory. METAR is a format for reporting weather information that gets