Coming to a Valley Near You: Snow!
2019-11-02 10:20:17.000 – Thomas Padham, Weather Observer/Education Specialist
Over the past few days we've received a few inquiries as to when the surrounding valleys will see their first snowfall. For many, the start of November means ski season is right around the corner and people are itching to break out the skis for the first time this season. For the local area especially here in the White Mountains, by Thanksgiving the ski season is hopefully fully underway as this is an important part of the tourism-driven economy in the region. Taking a look at the weather for the week ahead there's some good news for those looking for the start of winter, especially in the mountains.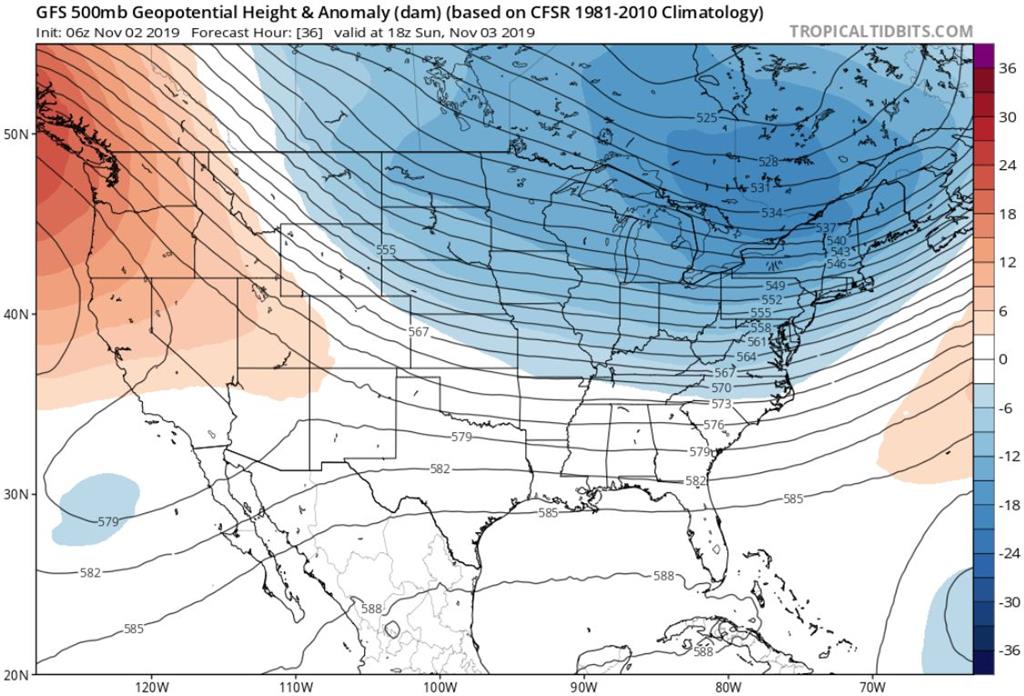 500 mb height anomaly showing a large scale trough (blue shading) across the Northeast, which will remain in place through the upcoming week. Image courtesy of Tropical Tidbits.
Glancing at the large scale ridge and trough pattern over the next week, a broad mid and upper level ridge will be building across the western U.S, and a trough will build and likely strengthen from the upper Midwest through New England. This is a set up for overall cooler than average temperatures for our area, and generally weak but fast moving systems like the clipper systems we often see during winter. Another thing to keep in mind is with it being fall and the Great Lakes being completely ice-free, lake effect precipitation (rain or snow) can be amplified and spill over into the White Mountains due to the added warmth of the lakes.
With below average temperatures from the upper level pattern, plenty of cold air will be in place especially here on Mount Washington at 6,000 feet. The summit will likely be below freezing through the entire week, allowing any and all precipitation to fall in the form of snow up here. Sunday and Monday a pair of weak disturbances will be just close enough to the area to produce some flurries, although accumulations will be very light (generally less than an inch) and confined to elevations above 3,000 feet.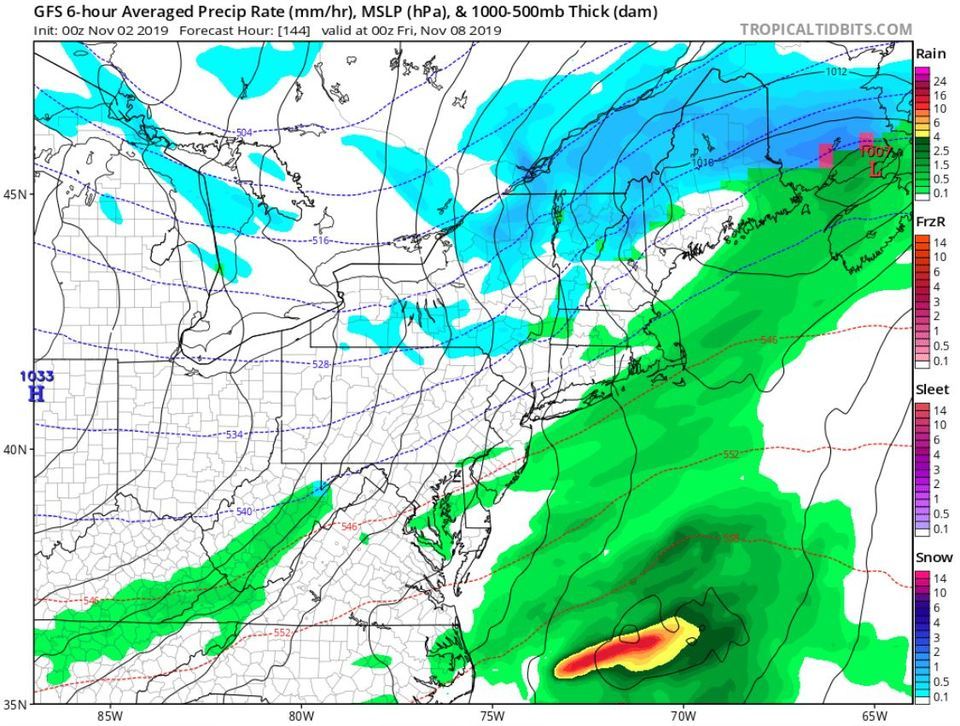 GFS surface analysis for Thursday night showing potential snowfall across a large portion of northern New England and NY. Image courtesy of Tropical Tidbits.
Tuesday a slightly stronger cold front will allow for more widespread snowfall, and this system will also have the benefit of timing. With the system mostly crossing late in the day and overnight Tuesday into Wednesday, temperatures will likely be near freezing all the way down to the valleys. Towns in the northern half of NH, VT, and Maine will potentially wake up Wednesday morning to snow-covered lawns for the first time this fall, offering at least a taste of the winter to come.
How much snow are we looking at? This won't be a significant storm system by any means, but as mentioned it's at least a taste of winter. With the long duration of below freezing temperatures expected this week at higher elevations, many area ski resorts will be able to get a jump start on the season and possibly even open soon. Overnight temperatures will allow for snow making and then hopefully getting a little extra help from mother nature Tuesday night.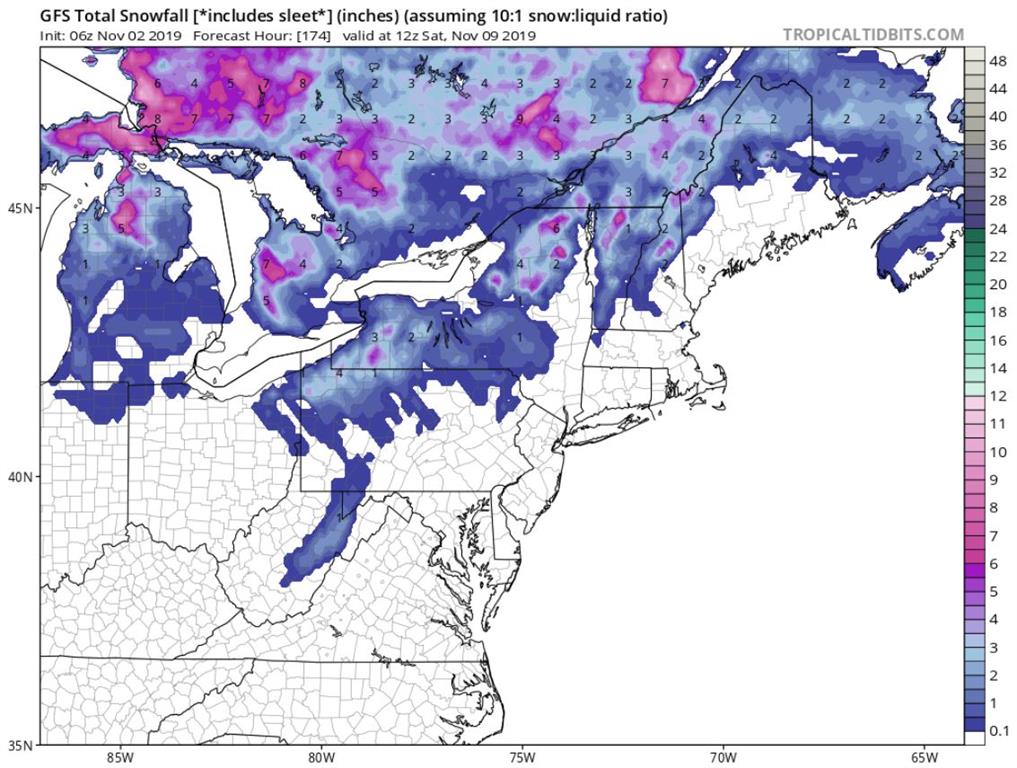 Potential total snowfall from 11/2 through next Saturday, 11/9 from the GFS model. Some of the higher elevations of the Green, White and Adirondack Mountains may see upwards of 6 inches of new snow spread over the week ahead. Image courtesy of Tropical Tidbits.
After a brief break Wednesday, there's actually another clipper-like system Thursday into Friday. This system also should have a good deal of cold air in place ahead of the storm, and even more so behind it with snow shower activity lingering in the mountains. Several additional inches of snow could add up here from this system if it pans out. Either way, for the higher elevations of the White Mountains we have multiple chances on the horizon for accumulating snowfall, with little if any melt outs in between storms. For us here on the summit of Mount Washington, this is the first real stretch of weather to start building our natural snowpack, and the first long stretch of wintry weather!
Thomas Padham, Weather Observer/Education Specialist
Ellen Estabrook
Adjusting to Life on the Summit By Charlie Peachey Working on the summit of Mount Washington is not your average job. There aren't too many other places where the employees work and live together for
Ellen Estabrook
A Surprise Aurora By Francis Tarasiewicz After 17 months of working at New England's highest peak, it finally happened. On the night of November 12th, 2023, I was lucky enough to view the famous and
Ellen Estabrook
A Glimpse at METAR Reports By Alexis George, Weather Observer & Meteorologist METAR observations are submitted every hour of every day at Mount Washington Observatory. METAR is a format for reporting weather information that gets