Comparing Winter 2019 and 2020 to Date on Mt Washington
2020-02-06 13:30:40.000 – Tom Padham, Weather Observer/Education Specialist
With half of our 2019-2020 winter season now behind us I thought I'd take a look at how Mount Washington's data compares to our climate normals and put this season so far into a historical perspective. The winter across much of New Hampshire has felt like a pretty mild one, especially with last year's impressive snow season fresh in our memories. There's several ways to look at what constitutes a "successful", or snowy winter season; with snowfall, snow depth, and temperature being the variables I've chosen to focus on.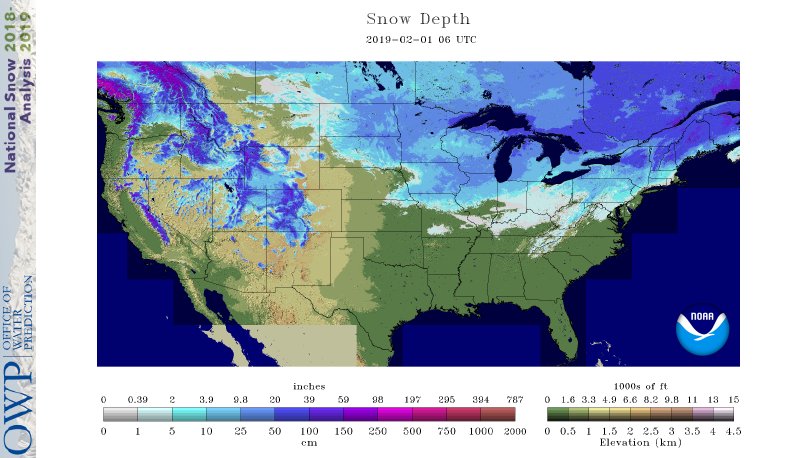 2019 (top) vs. 2020 (bottom) snow depth across the continental U.S in early February showing significantly more snow in place across portions of the central and eastern U.S last year.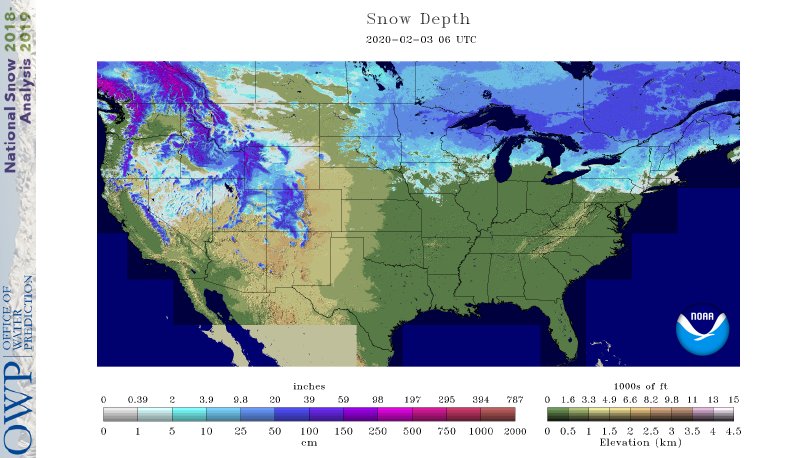 Surprisingly, for the snow season to date this winter Mount Washington is actually a little bit above average in terms of total snowfall. The summit has recorded 164" of snow, or 16" above normal to date since our new snow season started July 1st. Mount Washington uses a July-June year for our snowfall records so that each winter season is centered. Last year had still seen substantially more snow by this same point in the season, with 202" total, or 4.5 feet above normal.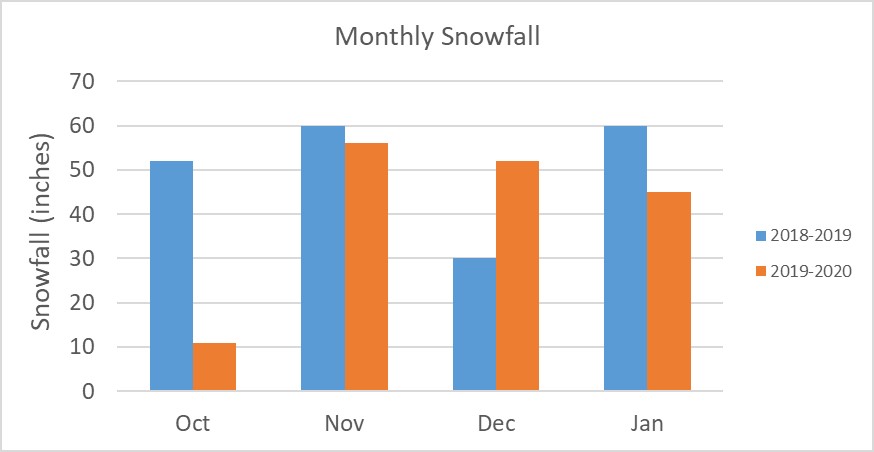 From the perspective of temperature, the summit has also been more mild this winter than the previous. The winter of 2018-2019 was overall slightly colder than our 30-year climate average, while this fall-winter season has been overall warmer. January 2020 was an especially mild month for the middle of winter, with an average temperature nearly 8 degrees above average and also the 8th warmest January on the summit since 1932. In conjunction with this, the summit had a huge melt out with record warmth, putting a damper on what had already been a below average snowpack.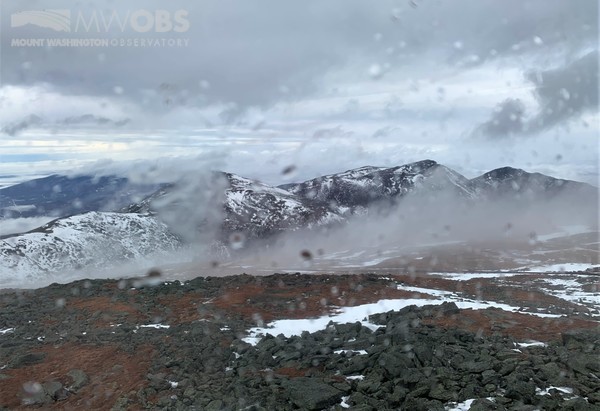 The view out of our office windows during a large melt out and rain event on January 12th, 2020.
Looking at the entire winter season snow depth there's a really stark contrast between the past two years. The winter of 2018-2019 started off with a bang and rarely let up in terms of having deep snow on the ground, with one huge melt out in late December but otherwise the season had consistently almost double the amount of snow on the ground. This winter our snow has had a much harder time lingering on the ground; due to a combination of more mild temperatures along with an increase in mixed precipitation and even rain events at 6,000 ft. The wind is also a near constant detriment to keeping snow on the summit, and it's the main reason why Mount Washington averages 300 inches of snow a year but rarely sees more than two feet of snow on the ground.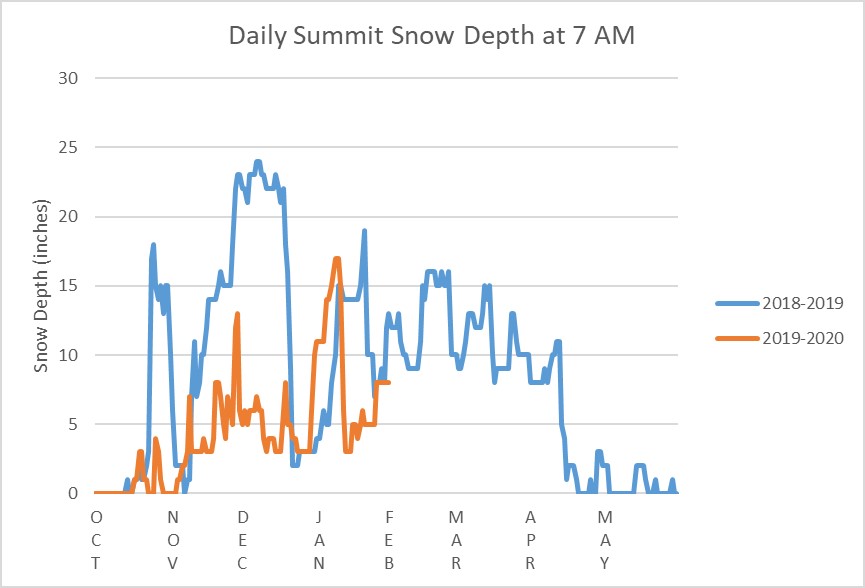 There's still a whole second half of the season to go as illustrated by the remainder of the graph from the winter of 2018-2019, and the summit could certainly turn things around to have a much more wintry late winter and spring. As of this writing in fact we're seeing snow flying on the mountain with roughly a foot of new snow expected. Having spent 7 winters on the mountain, it's impressive how different each season can be from year to year.
Tom Padham, Weather Observer/Education Specialist
Ellen Estabrook
Adjusting to Life on the Summit By Charlie Peachey Working on the summit of Mount Washington is not your average job. There aren't too many other places where the employees work and live together for
Ellen Estabrook
A Surprise Aurora By Francis Tarasiewicz After 17 months of working at New England's highest peak, it finally happened. On the night of November 12th, 2023, I was lucky enough to view the famous and
Ellen Estabrook
A Glimpse at METAR Reports By Alexis George, Weather Observer & Meteorologist METAR observations are submitted every hour of every day at Mount Washington Observatory. METAR is a format for reporting weather information that gets