Danger in the Mountains
2013-09-21 17:39:46.000 – Brian Fitzgerald,  Weather Observer/Education Specialist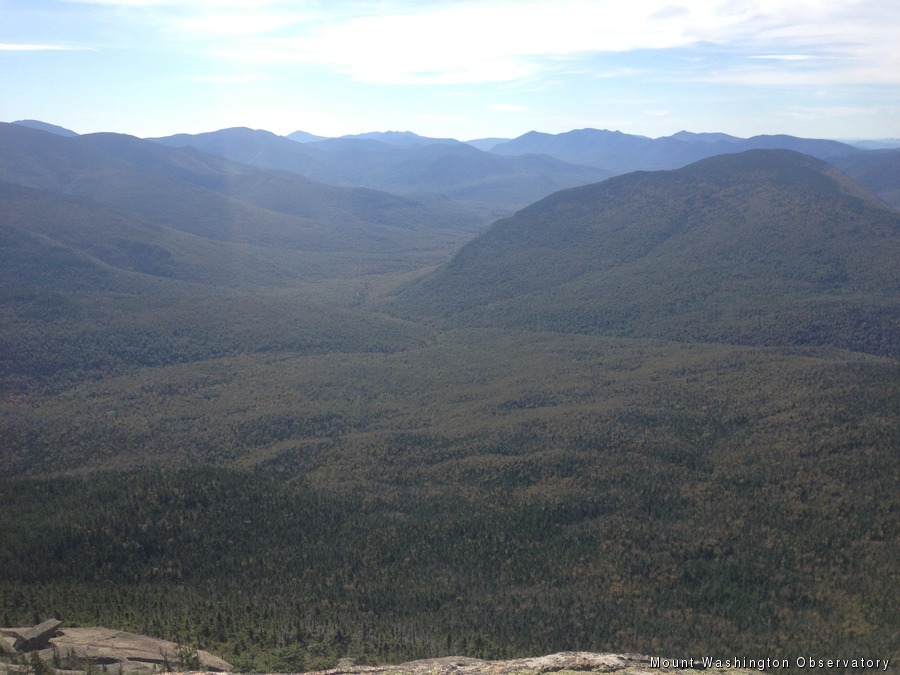 One of the Author's favorite views in the Whites.
Believe it or not, working and living on the summit of Mount Washington can easily numb one's senses of the real dangers that we face here in the mountains. Beautifully sunny skies, above average temperatures and light winds have dominated our weather since the beginning of our shift this past Wednesday, allowing for placid trips outdoors during hourly observations. Since the average observation lasts somewhere between 2-10 minutes (depending on conditions), it's easy enough for observers to put on a light jacket and brave the elements (in the warmer months anyways) for a brief foray outside.
As you may be well aware, Mount Washington claimed another life this past Thursday evening, when a 25-year-old man lost his footing and fell while wandering off the Tuckerman Ravine trail to get a closer look at the waterfalls that cascade over the Headwall. Following a massive response by several search and rescues groups and volunteers and an unbelievable extraction via a New Hampshire Air National Guard Black Hawk, all efforts were sadly unable to revive the man.
It's unfortunate that each year we are given these reminders about the real dangers we face in the mountains. For many of us, it's the possibility, and sometimes thrill, of danger that lures people to take risks. The 'freedom of the hills' often comes with a price, and it is up to the individual to be responsible for his or her safety. For us at the Mount Washington Observatory we work hard day in and day out to provide the most accurate weather information possible for the safety of the public, though it should always be reiterated: checking weather conditions ahead of a hike is only one piece of the information visitors to Mount Washington need in order to have both a safe and enjoyable visit. HikeSafe.com, a partnership between White Mountain National Forest and NH Fish and Game, is another excellent resource for hiker preparedness. Additionally, consider taking a skills course through the Appalachian Mountain Club, or learn Wilderness First Aid through SOLO Wilderness Medical School in Conway, NH. Maybe become a volunteer for a local Search and Rescue group!
While the hiker community suffered a great loss on Thursday, let this not be a story without a lesson- this exceptional mountain community has a plethora of resources that can allow us to both enjoy the rugged beauty of the mountains and also come home safely.
Brian Fitzgerald,  Weather Observer/Education Specialist
Ellen Estabrook
Adjusting to Life on the Summit By Charlie Peachey Working on the summit of Mount Washington is not your average job. There aren't too many other places where the employees work and live together for
Ellen Estabrook
A Surprise Aurora By Francis Tarasiewicz After 17 months of working at New England's highest peak, it finally happened. On the night of November 12th, 2023, I was lucky enough to view the famous and
Ellen Estabrook
A Glimpse at METAR Reports By Alexis George, Weather Observer & Meteorologist METAR observations are submitted every hour of every day at Mount Washington Observatory. METAR is a format for reporting weather information that gets