Easter
2008-03-23 17:06:11.000 – Stacey Kawecki,  Meteorologist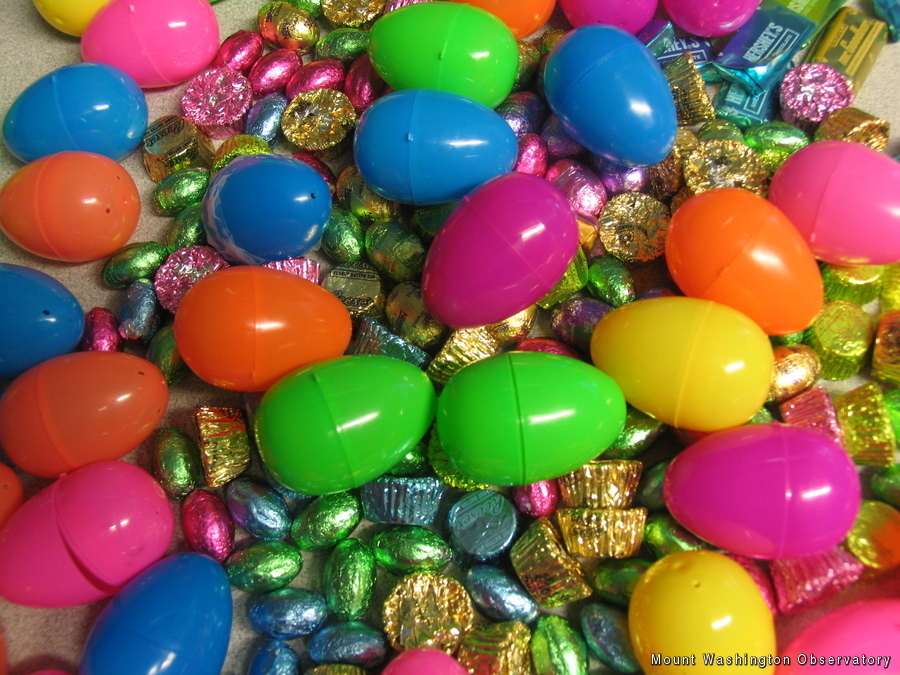 Easter Candy
At 8:45 pm EST I walked out the tower door to de-ice and was flabbergasted by what my eyes were telling me. For the first time since arriving on the summit on Wednesday, I was able to see more than a mess of murky white. Not only was I able to see the end of the deck, I also observed the moon, bright as can be, casting shadows like the sun, behind a translucent cap cloud that hovered over the summit for a couple of hours. When you're enveloped in clouds with high wind for four days and four nights straight, you can start to feel a little cut off from the world, even with the amazing technology of the day. The lights from distant cities, Portland, Berlin, Littleton, St. Johnsbury, and Portsmouth, twinkled welcomingly as the summit opened its eyes from a long and fitful slumber.
This Easter Day has been an exciting day. The clearing of the clouds overnight made it possible for the Easter Bunny to make his annual hop up to the summit, and he was able to hide many eggs and candy. We were also able to score an exclusive interview with him, which you can see on our Obscast tomorrow.
The sun shining down on the crew has the same effect of the sun shining on a plant: our energy levels sky rocket (though that may have something to do with the ridiculous amounts of candy consumed…) and we become a lot more productive, and we do it all with a smile. We have been walking (more like hopping) around with large, goofy grins on our faces as we anxiously await our Easter Dinner.
Stacey Kawecki,  Meteorologist
Ellen Estabrook
Adjusting to Life on the Summit By Charlie Peachey Working on the summit of Mount Washington is not your average job. There aren't too many other places where the employees work and live together for
Ellen Estabrook
A Surprise Aurora By Francis Tarasiewicz After 17 months of working at New England's highest peak, it finally happened. On the night of November 12th, 2023, I was lucky enough to view the famous and
Ellen Estabrook
A Glimpse at METAR Reports By Alexis George, Weather Observer & Meteorologist METAR observations are submitted every hour of every day at Mount Washington Observatory. METAR is a format for reporting weather information that gets