Every Trip Begins A New Unknown Adventure
2015-01-14 20:21:15.000 – Jules Rainka, Summit Volunteer
Last year we were provided with January hiking that just could not be beat, enchanted beautiful dark blue skies, winds that kept the snow blowing and, as a photographer it was paradise with endless grand sunrises and sunsets with layers of clouds in the valleys, and many magical opportunities for photographs in the "Golden Hour". We also had what we thought was severe weather and the shock of a rescue of lost hikers on the worst night of the trip.
This year was the opposite but no less intriguing, not a lot of photography but I learned what extreme weather really was like; just going outside was difficult and dangerous. I of course had to experience it, even if just briefly, as it was near record conditions for that day. I went out in -32F Temperature with wind gusts over 80 mph. I walked just 100 feet out onto the deck and it was exhilarating but when I turned around to head back to the door and the full force of 80+ mph winds and -77F wind chill hit me, I have to admit it put a little bit of fear in my heart, but, I also have to admit I loved the experience of having to put my shoulder into the wind to return. No chance for pictures here, frostbite can happen in just a couple minutes!
Back inside warm and comfortable I was happy to start doing what I am mainly here to do, cooking. It was a busy week with three large groups. Luckily I enjoy cooking and had a great partner as this week. We served well over 125 sit down meals. That is a challenge as we also try to provide a variety of goodies and try to create interesting varied meals for the crew. It is a job I happily do for the rewards it provides in both outdoor adventures and the new people you meet. We get an amazing diversity of people here and it is a joy to learn the stories & history of them.
Today on the sixth day we finally got above 0 degrees. It came with snow, white out conditions, wind speeds averaging in the mid sixties but, comparatively speaking, it felt comfortable out! Tomorrow, the last whole day on the mountain looks promising with sunshine.
As always, I have to thank everyone, starting with my co-conspirator Charlie who substituted in at the last minute and was wonderful to work with and affectionately called the "old goat of the mountain", this being his 13th time up! Also of course the observers and interns, everyone at the base, the cat drivers for providing our lift and the guests and their leaders that are always interesting, varied and with similar joys and affection for the great out doors and the mountain. All together they provide us volunteers with the privilege of enjoying the extremes, the beauty, and the adventures of life at the top of Mount Washington.
This now being the last day I awoke to a clear and beautiful morning, life is good!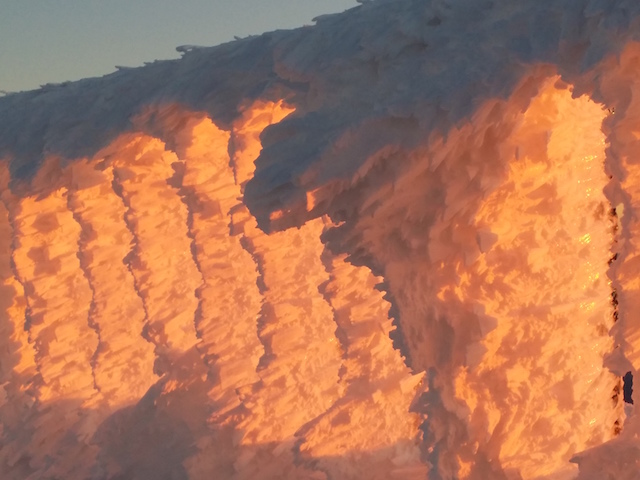 Rime ice, glowing in the sunlight and coating the observation deck railing
Jules Rainka, Summit Volunteer
Ellen Estabrook
Adjusting to Life on the Summit By Charlie Peachey Working on the summit of Mount Washington is not your average job. There aren't too many other places where the employees work and live together for
Ellen Estabrook
A Surprise Aurora By Francis Tarasiewicz After 17 months of working at New England's highest peak, it finally happened. On the night of November 12th, 2023, I was lucky enough to view the famous and
Ellen Estabrook
A Glimpse at METAR Reports By Alexis George, Weather Observer & Meteorologist METAR observations are submitted every hour of every day at Mount Washington Observatory. METAR is a format for reporting weather information that gets