Extended sojourns to Mt. Washington keep us captive to the charms of the Rockpile
2016-01-28 12:29:24.000 – Will Broussard, Education Coordinator
In late May of 2012 I spent a week at the summit, getting a behind-the-scenes look at the inner workings of the Mount Washington Observatory. I learned as much as I could about the mountaintop weather station, its staff of observers, and their daily work in one of the world's most extreme environments. I witnessed two direct lightning strikes to the radio antennas in addition to a magnificent sunrise over the coast. Scarcely a month into my new job as Outreach Coordinator, I was sold.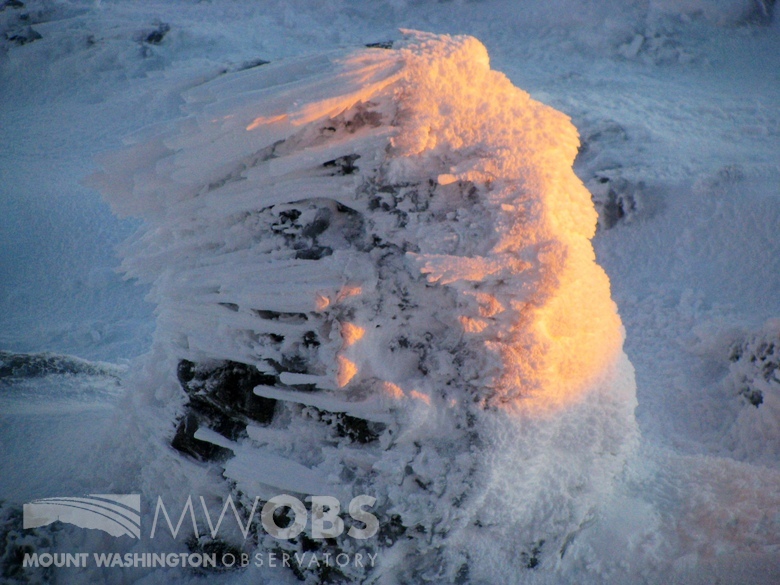 Photo by Will Broussard
Three and a half years later I am half-way through my second week-long stint at the summit of Mt. Washington. The buildings are a much quieter place this time of year. I am treated to sunrise alpenglow along the Presidential Range, winds gusting over 100mph and my first attempt at de-icing. Everything is covered in thick rime and the white, boulder-studded alpine zone stands in stark contrast to the forests and fields of the valley. I have trouble staying indoors on clear days, when the pressure to get outside overrides my desire to craft emails and make phone calls. On foggy days I am content to stay indoors.
No matter the weather, repeated contact with the alpine zone reminds us why we decided to work here.
Will Broussard, Education Coordinator
Ellen Estabrook
Adjusting to Life on the Summit By Charlie Peachey Working on the summit of Mount Washington is not your average job. There aren't too many other places where the employees work and live together for
Ellen Estabrook
A Surprise Aurora By Francis Tarasiewicz After 17 months of working at New England's highest peak, it finally happened. On the night of November 12th, 2023, I was lucky enough to view the famous and
Ellen Estabrook
A Glimpse at METAR Reports By Alexis George, Weather Observer & Meteorologist METAR observations are submitted every hour of every day at Mount Washington Observatory. METAR is a format for reporting weather information that gets