First Freeze
2015-10-05 20:35:40.000 – Adam Gill, Summit Intern
Unfortunately this week there were no #MWOMetMonday questions to answer but there are still some interesting things to talk about this week! Much of New England was hit with a decent amount of rain last Tuesday and Wednesday, though trivial compared to the amount South Carolina got over the past several days. Up here on the summit, we picked up over five and a half inches of rain along with some strong winds. The winds were from the east when we had our heaviest rain, which is blowing right at our door to the observation deck which resulted in water getting inside. Luckily we are prepared for that and have gutters inside the tower to collect and drain the water.
After all the rain on Wednesday, we have remained precipitation free but finally got below freezing for the first time this winter season, which is several weeks after the average first freeze. On Saturday, we didn't even get above the freezing mark for the whole day. We also got our first rime ice of the season as well Friday night. Clouds were passing over the summit for much of the night allowing rime ice to build up to about 3 inches thick on the instrument tower. Due to slow riming through the night, we didn't have to go out and de-ice any of our equipment. Once the sun came up, the ice quickly melted and fell off of the tower.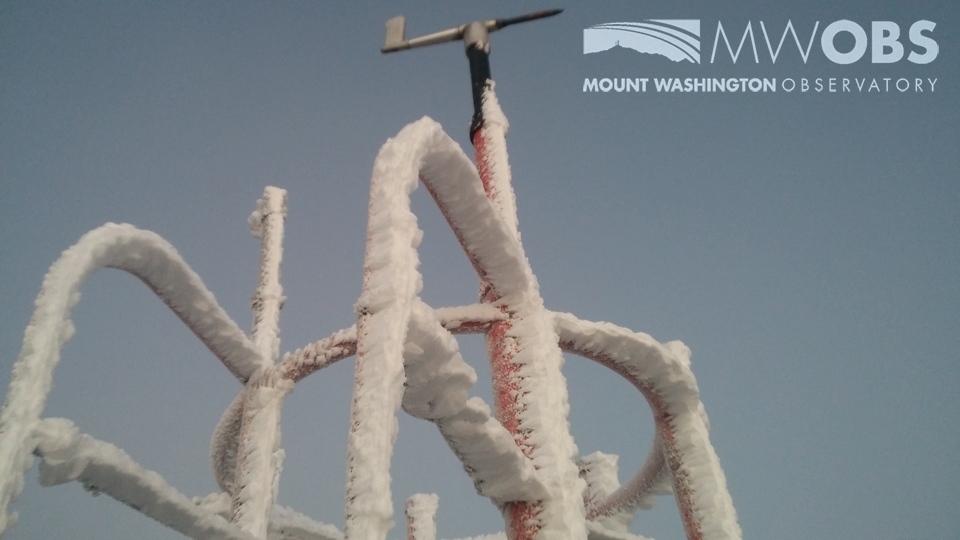 Since we have had our first freeze and riming, it had become time to put in the bulletproof windows. Sunday was a nice day and the winds were from the east, away from out windows, it was a perfect time to install the windows because the amount of nice days will become fewer as we delve deeper into our winter season.
Adam Gill, Summit Intern
Ellen Estabrook
Adjusting to Life on the Summit By Charlie Peachey Working on the summit of Mount Washington is not your average job. There aren't too many other places where the employees work and live together for
Ellen Estabrook
A Surprise Aurora By Francis Tarasiewicz After 17 months of working at New England's highest peak, it finally happened. On the night of November 12th, 2023, I was lucky enough to view the famous and
Ellen Estabrook
A Glimpse at METAR Reports By Alexis George, Weather Observer & Meteorologist METAR observations are submitted every hour of every day at Mount Washington Observatory. METAR is a format for reporting weather information that gets