First signs of winter
2007-09-16 11:16:56.000 – Brian Clark,  Observer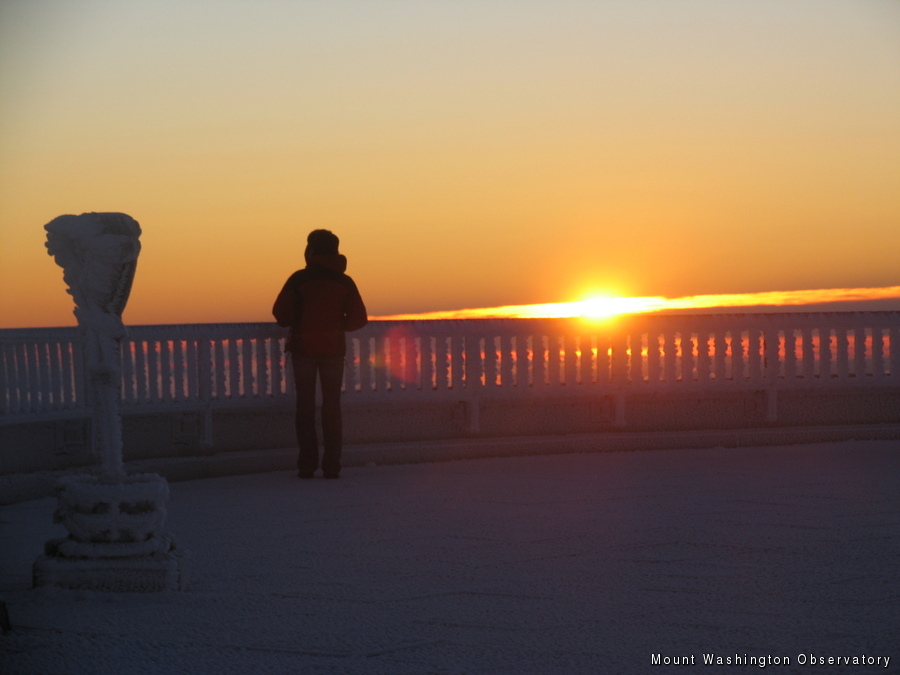 Stacey on the deck
Pardon the cliché, but this morning I felt like a little kid on Christmas morning…in more ways than one. My favorite season is by far winter. I absolutely love the cold, snow, and ice. When my shift came up on Wednesday, we already knew there was a good chance of some interesting, winter-like weather this weekend. The mountain did not disappoint me.
A rather sharp cold front passed through yesterday morning. The temperature at the 7 o'clock observation was 43 degrees. The temperature at the 8 o'clock observation was 37 degrees. Not an incredible drop in temperature, but definitely a notable one. The temperature continued to drop through the rest of the day, getting to the freezing mark around 2 o'clock in the afternoon, and then reaching the low temperature for the day of 25 degrees late in the night.
The peak wind gust occurred at 7:45 p.m. with a gust of 95.3 miles per hour. This happens to be our highest wind gust of the summer, surpassing the 94 mile per hour wind gust recorded on August 18th. The entire crew was on top of the tower at this point in time, working on taking down one of our anemometers that can't handle those sorts of conditions. It was sleeting at the time. Sleet hurts at 90+ miles per hour.
There was a decent amount of glaze and rime icing through the evening and the overnight last night along with the sleet I already mentioned. We recorded 0.8 inches of sleet by the way. Since the fog cleared just before sunrise, the coating of ice and sleet made for a beautiful sunrise:
I took lots of other pictures were taken in the early morning before the sun had a chance to start melting the ice:
Even Nin went outside…briefly:
Temperatures have warmed this morning and are flirting with the freezing mark as I am writing this. With high pressure building in, winds will be rather calm, but definitely keep the cool temperatures in mind if you plan on coming to the summit today.
Brian Clark,  Observer
Ellen Estabrook
Adjusting to Life on the Summit By Charlie Peachey Working on the summit of Mount Washington is not your average job. There aren't too many other places where the employees work and live together for
Ellen Estabrook
A Surprise Aurora By Francis Tarasiewicz After 17 months of working at New England's highest peak, it finally happened. On the night of November 12th, 2023, I was lucky enough to view the famous and
Ellen Estabrook
A Glimpse at METAR Reports By Alexis George, Weather Observer & Meteorologist METAR observations are submitted every hour of every day at Mount Washington Observatory. METAR is a format for reporting weather information that gets