From the Western Foothills of Maine to the White Mountains of New Hampshire
2021-06-08 09:57:13.000 – Madeline DeGroot, Summit Intern
Hello from Mount Washington!
My name is Madeline DeGroot, but everyone calls me Maddie. I just graduated from Northern Vermont University – Lyndon with a B.S. in Atmospheric Sciences, Concentration in Private Industry, and a Minor in Mathematics. I am from the Western Foothills of Maine and attended Dirigo High School. I knew from an early age that I wanted to be a meteorologist, and now here I am, an intern at the Mount Washington Observatory!
For pretty much my whole life, I played softball, so I continued to play in college. I also enjoy hunting, four-wheeling, and spending summer days out on Androscoggin Lake in Wayne, Maine. My favorite place on earth is still a close family friend's camp in Mattawamkeag, Maine, where I used to spend a few days to a week every summer. Fishing and kayaking are also a couple of my favorite activities. I'm not a huge fan of winter, although this past winter I began to venture outdoors in the snow more and more with the helpful nudge of my very outdoorsy boyfriend.
During my first week up here, I had plenty of time to acclimate myself to essentially being stranded on top of the tallest peak in the Northeast with several complete strangers and living with a cat. I've only once lived with a cat, as my roommate in college had one, but I only lived with her for just over a semester before COVID hit.
I was spoiled with 3 straight days of bright, sunny weather and above normal temperatures with minimal wind. The views were incredible, and I felt like the luckiest person in the world to have the opportunity to be surrounded by the beauty of the White Mountains and to stand on their highest peak. Over the weekend though, my luck ran out as the fog rolled in and temperatures dropped as the winds picked up. Not being able to see further than ten yards in front of me was an incredibly isolating feeling but being up here with other observers helped put me at ease. I'm now almost halfway through my second week up here and I'm still having a blast!
I am so grateful for this opportunity to live up here and learn about the important work of weather observers and the value of the forecasts provided by the Mount Washington Observatory. Everyone up here is amazing and they've all made it so easy to enjoy myself while still learning more about my career path. I'm really looking forward to what the rest of this summer holds for the home of the world's worst weather!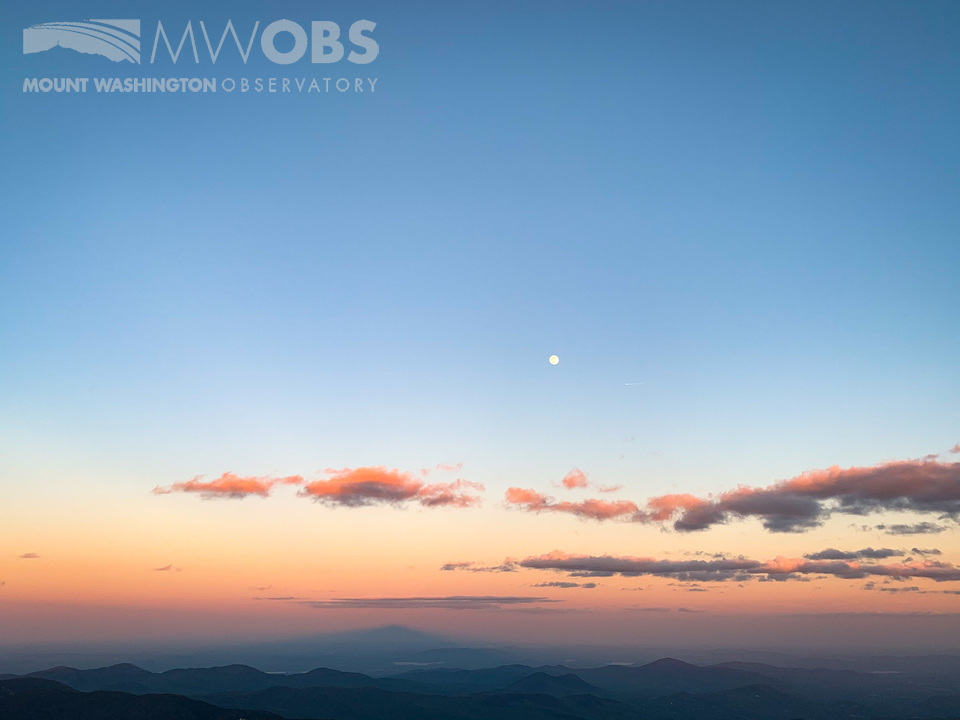 Sunset from my first shift as an Observatory Intern!
Madeline DeGroot, Summit Intern
Ellen Estabrook
Adjusting to Life on the Summit By Charlie Peachey Working on the summit of Mount Washington is not your average job. There aren't too many other places where the employees work and live together for
Ellen Estabrook
A Surprise Aurora By Francis Tarasiewicz After 17 months of working at New England's highest peak, it finally happened. On the night of November 12th, 2023, I was lucky enough to view the famous and
Ellen Estabrook
A Glimpse at METAR Reports By Alexis George, Weather Observer & Meteorologist METAR observations are submitted every hour of every day at Mount Washington Observatory. METAR is a format for reporting weather information that gets