Hailstone Ice Cream
2009-05-31 09:14:34.000 – Amy Terborg,  Summit Intern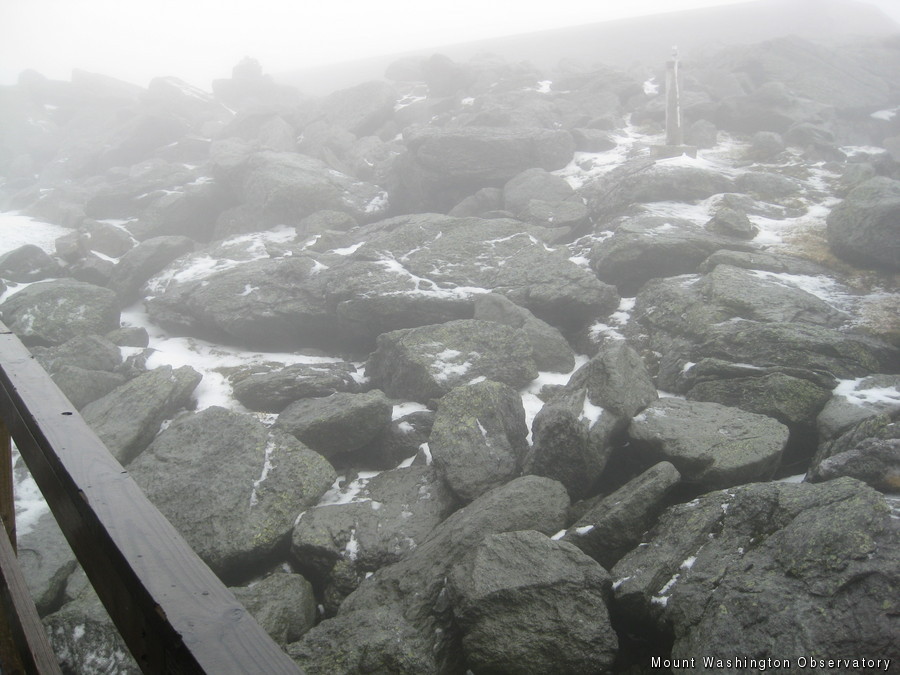 Aftermath of the Hailstorm
Yesterday was my first chance to see a thunderstorm from the summit. We were literally inside the storm! One minute it was raining the next there was lima bean seed sized hail bouncing off the side of the tower. It was an amazing sight to see as the hail piled up all around the summit.
The fun didn't end there though. Unbeknownst to me there was an ice cream maker ball downstairs in the kitchen. Stacey decided we should make good use of the piles of hail sitting around so she pulled it out and then we (Stacey, Scott, and I) ran outside to shovel some into the neon green ball (don't worry, we waited until the storm had passed). After that we had to add the rest of the ingredients using what we had downstairs. Because we didn't have an actual recipe we pretty much just put in random quantities of things until it looked like the right color.
Then came the mixing, which was hard work. According to the instructions you're supposed to toss this big green ball around. However, after a few throws (one of which I did drop) we decided it wasn't the best idea due to the proximity of the mercury thermometers. So, instead we decided to test out our soccer skills and just kicked it around for a good twenty minutes. Then we shoved into the freezer until after dinner and had some pretty good chocolate chip ice cream for dessert.
So, if you ever get bored after a hailstorm and you're a complete and total weather nerd (like me), it's a very entertaining thing to try!
Amy Terborg,  Summit Intern
Ellen Estabrook
Adjusting to Life on the Summit By Charlie Peachey Working on the summit of Mount Washington is not your average job. There aren't too many other places where the employees work and live together for
Ellen Estabrook
A Surprise Aurora By Francis Tarasiewicz After 17 months of working at New England's highest peak, it finally happened. On the night of November 12th, 2023, I was lucky enough to view the famous and
Ellen Estabrook
A Glimpse at METAR Reports By Alexis George, Weather Observer & Meteorologist METAR observations are submitted every hour of every day at Mount Washington Observatory. METAR is a format for reporting weather information that gets