High Winds on the Horizon
2017-04-15 13:38:08.000 – Tom Padham, Weather Observer/Education Specialist
High winds will be once again returning to the summit beginning tonight and lasting all the way through Monday morning. As we head further into spring these high wind events become less frequent, with April seeing a monthly average wind speed of 35 mph and average winds decreasing in May to just 29 mph.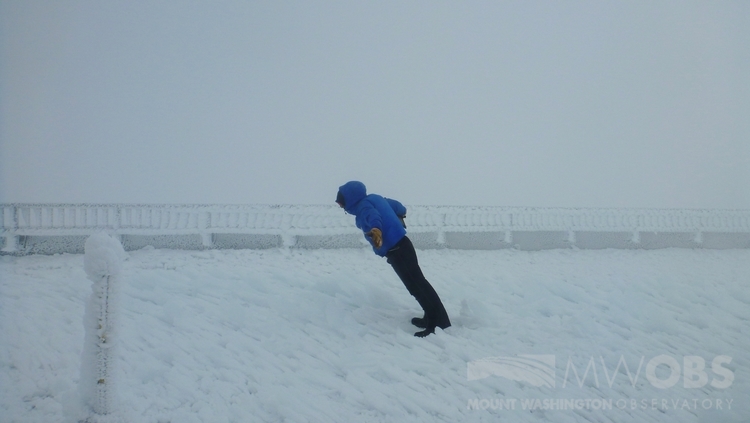 Former Observer Michael Dorfman leans into hurricane force winds in 2016
The culprit for our high winds is actually two areas of low pressure tracking through southern Canada in tandem. A warm front from the first area of low pressure will sweep through overnight Saturday, with strong low level winds (what meteorologists often refer to as a low level "jet"). Rain showers will accompany the front, even on the summit, with temperatures climbing into the lower 40s by Sunday morning.
Sunday should be an interesting day on the summit, with hurricane force winds expected for most of the day and a few isolated thunderstorms even possible. With the summit firmly in the clouds along with rain and temperatures in the 40s we'll likely be melting what little snow we have left, with just patches of ice remaining by the end of the day. Temperatures in the surrounding valleys will be climbing into the 70s, with some breaks of sunshine ahead of an approaching cold front helping to build instability. Overall thunderstorm chances are not very high, but for many areas across New Hampshire it could be the first rumble of thunder heard in some time. A thunderstorm would definitely add some excitement to our afternoon tomorrow on the summit!
Regardless of any thunderstorms, we can almost always count on high winds on Mount Washington. Just how high of winds are we expecting? Depending on which model you look at, we're expecting winds sustained between 75 and 95 mph, with gusts possibly near 120 mph at the height of the event around 7am Sunday. A second peak in the wind will also likely occur sometime during the predawn hours Monday, with wind speeds slightly lower, in the range of 100-110 mph. With summer just around the corner we'll certainly enjoy our more winter-like winds while they last!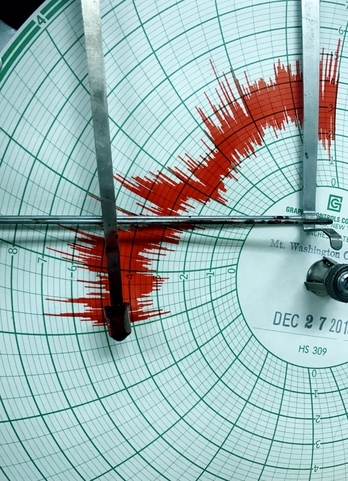 Hays Wind Chart from Dec 27, 2016 with a peak gust of 125 mph. Hopefully tomorrow's chart will look very similar!
Tom Padham, Weather Observer/Education Specialist
Ellen Estabrook
Adjusting to Life on the Summit By Charlie Peachey Working on the summit of Mount Washington is not your average job. There aren't too many other places where the employees work and live together for
Ellen Estabrook
A Surprise Aurora By Francis Tarasiewicz After 17 months of working at New England's highest peak, it finally happened. On the night of November 12th, 2023, I was lucky enough to view the famous and
Ellen Estabrook
A Glimpse at METAR Reports By Alexis George, Weather Observer & Meteorologist METAR observations are submitted every hour of every day at Mount Washington Observatory. METAR is a format for reporting weather information that gets