Hurricane Joaquin
2015-09-30 16:17:39.000 – Mike Carmon, Co-Director of Summit Operations
Hurricane season is in full swing, and there's a storm in the Atlantic Basin that's beginning to nose its way into the headlines.
That storm is Hurricane Joaquin.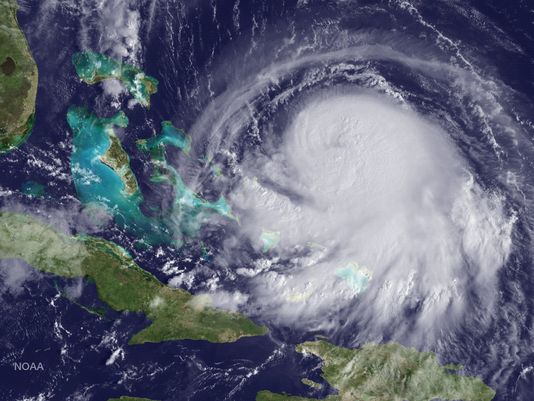 As of 2PM EDT, Joaquin is a Category 1 Hurricane, with maximum sustained winds upwards of 85MPH. Joaquin is positioned northeast of the Bahamas, currently moving towards the southwest.
Hurricane Joaquin has strengthened quite a bit today, and is expected to continue this strengthening trend as its environment becomes much more conducive for tropical development.
Although Joaquin is currently moving southwest, a developing trough over the southeastern United States will prompt the system to make a sharp turn towards the north within the next 2 days.
After the northward turn, there is considerable uncertainty in the computer models as to how far north Joaquin will migrate before it makes a more westward turn towards the continental United states. As of right now, 2 scenarios in particular look likely:
Scenario #1: Should a westward turn happen sooner rather than later, the Carolinas could become the focus of a potential direct strike from Joaquin. This would most likely occur in the Saturday-Sunday timeframe. With this storm forecasted to reach major hurricane status (Category 3, with maximum sustained winds up to 120 MPH), this would place the entire Carolina coastline (from Myrtle Beach, SC northwards to the Outer Banks, NC) at risk for significant impacts from this system. With any landfalling hurricane, the worst of the storm surge generally occurs north of where the eye comes ashore, as the flow is onshore in this quadrant. Unfortunately, this could mean significant storm surge effects (beach erosion, etc.) for the notoriously at-risk Outer Banks of North Carolina, should this scenario play out. In any event, this entire region would be at risk for high winds and heavy rain.
Scenario #2: Should Joaquin continue northward for a longer period of time, landfall could possibly occur as far north as the Jersey Shore or the New York City area. Heavy rain, high winds, significant coastal flooding, beach erosion, etc., could then occur across this stretch of the eastern seaboard. It looks unlikely (at this time) that Joaquin would retain it's major hurricane status if it did trek this far north before making landfall, but the effects would nevertheless be quite significant for this densely-populated region. As of right now, this is the official projected path of the National Hurricane Center, but don't be surprised if this changes a few times in the coming days.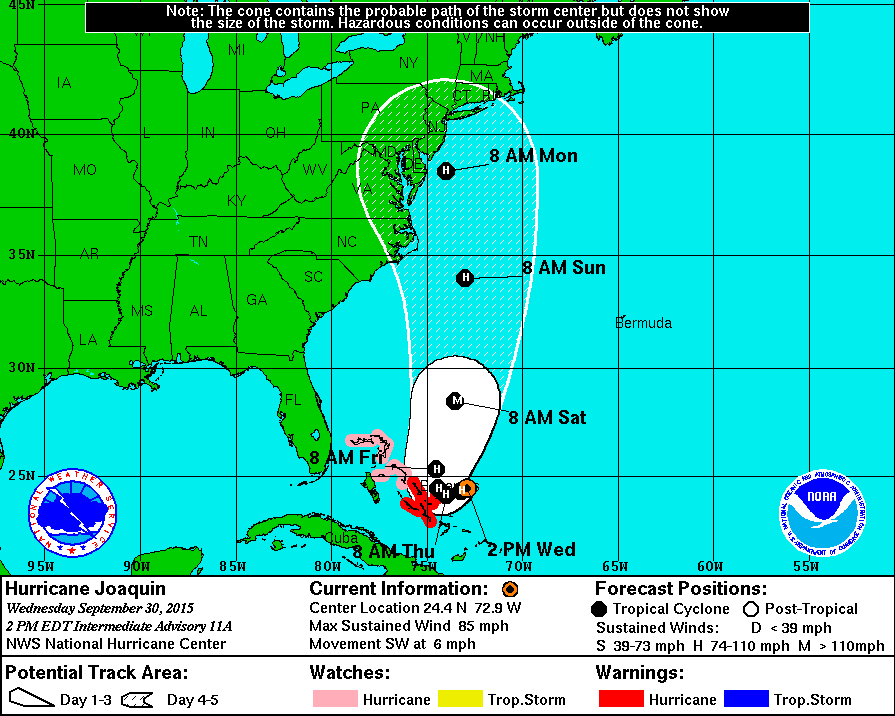 Either way, Joaquin now bears considerable watching for most of the eastern seaboard, from Georgia to Maine. Although one of these two scenarios could play out, or perhaps even a different one, hurricanes are large systems, so effects from it's landfall will extend out hundreds of miles from where the eye ultimately comes ashore.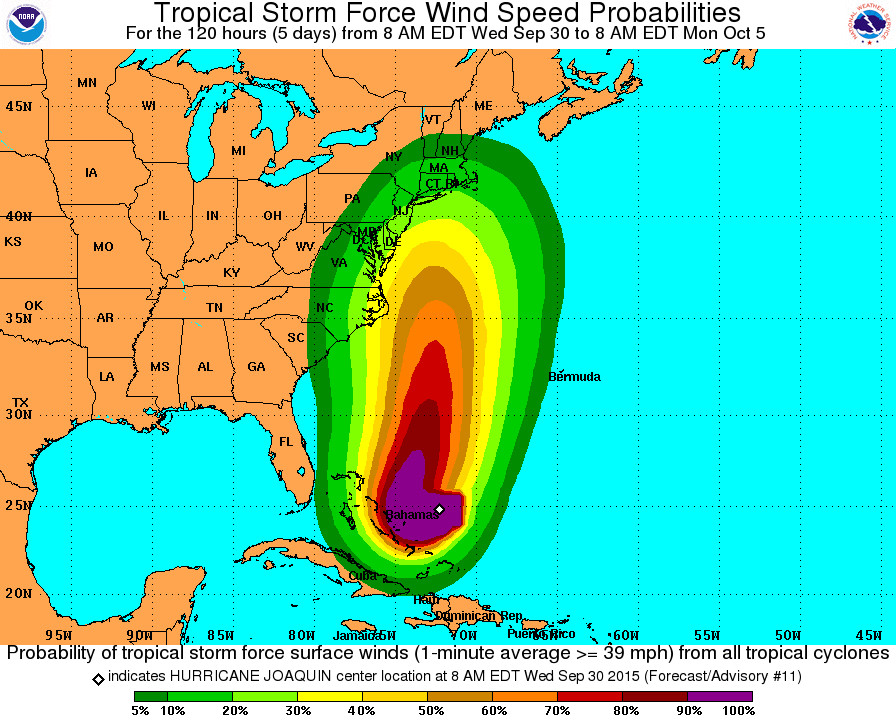 As for Joaquin's potential effects on the White Mountain Region-it's still far too early to tell with any certainty, but a landfall on the eastern seaboard could bring the remnants of the storm through New England sometime in the middle of next week, which could mean another round of very heavy rain for the region.
A direct impact on New England cannot be ruled out at this time as well, but as the storm begins to develop and move northward over the next few days, the potential impacts for the region will come into much better focus.
For now, all eyes are on Joaquin.
Mike Carmon, Co-Director of Summit Operations
Ellen Estabrook
Adjusting to Life on the Summit By Charlie Peachey Working on the summit of Mount Washington is not your average job. There aren't too many other places where the employees work and live together for
Ellen Estabrook
A Surprise Aurora By Francis Tarasiewicz After 17 months of working at New England's highest peak, it finally happened. On the night of November 12th, 2023, I was lucky enough to view the famous and
Ellen Estabrook
A Glimpse at METAR Reports By Alexis George, Weather Observer & Meteorologist METAR observations are submitted every hour of every day at Mount Washington Observatory. METAR is a format for reporting weather information that gets