Irene 1
2011-08-25 15:22:51.000 – Mike Carmon,  Weather Observer/Meteorologist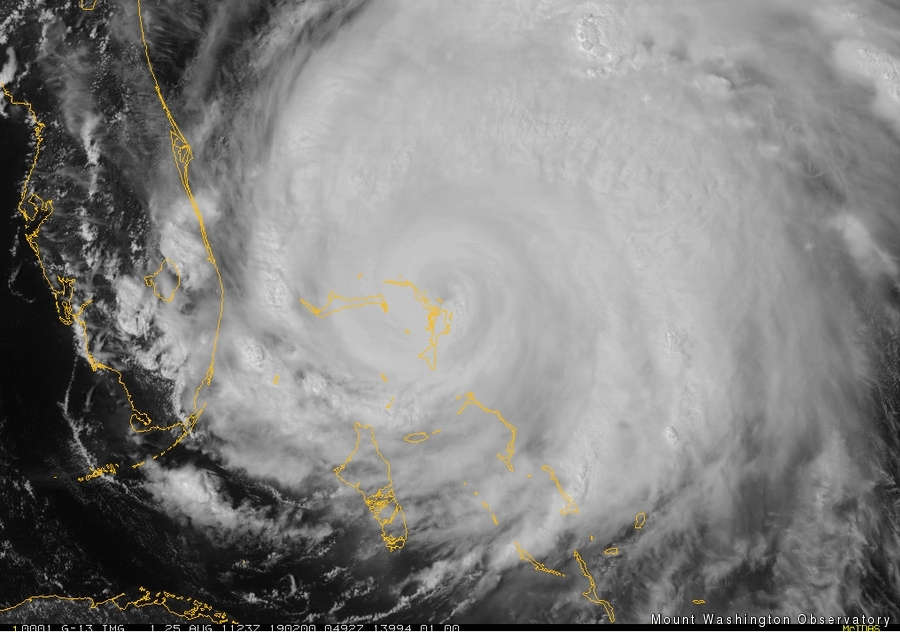 Hurricane Irene
NOTICE: Mount Washington State Park will close at 6 PM on Saturday August 27th in anticipation of potentially dangerous conditions during the passage of Hurricane Irene. The Appalachian Mountain Club will also close their hiker huts at this same time. The closings will continue through all of Sunday August 28th. The reopening of these facilities will depend on conditions following the storm.
For updates and contact information please visit the following sites:
Mount Washington State Park – http://www.nhstateparks.com/washington.html
Appalachian Mountain Club –
http://www.outdoors.org/
Our eye is on I-rene.
Unless you've been living under the proverbial rock, you are aware that the tropics are heating up, and a dangerous tropical entity dubbed Hurricane Irene is churning through the Bahamas, causing major damage and life-threatening conditions.
As of 2PM EDT, Irene is a Category 3 Hurricane, with maximum sustained winds of 115 mph, and gusts exceeding 130 mph. Irene is moving towards the northwest, with a turn northward expected in the next 12 hours or so. Irene is slated to roll over the Outer Banks of North Carolina, and cause major devastation on those fragile islands. Thereafter, Irene has its sights set on the northeastern U.S.
Generally speaking, passing tropical entities do not spawn particularly memorable wind events on the summit of Mount Washington (with exceptions, of course). This is due to the structure of a tropical cyclone, which carries its most destructive winds near the surface. Because Mt. Washington is located at 6,288 feet, the summit usually sits above the strongest winds that a hurricane has to offer. This is in contrast to passing mid-latitude cyclones, in which wind speeds generally increase with height.
This is not to say that a passing hurricane could not help foster a significant wind event. Back in 1954, Hurricane Carol produced a wind gust of 142 mph as it passed almost directly over the summit. Although this was a memorable wind event, especially for the summer season, it is not a figure that is unheard of on Mt. Washington.
As of this time, models are certainly pointing to the possibility of a strong wind event, but after Irene has passed to our north. As Irene transitions from tropical to extratropical, it will take a form much more familiar to us and interact with high pressure off the coast, and wind gusts up to 120 mph are possible late this weekend and early next week. However, this is still many days away and not at all set in stone.For now, we focus on the most likely effect from Hurricane Irene, which is extremely heavy rains. Tropical systems are notoriously tremendous rain-producers, sometimes dropping up to 10 inches of rain in a very short time period. Models all across New England are maxed out in their quantitative precipitation forecast numbers, leading us to believe local rainfall amounts as high as 4-8 inches are quite possible, depending on Irene's exact track (isn't it humorous that we're generally accustomed to forecasting a range like this for snowfall?!). These rainfall amounts are possible, not only on Mount Washington, but across a large part of the New England.
Stay tuned to our observer comments, daily discussions, and our facebook page for continued updates in the coming days. Also, check out the National Hurricane Center website for continuous updates. As Irene draws closer and its future track and intensity become more clear, we'll be sure to inform you with more specifics. As of right now, though, it would be a smart idea to start preparing for the worst, particularly across southern and coastal New England.
It is also important to note that a small and possibly unforseeable wobble left or right could drastically change everything I've stated above. That's just the nature of the beast!
Mike Carmon,  Weather Observer/Meteorologist
Ellen Estabrook
Adjusting to Life on the Summit By Charlie Peachey Working on the summit of Mount Washington is not your average job. There aren't too many other places where the employees work and live together for
Ellen Estabrook
A Surprise Aurora By Francis Tarasiewicz After 17 months of working at New England's highest peak, it finally happened. On the night of November 12th, 2023, I was lucky enough to view the famous and
Ellen Estabrook
A Glimpse at METAR Reports By Alexis George, Weather Observer & Meteorologist METAR observations are submitted every hour of every day at Mount Washington Observatory. METAR is a format for reporting weather information that gets