Irene 3
2011-08-27 17:05:04.000 – Mike Carmon,  Weather Observer/Meteorologist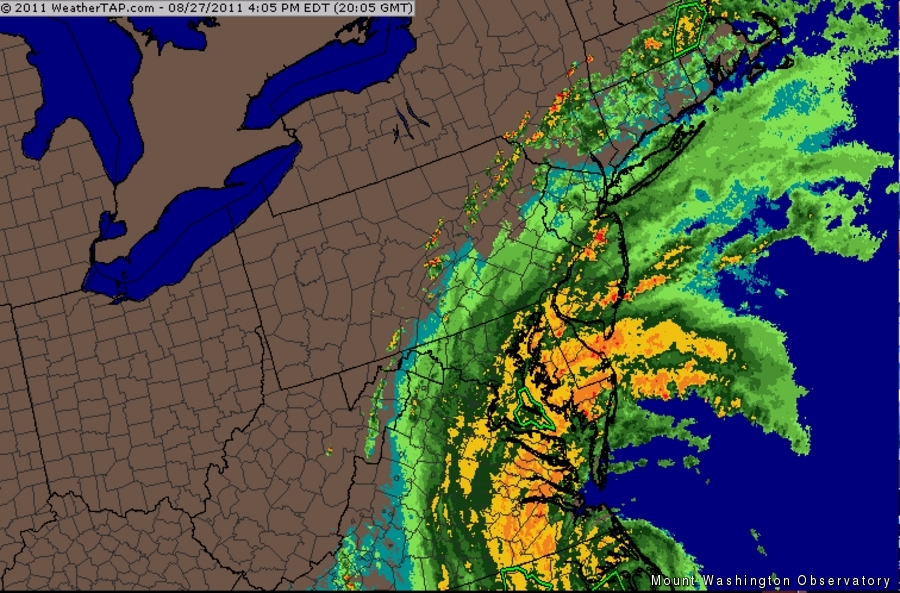 Irene's massive span
Irene's still coming!
If you were hoping your collective hurricane/rain dances, etc., would ward off Hurricane Irene, I regret to inform you that they have not. Irene still has her sights set on New England, along with most of the rest of the eastern seaboard, and she does not intend to play nice.
As of 5 p.m. EDT, Irene is a Category 1 Hurricane centered over the Outer Banks of N.C., and moving quickly towards the north. It is spreading rain bands as far north as southern NH. Boston has already seen its first dousing of rain, and plenty more is on the way. In the meantime, residents along the coastlines of NJ, NY, CT, RI, and MA are bracing for a very wet and windy 36 hours.
Irene is still expected to come ashore as a strong Tropical Storm or minimal Hurricane on the CT coastline late tomorrow morning, and make a bee-line towards New Hampshire. As a reminder, all White Mountain National Forest trails and campgrounds, in addition to all NH State parks, forests & trails, are CLOSED tonight through Monday. Once the Sherman Adams Summit Building shuts its doors at 6 p.m. tonight, there will be no shelter available at the summit through Monday! The Mt. Washington Auto Road has just announced that they too will be shutting down tomorrow, and do not plan to reopen until Monday (weather permitting). Long story short: stay home tomorrow! Search and Rescue operations will be all but impossible.
Although Irene will almost certainly not be a hurricane as it barrels through New Hampshire tomorrow, it will still bring PLENTY of dangerous conditions, including massive amounts of rainfall and winds possibly gusting up to 70 mph (with the highest gusts near Irene's center). Stay away from flood-prone areas, and seek higher ground BEFORE the storm reaches it's height. Secure loose outdoor objects that could become projectiles, and be prepared for prolonged power outages.
Up here on the summit, Irene looks to be a formidable foe as well. One computer model is forecasting the highest wind speed numbers I've ever seen in my three years forecasting for the higher summits. Should this model's scenario come to fruition, wind gusts in the 130-140 mph range are not out of the question. Even if winds do not reach this magnitude, all models are forecasting winds reaching 90 mph sustained at some point tomorrow or tomorrow night, which means wind gusts over 100 mph are highly likely at this point! We're looking forward to it!
Mike Carmon,  Weather Observer/Meteorologist
Ellen Estabrook
Adjusting to Life on the Summit By Charlie Peachey Working on the summit of Mount Washington is not your average job. There aren't too many other places where the employees work and live together for
Ellen Estabrook
A Surprise Aurora By Francis Tarasiewicz After 17 months of working at New England's highest peak, it finally happened. On the night of November 12th, 2023, I was lucky enough to view the famous and
Ellen Estabrook
A Glimpse at METAR Reports By Alexis George, Weather Observer & Meteorologist METAR observations are submitted every hour of every day at Mount Washington Observatory. METAR is a format for reporting weather information that gets