Joining the "Watchers on the Wall"
2021-01-10 15:31:48.000 – Jackie Bellefontaine, Intern
Hi everyone, my name is Jackie Bellefontaine and I am the new Mount Washington Observatory winter intern! I grew up outside of Boston in Malden, Massachusetts but recently moved to Meredith, New Hampshire. I have always loved the New Hampshire Lakes Region and the White Mountains! I graduated from the University of Maine in 2020 with a B.S. in Earth and Climate Sciences. During my undergraduate career, I became very interested in and excited by the Earth's climate system and extreme environments. So, interning at the Mount Washington Observatory is like a dream! I am very happy to be here and excited to share my intern experience with you all.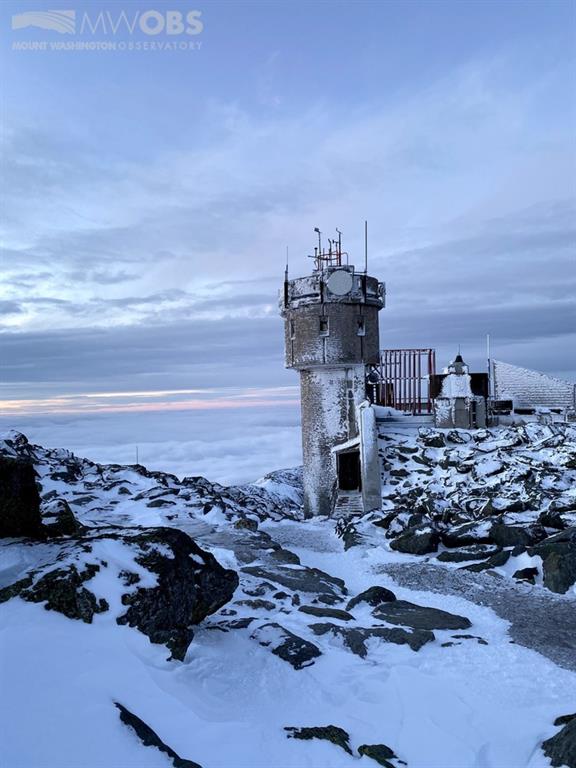 Tower at Sunset
My first day started with a snow-cat ride up the Auto Road to the summit. I had never seen a snow-cat before and was impressed by the sheer size of the vehicle as it rounded the corner to pick up our shift. Our ride up to the summit was gorgeous, we had clear views of the summits of Mt. Clay, Mt. Jefferson, Mt. Adams and Mt. Madison. Additionally, there was an awesome undercast to the west of the Mt. Washington summit. It looked like a sea of clouds and made for a beautiful sunset! I spent the rest of the afternoon exploring the Sherman Adams building, familiarizing myself with daily summit operations and getting to know the awesome summit team.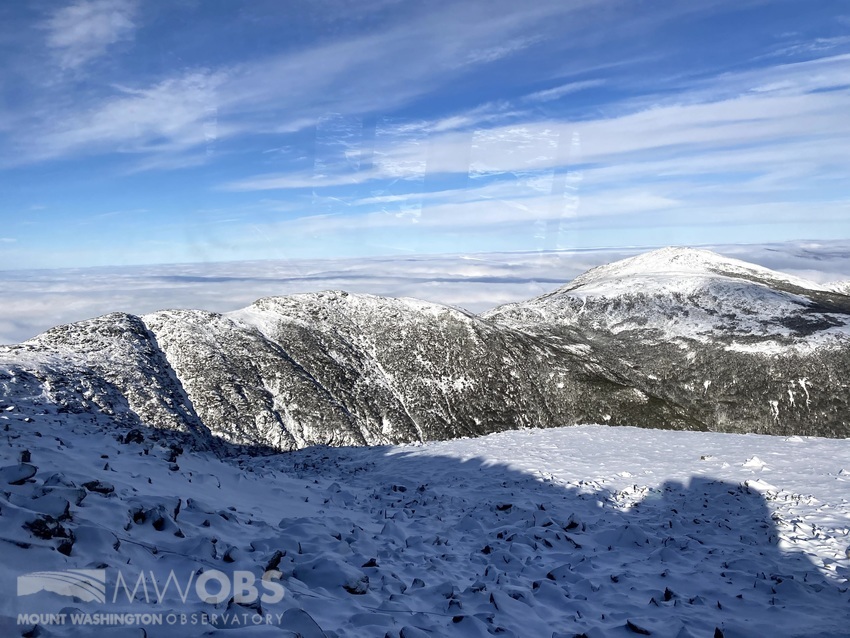 View of Northern Presidentials from the Snowcat
On Thursday, I began to shadow observers Nicole and Sam. I accompanied them on their daily observations out on the summit deck and got to experience the strongest winds I had ever felt–70 mph winds and an 86 mph gust! It made the hourly observations a fun challenge when trying to cross the deck back into the building. Also, the summit was in the clear and we had 130-mile visibility! I was amazed by just how far we could see from the summit–from the ocean off the coast of Portland, ME to Whiteface Mountain, NY!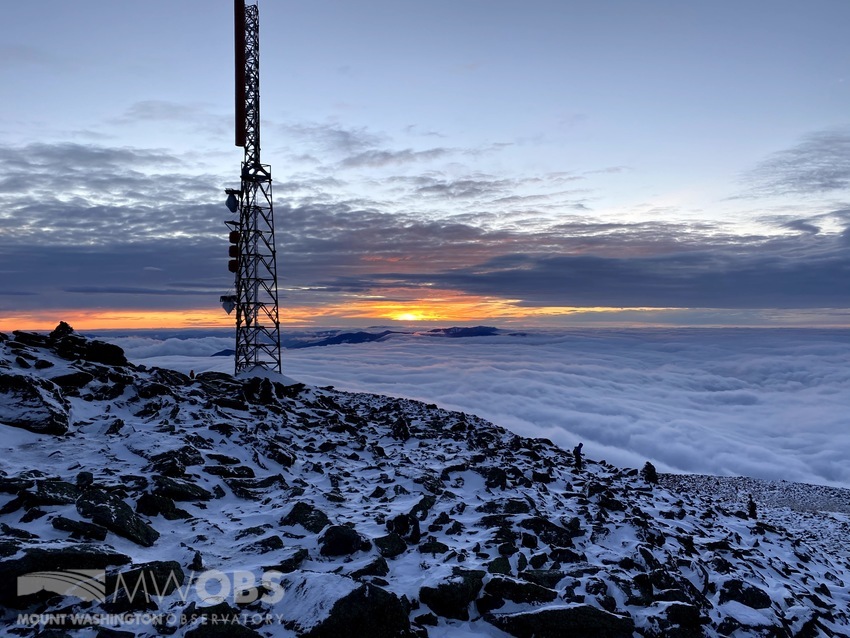 My First Summit Sunset-Pretty Spectacular!
I very much enjoyed my first week at the summit and am looking forward to experiencing and learning more about the Home of the World's Worst Weather! Also, a special thank you to observers Nicole, Sam, and night observer Ryan for welcoming me to the observatory and helping me adjust quickly to life on the summit!
Jackie Bellefontaine, Intern
Ellen Estabrook
Adjusting to Life on the Summit By Charlie Peachey Working on the summit of Mount Washington is not your average job. There aren't too many other places where the employees work and live together for
Ellen Estabrook
A Surprise Aurora By Francis Tarasiewicz After 17 months of working at New England's highest peak, it finally happened. On the night of November 12th, 2023, I was lucky enough to view the famous and
Ellen Estabrook
A Glimpse at METAR Reports By Alexis George, Weather Observer & Meteorologist METAR observations are submitted every hour of every day at Mount Washington Observatory. METAR is a format for reporting weather information that gets