June Snow on the Horizon?
2019-05-30 16:45:49.000 – Thomas Padham, Weather Observer/Education Specialist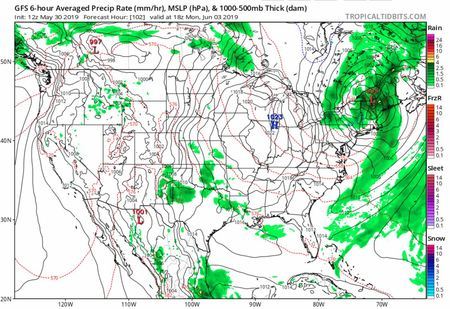 GFS Model surface pressure and precipitation showing low pressure and precipitation parked over New England Monday afternoon. Image courtesy of Tropical Tidbits.
Although June is a month when most folks are thinking of vacation and time spent on the beach, here on the summit of Mount Washington we're no stranger to June snow! We actually average roughly an inch of snow for a typical June, but some years we see no snow followed by an inch or 2 every few years. Looking ahead at early next week, there's the possibility that June 2019 will start off with a taste of winter for New England's tallest peak.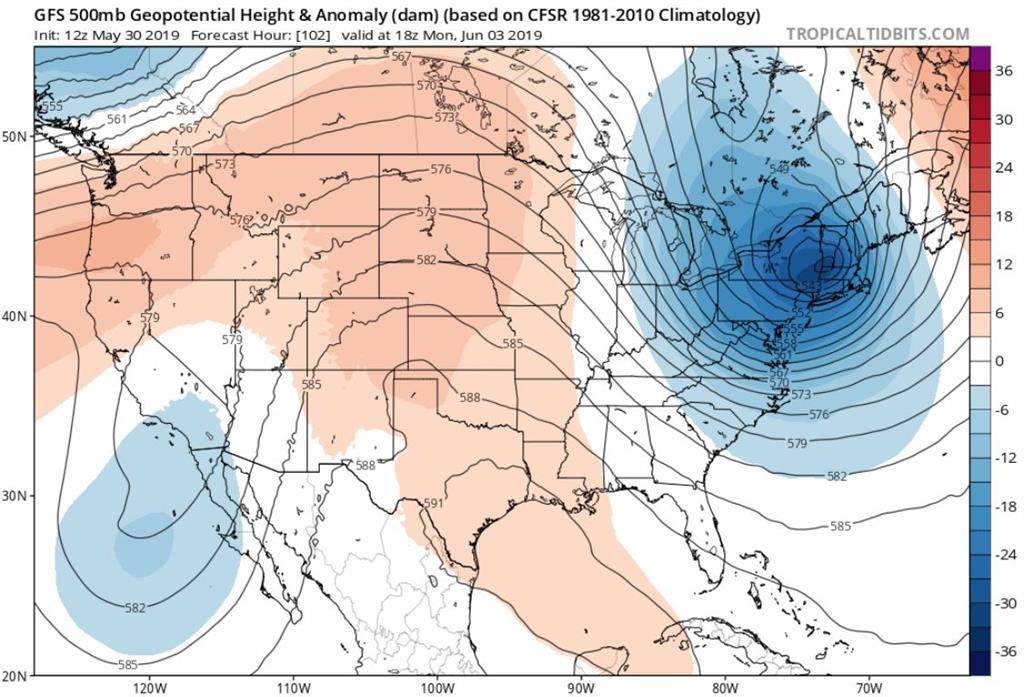 GFS Model 500 mb height anomaly showing a deep trough (dark blue shading) over the Northeast Monday June 3rd. Image courtesy of Tropical Tidbits.
An anomalous upper level trough of low pressure has been in the models for the past several days, looking to park itself over New England Monday and Tuesday. This trough will lead to a slow moving low pressure system at the surface, with chilly air for this time of year diving in from near Hudson Bay down into northern New York and New England.
GFS Model soundings showing temperatures (red line) at Mount Washington's level (800 mb) right at the freezing mark with precipitation Monday night through Tuesday morning. Image courtesy of Tropical Tidbits.
The cold air will be pretty marginal for all but the highest elevations of the Adirondacks of New York and White Mountains, and this may end up being an event where only the summit of Washington is tall enough for snow to accumulate. The exact position of the surface low will also be key, as of right now it has mostly trended right over New Hampshire between each model update but a trend further east would mean a better chance for snow. We'll certainly keep an eye on how this system develops in the coming days, but it could be exciting to kick off meteorological summer with a little snow!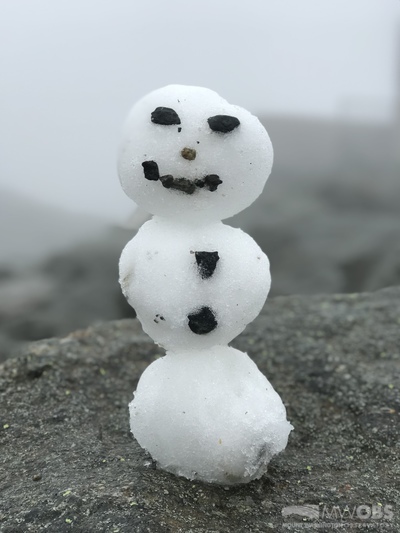 A tiny snowman made last year on June 5th, 2018. Will we have a repeat this year?
Thomas Padham, Weather Observer/Education Specialist
Ellen Estabrook
Adjusting to Life on the Summit By Charlie Peachey Working on the summit of Mount Washington is not your average job. There aren't too many other places where the employees work and live together for
Ellen Estabrook
A Surprise Aurora By Francis Tarasiewicz After 17 months of working at New England's highest peak, it finally happened. On the night of November 12th, 2023, I was lucky enough to view the famous and
Ellen Estabrook
A Glimpse at METAR Reports By Alexis George, Weather Observer & Meteorologist METAR observations are submitted every hour of every day at Mount Washington Observatory. METAR is a format for reporting weather information that gets