Letting go of winter
2009-05-08 16:53:34.000 – Brian Clark,  Observer and Meteorologist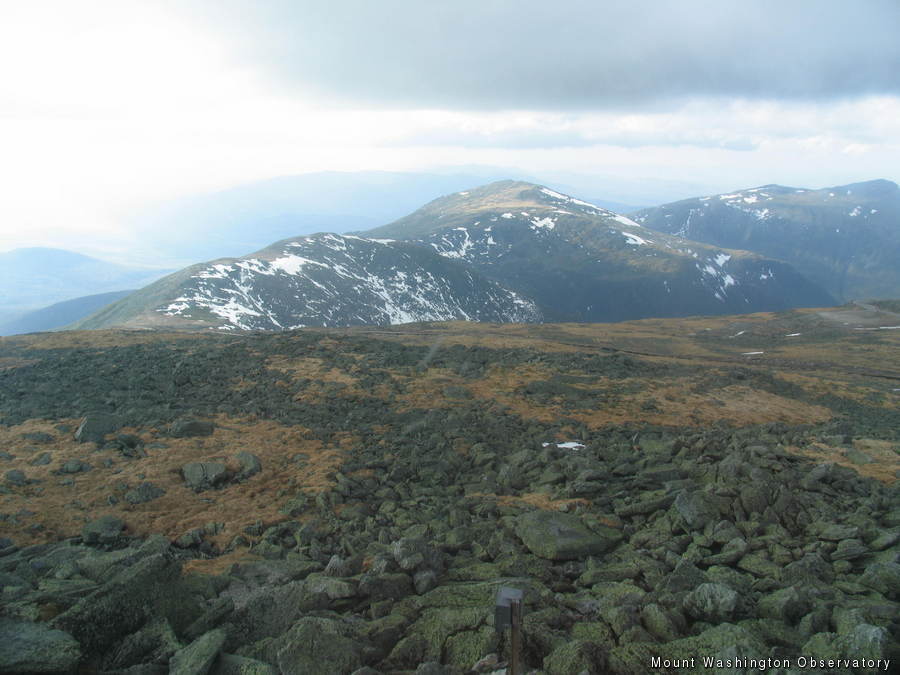 Warm temperatures and wet fog take their toll
It's getting to be that time of year on the mountain that I am forced, kicking and screaming, to let go of winter. The average temperature for tomorrow is 33 degrees, the first day with an average temperature above freezing since October 9. Temperatures have been above the average lately and that, coupled with plenty of wet fog, has eliminated pretty much all the snow on the summit itself. Of course the gullies, ravines, and deeper snowfields are still hanging onto their snow and will for another month or so, but even they are quickly reducing in size. Last weekend was probably my last big day of spring backcountry skiing when a couple of my good friends from Pennsylvania came up to experience Tuckerman Ravine for the first time. Perhaps I will get July turns in again this year if the snow holds up in Tuckerman or over on Mount Jefferson.
Other non-weather related things are forcing me to move into summer as well. The Mount Washington Auto Road will open to 4 mile this weekend and in just one more week, will open to the summit. On the same day the Sherman Adams Building is scheduled to be open to the public. Bill Grenfell, our retail coordinator, was up today for the first time to begin preparations in our museum shop for that opening. In just a few short weeks, the new summer interns will be starting. It all happens so fast!
Of course the good news for a winter weather lover such as me is that the cold and snow is only ever a few short months away on Mount Washington. Also, there is always the chance that temperatures will drop below freezing and we will see some ice or snow at some point during the summer months.
In the mean time, I will find something besides skiing to keep myself occupied until the change of seasons comes around again. I always do.
Brian Clark,  Observer and Meteorologist
Ellen Estabrook
Adjusting to Life on the Summit By Charlie Peachey Working on the summit of Mount Washington is not your average job. There aren't too many other places where the employees work and live together for
Ellen Estabrook
A Surprise Aurora By Francis Tarasiewicz After 17 months of working at New England's highest peak, it finally happened. On the night of November 12th, 2023, I was lucky enough to view the famous and
Ellen Estabrook
A Glimpse at METAR Reports By Alexis George, Weather Observer & Meteorologist METAR observations are submitted every hour of every day at Mount Washington Observatory. METAR is a format for reporting weather information that gets