Merry Christmas and Happy Holidays from the Summit!
2019-12-26 11:17:41.000 – Ian Bailey, Weather Observer/Education Specialist
Season's Greetings everyone! If you celebrate the holidays, hopefully you had a safe and happy time! Or perhaps it was a super nice Wednesday in general! Here at the top of New England, it has been a wonderful time this past week. Our crew is most of the way through a 10-day stint to make sure the other crew has ample time to be with their families. And it certainly has been a mix of emotions! Christmas at the Observatory tends to be a bit peaceful as we quietly continue our work. But we've also been excited about all of the wonderful gifts our members have donated! And we were excited to exchange gifts with each other! But it has also been a bit sad, as this is Adam's last shift on the summit. We're very happy that he is taking the next big step in his career! But we are certainly sad to see him leave. And while we take pride in our work here, we certainly did miss spending time with our loved ones at home. So yes, a rollercoaster of emotion for sure!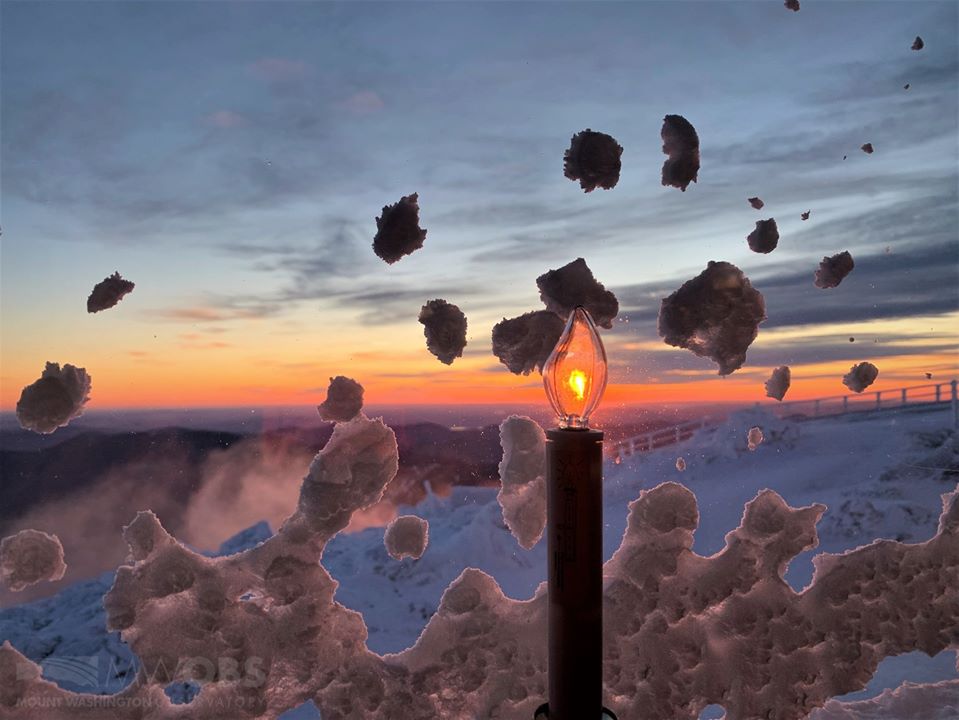 But on the whole, this holiday season has been wonderful. Especially thanks to our amazing volunteers and members who have gone out of their way to give us a spectacular Christmas here on the summit! So let's be sure to give credit where it is due, and thank those who have helped us feel so special!
Once again our incredible volunteers Mike and Sue Zlogar joined the summit crew at the beginning of the month to decorate and get this place in tip-top shape for the holiday! They brought up the tree, decorated it full (with Adam's help putting on our very unique tree topper) and decorated the rest of the living quarters as well. They cooked and baked their hearts out, and cleaned out extra equipment so we'd have more space to work in! As always, we love having them up with us and really appreciate all of their hard work. So a big thank you to you both for going above and beyond to get our Christmas season off and running!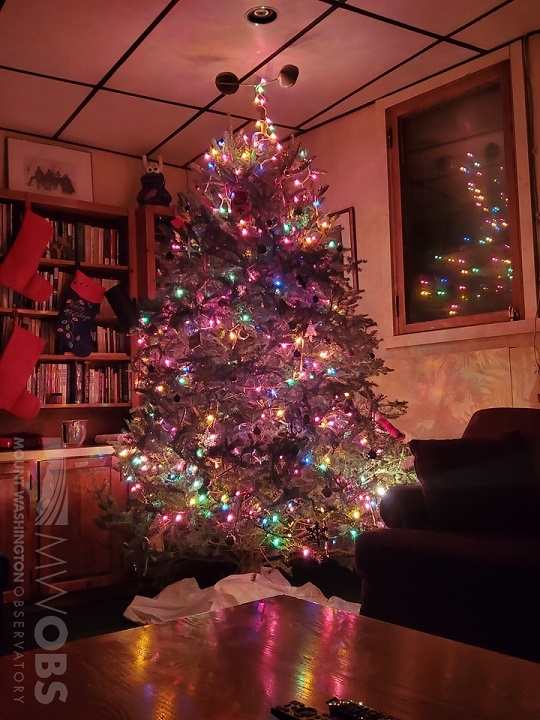 A number of people sent us Christmas Cards, cookies and other little surprises over the weeks! We certainly appreciate the thought and effort put into that, as it is a welcome reminder that people are thinking about us and our well-being during these crazy winter months. So to those who sent those along, thank you all so very, very much.
We've also had lots of kind comments and messages on all of our social media platforms! Just like the cards, it's really nice to know that you guys are thinking about us while we are up here, and it continuously reminds us that the work we do is important. Regardless of the time of the year, your messages let us know that the work is appreciated and makes all of our hearts feel warm. So thank you all very much!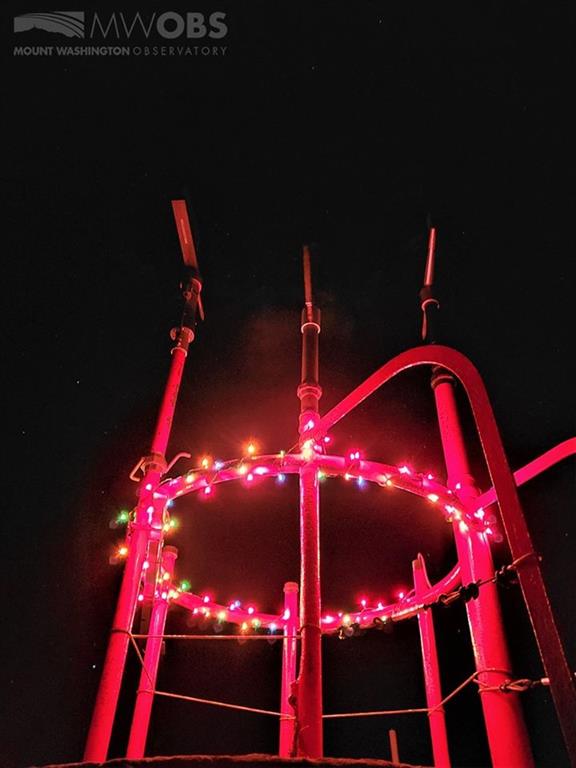 And we had presents as well! Delivered by Santa from the WDC to the summit, there were lots of packages for us to open! Thanks to our members Carol Anderson, David MacKenzie, Dawn Bailey (my wonderful Mother!), Dennis Marrotte, Janet Rain, Tom & Liz Shepherd, and even a few presents from "Santa" himself! Thanks to you all and your gracious donations, we now have lots of brand new equipment that we very much needed! We have a smartphone stabilizer to help with our Facebook Lives and video recordings! We also got lots of great new food containers, pot holders and over mitts, utensils, office supplies, a new toaster oven, humidifiers to combat the incredible dryness, a new coffee pot, a new pair of binoculars for obs, and treats, broth and plenty of kitty litter for Marty! We all must have been very good Observers this year! Thank you all so incredibly much for these donations. Please know that your very thoughtful contributions will go to great use, and have very much improved our lives and living conditions on top of this crazy mountain. Again, thank you all very much!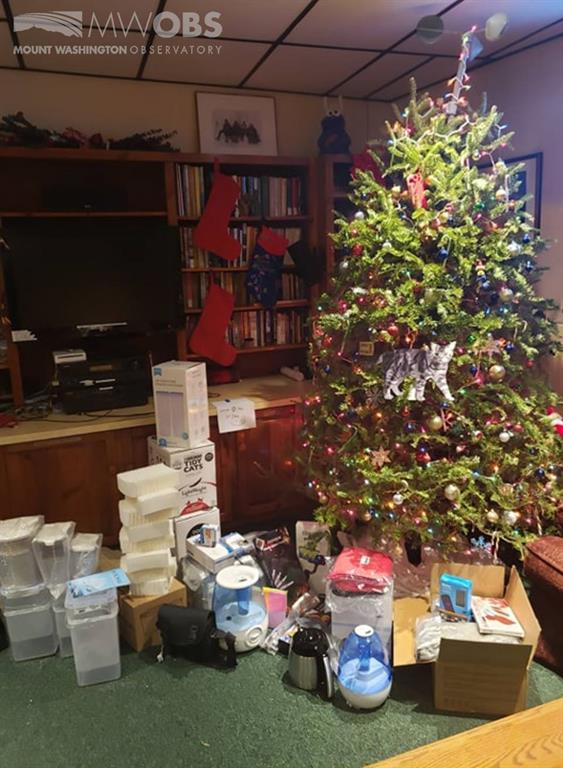 So despite being apart from my loving family and my wonderful fiancé, my Christmas time here at Mt. Washington has been quite pleasant and happy. Thanks to everyone's generosity and good will, my heart has felt full as my work has continued through the holidays. From myself, my crew and everyone else who works here at the Observatory, thank you all very much! Your support in any form allows us to not only continue the good work we do up here, but to do so comfortably and safely as we can. We hope that you'll continue to support us as we head into a new decade, and continue to follow our forecasts, check our data, and enjoy our pictures and posts. May the rest of your 2019 be safe and happy, and may you have a prosperous start to the turn of the decade!
P.S. I've been in such good spirits this week, I decided to modify a famous Christmas poem to reflect our Christmas here on the summit. I hope you read it and enjoy! Happy Holidays everyone!
Twas the Night Before Obs Christmas
Twas the night before Christmas, and all through the Obs,
Not a creature was stirring….except Jay, taking obs…
The parapet Christmas lights lit up the sky,
In hopes that St. Nick wouldn't just fly by.
Adam and Ian we're snug in their bunks,
Dreaming of eating some roasted lamb chunks.
Marty was washing, cleaning up with a lap,
Before settling down in his chair for a nap.
When up on the deck there arose such a clatter!
Jay ran to the window to see what was the matter!
Adam and Ian stayed soundly asleep,
As that 6 a.m. wake up would make anyone weep.
The moon lit the peaks and the ice covered rocks,
Jay whipped around and checked all the clocks.
Midnight had fallen, and now was the time
For Santa to land and destroy all the rime.
He rushed up the tower, quick as a whip,
Poked his head out the door to look for St. Nick.
The darkness was deep, his eyes must adjust!
And he nearly fell over from a sudden wind gust.
But once he was steady, he saw quite a scene!
On the deck was a sleigh, and a full reindeer team!
Santa was here, and already downstairs,
Delivering presents from the members with care!
Jay rushed back inside, down the stairs in spiral
Trying to take video he hoped would go viral.
He burst through the door, dropped his phone is surprise,
At the sight of St. Nick and his twinkling eyes.
The donations were stacked in a mountainous pile.
Santa motioned his hand, "Please, stay a while".
Jay slowly sat down, not sure what to do,
As Santa passed over a fresh coffee brew.
"You've been a great Observer, like the rest of your crew!"
"Tom and his shift-mates do fantastic work too!"
"So of course I'd deliver these gifts from below!"
"And with your forecasted clouds, I made sure to fly low."
They chatted about weather and good times on the Rockpile
For what felt like hours, or at least a long while.
Jay's heart felt so warm, but he suddenly snapped to!
It was 12:45, and there was much work to do!
"I'm so sorry Santa, it's time for the ob!"
"If I don't get upstairs, I could lose my job!"
Santa let out a laugh "Oh ho ho ho ho!"
"Lucky for you there isn't much snow!"
Back up he ran and donned all his gear,
Then grabbed the precip can sitting quite near.
Claus entered the weather room, waved his big hand,
And the two of them dashed to swap out the can.
With little inside, Jay's heart sure did sink.
"I wish there was more." Which caused Santa to think.
"Merry Christmas Jay, and to the rest of the Obs."
"I have one last gift that should brighten your job!"
He walked back to his sleigh, with Jay and the can,
Reached in his sack, then threw up his hand.
Jay looked above to see a bright flash,
Which ruined his night vision, his sight was quite trashed.
When his eyes normalized, Santa had gone,
Flying off to the east, headed towards dawn.
"Ho ho ho! Merry Christmas!" he yelled.
Jay stood in wonder, not sure what he beheld.
The night went on, with Jay working fast,
To finish his duties before his shift passed.
Adam and Ian came upstairs before dawn,
Both letting out a gargantuan sized yawn.
Jay in a tizzy told them what had occurred,
And both of them laughed. "Jay, that's absurd!"
He knew it was true "Just you wait and see!"
"He promised a gift, said it was something we'd need."
Christmas Day passed peacefully, and after the meal,
It was time for some games, which were played with great zeal.
Jay, back on obs, had started to doubt,
"So much for that gift" he mumbled with a pout.
But once he stepped out, he immediately observed,
That Santa had definitely kept to his word.
He noticed snow falling! His heart filled with elation!
There was no snow forecasted for this part of the nation!
He ran back inside, submitted his work,
Then dashed back downstairs like he was going berserk!
"Guys! It's snowing! I told you he came!"
"His last gift was snow 'cause our weather's been lame!"
Adam and Ian stood in there in awe,
As unforecasted snow was all that they saw.
They knew Jay was right, and their hearts sure did swell,
Santa had saved them from the high pressure spell.
They opened their gifts as the snowfall progressed,
Thankful for Santa and members who made them feel blessed.
It was a wonderful Christmas up here at the Obs,
Happy Holidays to all! Now we're back to our jobs!
Ian Bailey, Weather Observer/Education Specialist
Ellen Estabrook
Adjusting to Life on the Summit By Charlie Peachey Working on the summit of Mount Washington is not your average job. There aren't too many other places where the employees work and live together for
Ellen Estabrook
A Surprise Aurora By Francis Tarasiewicz After 17 months of working at New England's highest peak, it finally happened. On the night of November 12th, 2023, I was lucky enough to view the famous and
Ellen Estabrook
A Glimpse at METAR Reports By Alexis George, Weather Observer & Meteorologist METAR observations are submitted every hour of every day at Mount Washington Observatory. METAR is a format for reporting weather information that gets