#MWOMetMonday Round Two
2015-09-14 18:24:15.000 – Ryan Knapp, Weather Observer/Staff Meteorologist
Welcome back to our weekly #MWOMetMonday.
Our first question is a common one this time of year. We typically see several Facebook posts, Tweets, and emails asking the following:


Over our 82+ year record, we have seen an at least one inch of snow for every month of the year. So, it is possible and not uncommon for the summit to see some amount of snow. That is one reason why it is important for hikers to check the forecast for snow and/or cold even during the summer months. I know "it can snow year round" is not the answer most are looking for though. Having answered this question in email form numerous times, I know people are more interested when "winter" is going to begin up here. In that case, people are interested in when it will snow first but more importantly, when will the snow stick around?
As far as first snow, September is typically the first month we see first seasonal snow (or snow grains, snow pellets, or sleet). In fact, today we saw sleet falling on the summit. While not snow, it does count towards our frozen precipitation total. So, in that case, today is the first "snowfall" of the season. And this is in line with past months where the summit typically sees first snow mid to late September.
As far as when snow sticks around, October is typically the month. While we can see snow sticking and accumulating in September, it typically falls and then melts out a day or a few days later. By mid to late October is when snow falls and then sticks around. Again, with first snow and first accumulating snow, nothing is set in stone; so just because these are the typical time periods doesn't mean things may come earlier or later. Hikers and visitors to the summit should continue to monitor the weather forecasts prior to their hike and pack extra layers, especially this time of year as warmth in the valley won't always equate to warmth on the summits.
Our next question comes from Tim Myers from Twitter.

The last time smoke from fires out west (CA, OR, WA, MI, etc) and Canada had a direct impact on summit visibility was earlier this month on September 2. Prior to this date, a large dome of high pressure set up over the Midwest. This allowed smoke in the west to rotate northward over Canada, all of which was visible on satellite imagery. As this high slid east, a northwesterly flow wrapped smoke down from the north-west over the region. As the high crested, a stagnant air pattern followed allowing this smoke/haze to choke visibility down to 6 miles on the higher summits with a trace scent of smoke in the air.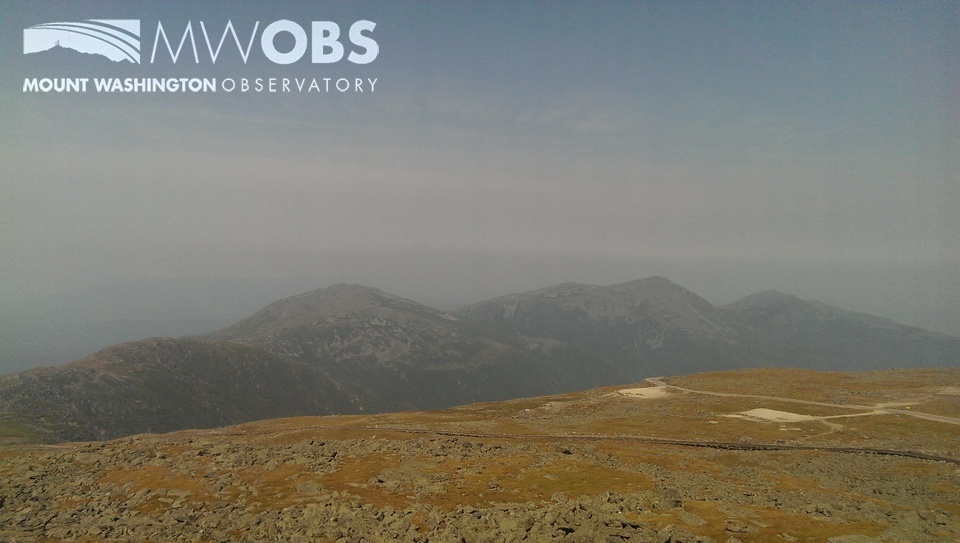 Smoke/haze affecting summit visibility on 2 September 2015
Ryan Knapp, Weather Observer/Staff Meteorologist
Ellen Estabrook
Adjusting to Life on the Summit By Charlie Peachey Working on the summit of Mount Washington is not your average job. There aren't too many other places where the employees work and live together for
Ellen Estabrook
A Surprise Aurora By Francis Tarasiewicz After 17 months of working at New England's highest peak, it finally happened. On the night of November 12th, 2023, I was lucky enough to view the famous and
Ellen Estabrook
A Glimpse at METAR Reports By Alexis George, Weather Observer & Meteorologist METAR observations are submitted every hour of every day at Mount Washington Observatory. METAR is a format for reporting weather information that gets