My days in paradise
2009-06-04 23:11:05.000 – Patrick Tagan,  Summit Volunteer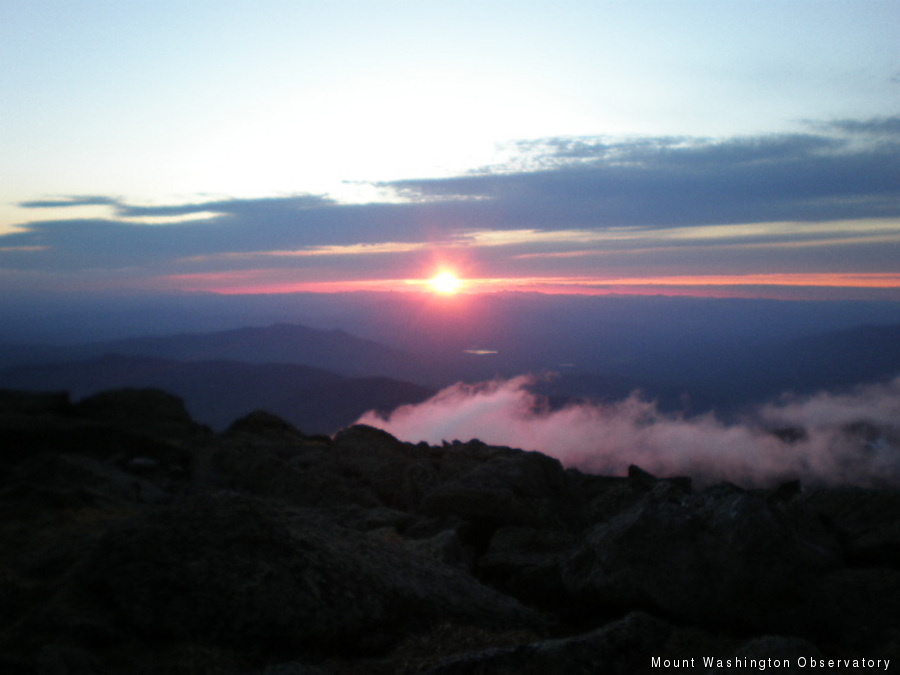 My first sunset on the mountain
It is nice to be part of the observatory team up here on Mount Washington. Over the past few days, I have gotten to learn all about the instruments, the techniques, and the people that make this weather observatory unique. From pulling wires to learning about weather observations, I have acquired a variety of new skills. My adventure started on Tuesday, when I ascended to 6,288 feet above sea level. I was welcomed to a cool 34 degrees Fahrenheit temperature and around 32 mph winds, which was not a bad way to start my journey. I found it to be a lot nicer than the calm 76 degrees Fahrenheit temperature at the base of the auto road. I especially enjoyed the upslope fog that came on and off throughout the day. After I arrived, I hit the ground running by helping restock the museum store. It was nice to help serve dozens of fellow hikers, ranging from expert climbers to family sightseers. Plus, folding t-shirts is one of my new most beloved hobbies.
Towards the end of the evening, I continued to ask questions and attend observations. I got to view one of the nicest sunsets that I have ever seen. The combination of cloud coverage and the angle of the sun made for an image that I will never forget. It was a great way to end a great day.
I awoke the next day to more excitement and new opportunities. It was Wednesday and the end of the previous shift. Despite the fact that I had only just met the people in the departing shift, I was beginning to miss their unique personalities. The new shift was compiled of a great group of professionals, who all held deep educational backgrounds in a variety of fields. It was an honor to be a part of this intricate operation that is so vital in collecting information for atmospheric studies. I am very grateful for all of the information that the observers and MWO members have provided me throughout my stay here.
I continued to shadow observers throughout the rest of the day, along with working on organizing the wires that led to the Cosmo Shack. The Cosmo Shack is a small hut that is used to collect information on insolation, in-coming solar radiation. It turned into a massive project that lasted until late today, but it was a good lesson in electrical engineering nonetheless. This project was just another reason why life up here is never boring.
I continue to learn something new every moment I am up here at the summit. It is a great place for hikers, tourists, scientists, and environmentalists alike. I remember the first time I hiked the mountain back in 2004 with my dad. I remember the visibility was about as nice as it is today. You could see up to about 90 miles of beautiful country. It is not a sight that most people are able to see on a daily basis. I must say, it is too bad that a high pressure system has caused the weather to be so nice. A weather enthusiast, as I am, would probably enjoy more variable conditions.
I am sure that I will be back to the mountain again. Few people know what it is truly like to live on top of the world. For us lucky few, we will always hold that memory in our hearts and minds. Until I return, I wish the best to the Mount Washington Observatory Team and to all those who continue to serve the betterment of science.
Patrick Tagan,  Summit Volunteer
Ellen Estabrook
Adjusting to Life on the Summit By Charlie Peachey Working on the summit of Mount Washington is not your average job. There aren't too many other places where the employees work and live together for
Ellen Estabrook
A Surprise Aurora By Francis Tarasiewicz After 17 months of working at New England's highest peak, it finally happened. On the night of November 12th, 2023, I was lucky enough to view the famous and
Ellen Estabrook
A Glimpse at METAR Reports By Alexis George, Weather Observer & Meteorologist METAR observations are submitted every hour of every day at Mount Washington Observatory. METAR is a format for reporting weather information that gets