My First Few Days on the Summit
2018-08-25 16:34:05.000 – Chloe Boehm, Summit Intern
Hello! My name is Chloe Boehm and I am the new fall intern here on the summit! I am originally from Lexington, Massachusetts but I spent the last 4 years in Maine at Colby College studying Physics and Mathematical Sciences. I am lucky to have grown up hiking and exploring in New England and especially in the White Mountains. Through this I experienced a taste of the wild weather in these mountains, from high winds to snow storms that seem to come out of nowhere. Seeing these weather events is what really sparked my interest in weather and meteorology. As my college did not offer courses in meteorology, I took the opportunity when I went abroad to New Zealand to take an Environmental Physics class which gave me my first academic introduction to the world of meteorology. Since that and learning about the Mount Washington internship, it has been a dream of mine to learn more about forecasting on top of one of my favorite places in the world. Needless to say, I am very excited to begin my internship this fall.
My first day on the mountain started off with a bang with pouring rain in the valley and 60 mph winds atop the summit. Spending parts of that first day walking around the summit and almost getting blown over was definitely a highlight. The next couple days provided some clearer weather and warm temperatures which offered me the chance to really take in the surrounding views and see a totally different version of the summit. One interesting phenomenon that accompanied the clear weather was quite a bit of smoke blown in from wildfires in the Western U.S. and Canada. This smoke covered the mountains in a blanket of haze and turned visibility from 90 miles to only 5-10 miles. I have never experienced such large amounts of haze from smoke and it was really incredible to see smoke from all the way across the country effect the mountains in the Northeast.
Below I have included two pictures I took of the southern Presidentials, the first one on Thursday and the second on Friday. These two pictures give a good visual representation of how much the scenery changed once the haze from the wildfires enveloped the mountains.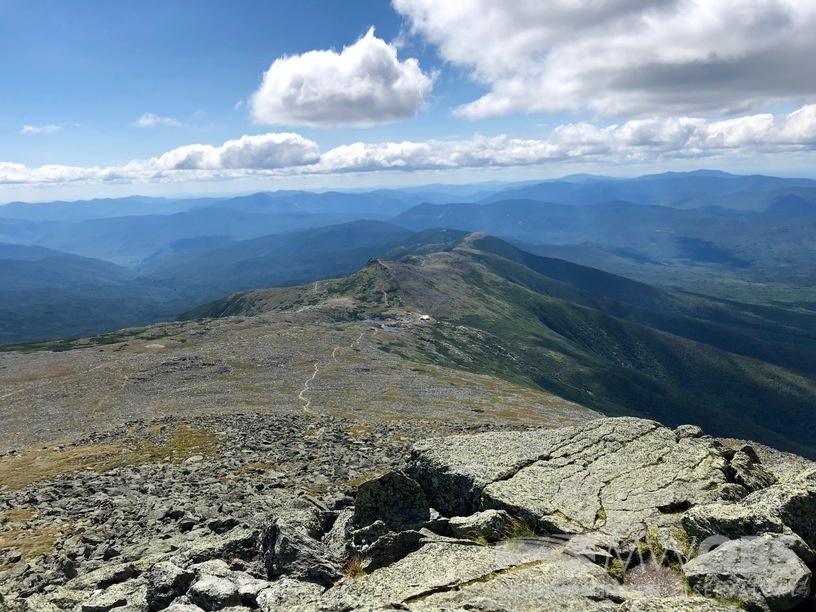 Clear picture of southern Presidentials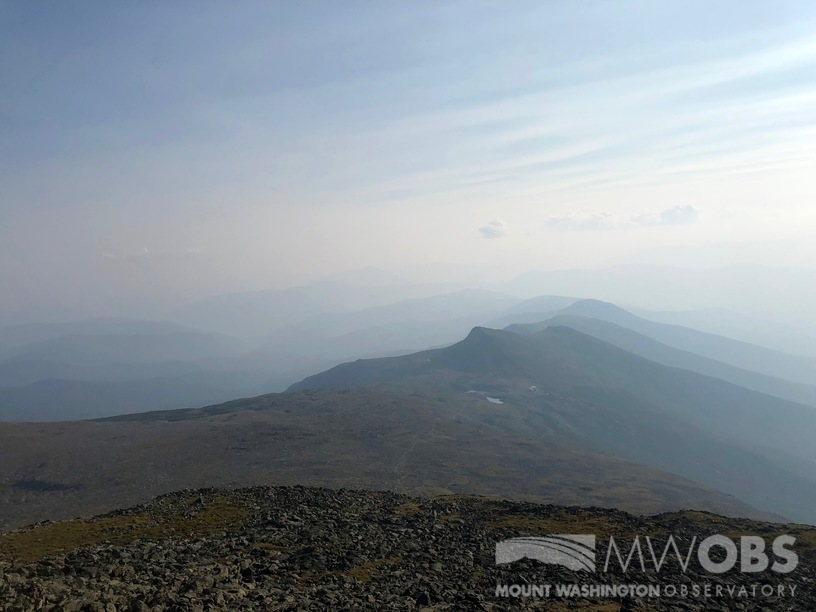 Hazy picture of southern Presidentials
Getting to know the observers and the rest of the staff has also been great! They are all really friendly and knowledgeable and I really appreciate them taking the time to answer all of my questions. The accommodations atop the summit are quite cozy considering the location. I have also gotten the opportunity to explore the area surrounding the summit a little bit in the afternoons going on short hikes or walks. I will leave you today with a picture of the sunset from Friday night. Although the haze prevented us from seeing the sun dip below the horizon it did add some nice colors to the sky.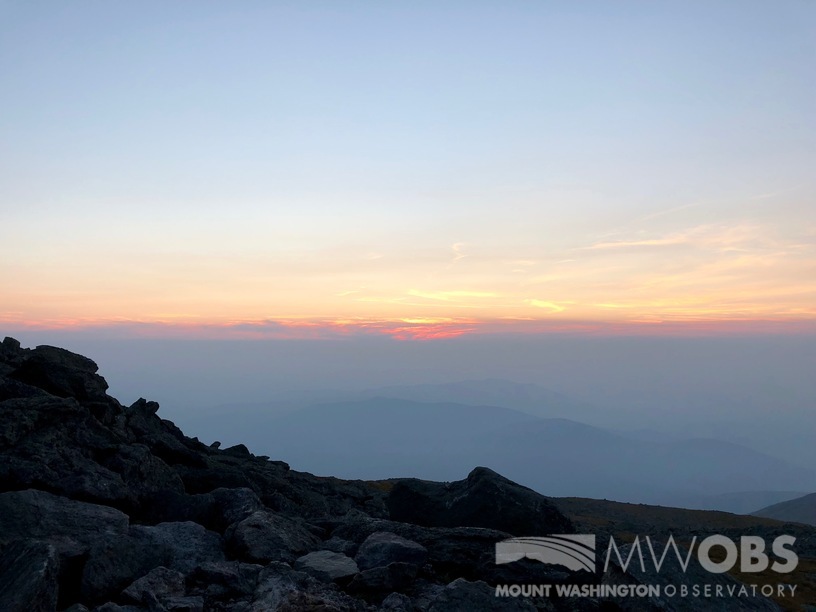 Chloe Boehm, Summit Intern
Ellen Estabrook
Adjusting to Life on the Summit By Charlie Peachey Working on the summit of Mount Washington is not your average job. There aren't too many other places where the employees work and live together for
Ellen Estabrook
A Surprise Aurora By Francis Tarasiewicz After 17 months of working at New England's highest peak, it finally happened. On the night of November 12th, 2023, I was lucky enough to view the famous and
Ellen Estabrook
A Glimpse at METAR Reports By Alexis George, Weather Observer & Meteorologist METAR observations are submitted every hour of every day at Mount Washington Observatory. METAR is a format for reporting weather information that gets