My First Shift on the Summit
2020-01-19 10:10:36.000 – Caleb Buchler, Summit Intern
Hey! My name is Caleb Buchler and I am the other winter intern at the Summit. I graduated with my second bachelor's this past spring from Salisbury University with a degree in Geography/Atmospheric Science. I grew up on the east coast my whole life in Fenwick Island, Delaware and, as an avid surfer, always had a fascination with winter Nor'easters. Nothing gets me more excited than strong coastal low bringing snow and swell. It has been a goal of mine to spend a winter (and hopefully many more) in the Northeast and experience these winter storms more frequently. I went a step further and landed myself an internship at "The Home of the World's Worst Weather".
I started on the 15th of this month. After last week's record high temperatures, we were able to drive up in a van to Winter Cutoff before I got my first ever Snowcat ride. I met the other week's crew after arriving and we had a short observer meeting on what to expect for the next week's weather before they headed back down to normal life.
Soon after the meeting, Ian was taking me up to the parapet to do my first de-icing as we were in a wet fog at the summit. At temperatures well below freezing, this meant super cooled water droplets froze instantly on contact with any surface. I had never seen rime ice in my life and every weather instrument was covered in it. We used a crow bar to smack any rime ice off. It was "easy" until I was asked to get on the fully exposed instrument ring to clear ice off the pitot and wind vane instruments. It felt as if I might fly out of the ring while de-icing. When I came back in, I learned that the winds were a "mild" 50 mph. Little did I know I was going to experience winds over twice as strong at about 110 mph the following night while shadowing an observation with Ian on the observation deck. That time it felt like I might not make it back to the tower door as each step was a major obstacle. In just four days, I have become very comfortable in 70 – 90 mph winds and experienced winds over the century mark several times. I even got to be in my first post on the MWO Facebook/Instagram page standing next to a 4 foot snowdrift at the door.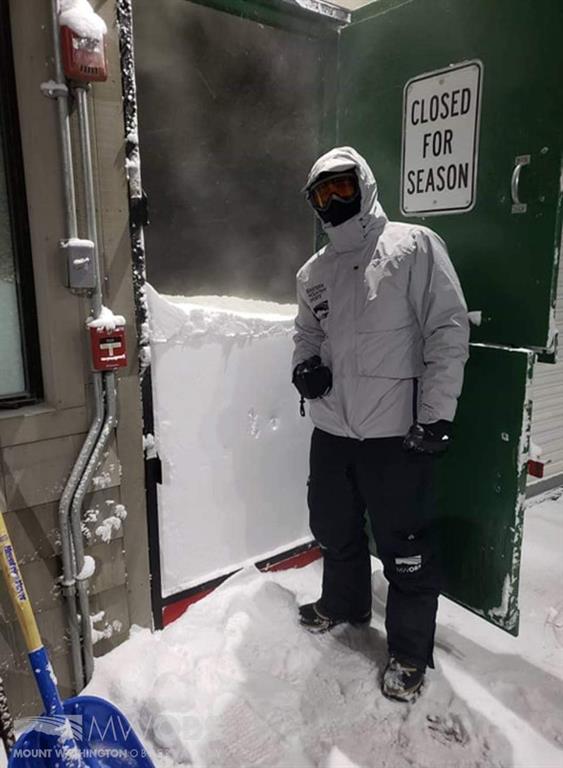 On, Friday we had a visit from members of the National Weather Service (NWS). Having the opportunity to meet so many individuals with successful careers in the field of meteorology and different backgrounds in education was very exciting. We also got to see our highest winds of our shift during their short visit!
Last night I had the opportunity to put my forecasting skills to the test as Ian allowed me to post and record the Summit and Valley 48 hour forecasts for the first time. I was elated when saw I got the winds right for last night's forecast as the low passed through. Two days before that I was struggling to even put together an organized forecast before report time. Taking from the experience/knowledge from Ian and Jay, it was amazing to see how quickly I was able to improve. Having their help really gave me the confidence to trust in my summit forecast which was no easy task growing up in one of the flattest states of Delaware. I look forward to creating many more forecasts and improving my forecasting skills as my goal is to one day find a career in forecasting weather.
My next step is to improve my on camera presence during the Facebook live streams and looking into a research project for the next five months here. I look forward to the tackling the challenges ahead.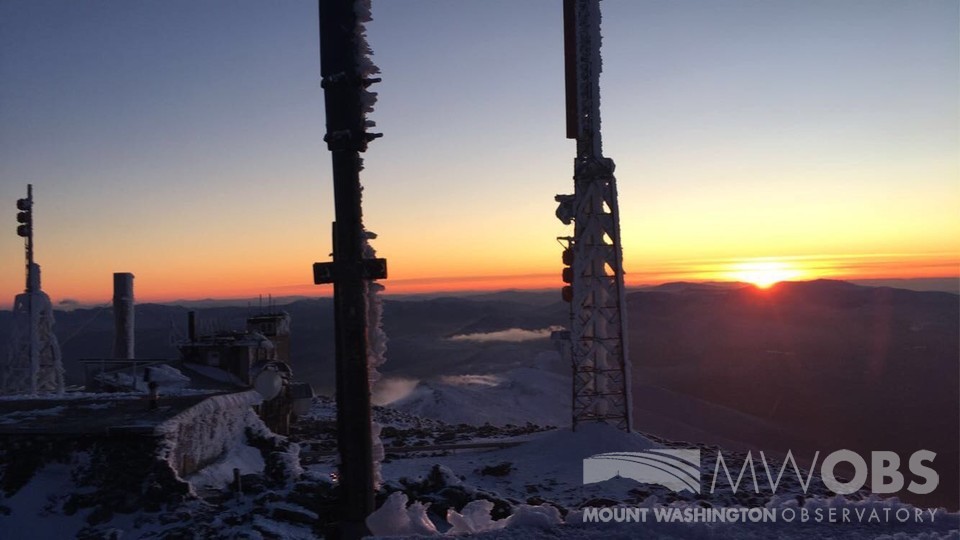 Caleb Buchler, Summit Intern
Ellen Estabrook
Adjusting to Life on the Summit By Charlie Peachey Working on the summit of Mount Washington is not your average job. There aren't too many other places where the employees work and live together for
Ellen Estabrook
A Surprise Aurora By Francis Tarasiewicz After 17 months of working at New England's highest peak, it finally happened. On the night of November 12th, 2023, I was lucky enough to view the famous and
Ellen Estabrook
A Glimpse at METAR Reports By Alexis George, Weather Observer & Meteorologist METAR observations are submitted every hour of every day at Mount Washington Observatory. METAR is a format for reporting weather information that gets