My First Week at 6288′
2021-09-14 23:49:45.000 – Sam Gawel, Summit Intern
My name is Sam Gawel and I am ecstatic to be up for my first week at the Mount Washington Observatory. I was born and raised in Detroit, but the White Mountains have always been a second home, as much of my family lives in or comes from the area. Just this summer, my family moved to Piermont, NH, and we couldn't be happier for it. This has allowed me plenty of time to explore these beautiful peaks and valleys. I am a junior at Dartmouth College majoring in environmental earth sciences, but predominantly interested in meteorology and climate science. In my free time, I enjoy hiking, mountain biking, cooking, and watching my hometown Lions lose every Sunday.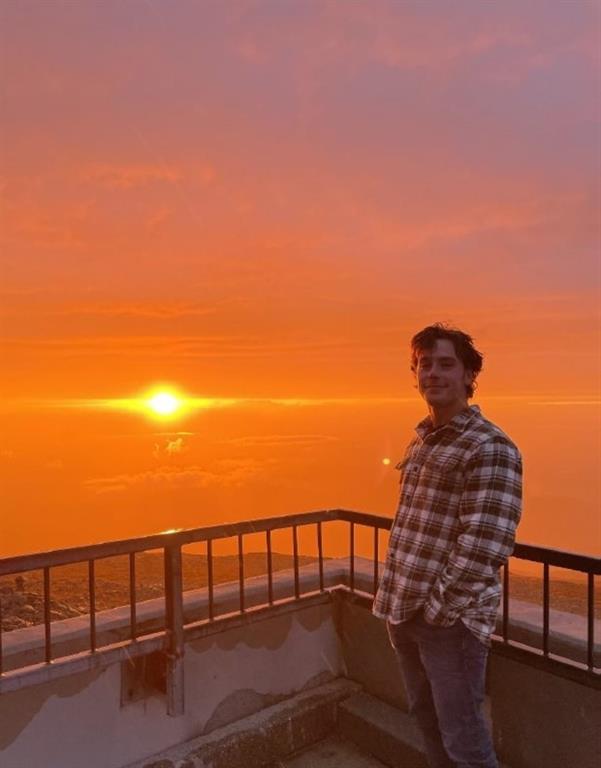 Thus far, this internship has featured some pretty remarkable moments. The picture above is from my second night here, and features the most beautiful sunset that I have ever seen. Incredibly, I'm told by the observers that it gets even better. This week, I have also had the privilege of experiencing battering winds, including a peak gust of the week at 93 mph. Throughout all of this, I have had the opportunity to shadow these observers as they show me how to record observations of the surrounding weather conditions, as well as being introduced to the beautiful complexity of creating forecasts. I would say that I am most excited to learn more about this process, considering that it involves a plethora of data to effectively predict the future. This first week has not been overly intense, as the observers are easing us in as we learn more about our roles here and acclimate to the new environment.
In the short time that I have been here, I am blown away by the space and people which I am getting to know. The opportunity to pursue my interest in one of the field's most interesting sites has been a dream already. I am looking forward to all that this internship has yet to teach and show me.
Sam Gawel, Summit Intern
Ellen Estabrook
Adjusting to Life on the Summit By Charlie Peachey Working on the summit of Mount Washington is not your average job. There aren't too many other places where the employees work and live together for
Ellen Estabrook
A Surprise Aurora By Francis Tarasiewicz After 17 months of working at New England's highest peak, it finally happened. On the night of November 12th, 2023, I was lucky enough to view the famous and
Ellen Estabrook
A Glimpse at METAR Reports By Alexis George, Weather Observer & Meteorologist METAR observations are submitted every hour of every day at Mount Washington Observatory. METAR is a format for reporting weather information that gets