My Name is Earl
2010-09-02 23:16:30.000 – Ryan Knapp,  Staff Meteorologist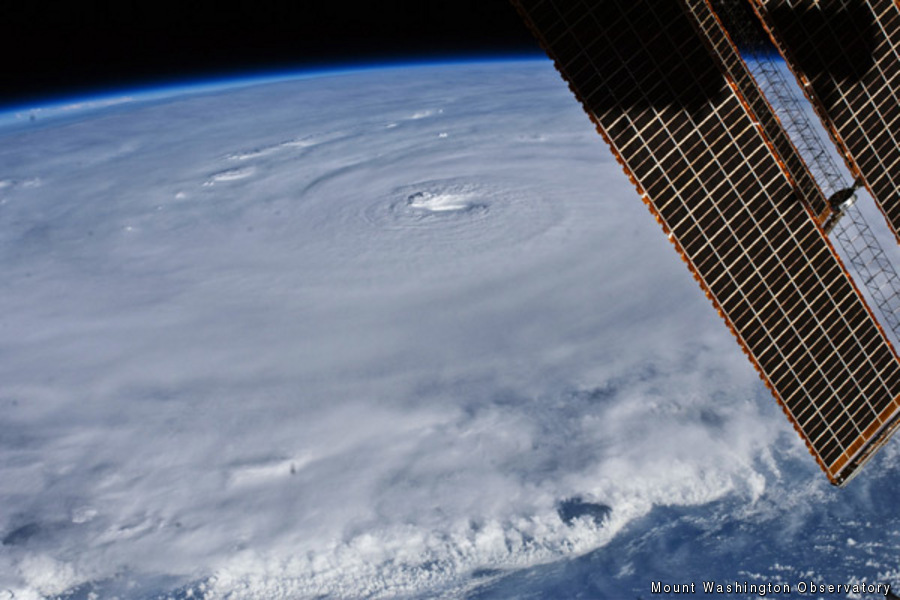 Birds eye view of Hurricane Earl.
I could talk about a lot of things this evening. I could talk about the heat and humidity of the past week. I could talk about the thick haze and poor air quality of the past two days. I could talk about the decrease in crowds on the summit now that schools are starting back up. I could go on and on but let's be realistic; there is really only one thing to really talk about that is on a lot of people's minds this evening: EARL. Earl isn't the name of a new observer or intern but the name of a potentially strong hurricane that is slamming into the eastern seaboard this evening and will be affecting New England within 24 hours. And with its approach coinciding with a holiday weekend, more than a couple people have been asking how it will affect the summits in the coming days. So here are three common questions I have been asked over the past few days:
"So you guys must be getting ready for some strong winds from Earl, huh?" Nope, not really. In fact, in its onset tomorrow into Friday night, winds on the summit are suppose to remain low (for summit standards) as they are only projected to be 40 mph or less. And with winds normally averaging 29.4 mph for September, 40 mph is about normal. As the hurricane departs and merges with a low to our north, it will deepen and winds will be a bit more noteworthy as they gradually increase and reach hurricane force strength Saturday afternoon into Sunday. During this time they will reach 80 mph or so which is a category 1 (74-95 mph) speed but for the summit of Mt Washington, these are nothing that any of us will be calling home about. In contrast, winds along the coast and in southern New Hampshire and southern New England will be very strong potentially seeing category 2 (96-110 mph) type winds in some locations (check your local weather to find out if you fall into this category).
"How come you're not boarding up your windows in preparation?" Well, again, winds will not be that strong up but here per say. But even on the backside of the storm when winds reach category 1 strength, the windows will be fine. The windows on the summit are very strong even with the storm windows out for the summer. Although winds can break windows from a pressure difference in some buildings during a hurricane, debris is the bigger threat to windows. But since we are above tree line and there isn't much loose debris up here to be blown about, the risk of losing a window during a hurricane or any other storm producing hurricane force winds in summer is low. In the winter however, the risk does rise a bit during a strong storm as rime and ice become debris or sorts. But during the winter, we have storm windows in place and unused buildings are boarded up. So the only danger comes to ourselves and some of our instruments if we aren't careful.
"Will you see any flooding out of this?" It's an honest question I was asked yesterday. Since we are on the summit of Mt Washington, it would have to be a biblical flood to put us under water or washing away. As for neighboring ravines and notches, there might be a bit of flooding or raised water. But even this seems unlikely given how low the rivers are currently. And most of the heavier rain is expected to remain more to our south and to our east. But hikers should be careful of flash flooding as the heavier cells move in Friday night into Saturday morning. And with all the rain, water crossings may become swollen. But the real danger of flooding during hurricanes is typically from tidal surges and heavy rains closer to the center of the storm which will be quite a distance from the summit. But southern areas should take precautions as far as flooding goes.
So, yes, the summit will see winds and the summit will see rain (and potentially some thunderstorms) out of Earl but overall, it is just another low for us with life and work proceeding as normal. For the south and along the coast however, it is not just another low and should not be taken as lightly. I am hoping that the front to our west moves in faster to push it a bit further out and spare any devastation it might produce for southern and coastal communities. But if you live in these communities or plan to vacation there this weekend, please be safe, monitor its progress, and prepare in advance for the storm. For the latest information about the storm tune to your local new source (radio, TV, or internet) and monitor information provided by the National Hurricane Center or your local National Weather Service office (for NH, you can check out NWS Gray, ME or NWS Taunton, MA).
Ryan Knapp,  Staff Meteorologist
Ellen Estabrook
Adjusting to Life on the Summit By Charlie Peachey Working on the summit of Mount Washington is not your average job. There aren't too many other places where the employees work and live together for
Ellen Estabrook
A Surprise Aurora By Francis Tarasiewicz After 17 months of working at New England's highest peak, it finally happened. On the night of November 12th, 2023, I was lucky enough to view the famous and
Ellen Estabrook
A Glimpse at METAR Reports By Alexis George, Weather Observer & Meteorologist METAR observations are submitted every hour of every day at Mount Washington Observatory. METAR is a format for reporting weather information that gets