Northern Presidentails Overnight
2008-09-25 16:47:00.000 – Brian Clark,  Observer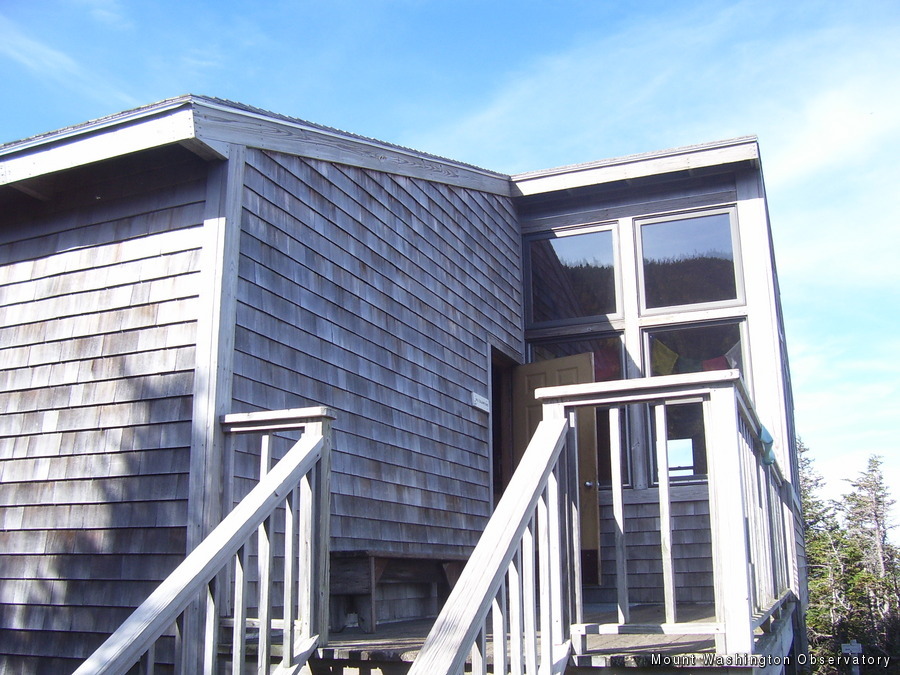 Crag Camp
Today's comment is not going to be about Mount Washington. However, it is going to be about "The Greater Mount Washington Area", if such a place even exists.
During the weekend of my shift off (September 20-21) I had the opportunity to go for an overnight trip on the northern slope of Mt. Adams in the Northern Presidentials. The idea actually came from well known former observer Jim Salge (often referred to by us as the Jim Salge). As many of you reading this may remember, he is an avid photographer and he wanted to come up to take some pictures of the emerging fall colors in the North Country. Other current Observatory staff, former staff, and a friend of Jim's joined the trip as well: Ryan, Cara Rudio (our new marketing and communications coordinator in the valley office), Natalie Martin (intern this past summer), and Jim's friend Brett rounded out the group of 6.
We began at the Appalachia trailhead, right along U.S. Route 2 west of Gorham, NH. Our destination: Crag Camp, one the Randolph Mountain Club's (RMC) shelters. Crag Camp is perched on the edge of King Ravine and is essentially a large cabin that sleeps 20 people. It operates year round on a first come first serve basis, meaning that the first 20 people to get there and claim a bunk get to stay there. Of course, there is a cost involved, but it is a very reasonable cost at $12 per night.
It was an absolutely gorgeous day. The wetness of this past summer definitely showed in how healthy the vegetation looks in the lower elevations. We also came across a few stream crossings with some small waterfalls. When we got within 0.8 miles of Crag Camp, we started on a different trail, named Spur Trail. Up until this point, the hiking had been fairly easy with a generally gradual ascent. That last 0.8 miles to the shelter proved to be much different. In fact, I think that we hiked up more vertical feet in that 0.8 mile stretch than we did in the previous 2+ miles. We were rewarded along the way with a nice view down into King Ravine just a couple tenths of a mile away from the shelter.
After arriving and dropping off some stuff in our bunks, Cara and I headed for the main summit of Mt. Adams, Jim and Ryan waited until closer to sunset to head above treeline (better time for taking pictures), and the other two opted to stay and relax in the surprisingly comfy confines of the shelter. The view from Adams was just as fantastic as I thought it would be. I always find it interesting to see terrain that I have become so familiar with from a different perspective. I thought the view of the Auto Road from Adams was particularly interesting.
After a restful and surprisingly warm night at Crag Camp, we awoke to the fog that is so typical of these mountains. Despite the change in weather, the group still had a pleasant hike back down to our cars and overall, my first overnight in the Northern Presidentials was a fantastic one!
Some additional photos:
Looking northeast over the city of Berlin
Mt. John Quincy Adams (foreground), Mt. Madison (background)
Crag Camp as viewed from above treeline
Brian Clark,  Observer
Ellen Estabrook
Adjusting to Life on the Summit By Charlie Peachey Working on the summit of Mount Washington is not your average job. There aren't too many other places where the employees work and live together for
Ellen Estabrook
A Surprise Aurora By Francis Tarasiewicz After 17 months of working at New England's highest peak, it finally happened. On the night of November 12th, 2023, I was lucky enough to view the famous and
Ellen Estabrook
A Glimpse at METAR Reports By Alexis George, Weather Observer & Meteorologist METAR observations are submitted every hour of every day at Mount Washington Observatory. METAR is a format for reporting weather information that gets