NULL
2010-08-13 16:17:28.000 – Jennifer Finn,  Summit Intern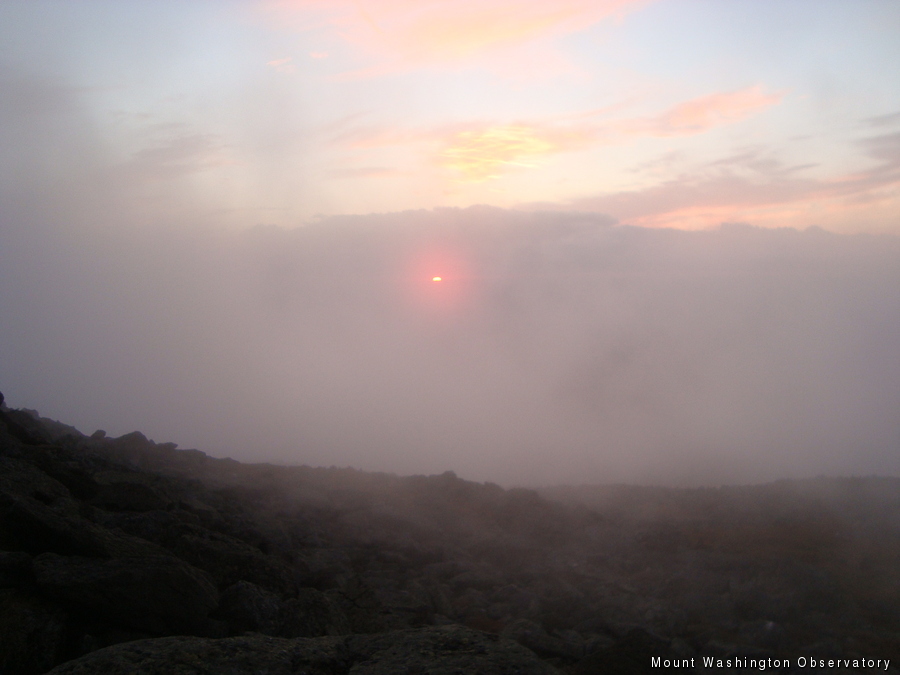 Sunset on the mountain
Fist off, let me introduce myself. My name is Jen and I'm one of the fall interns that will be up on the Rockpile until December. Today marks the third day that I have been on the mountain, starting my fall internship. As a recent college graduate with a B.S in Meteorology looking for a 'real job' in the economy we all know is rough, I knew that my best bet was going to be an internship and I knew exactly where I wanted to do it. I visited the mountain for the first time about two years ago, and never imagined that I would be sitting here today writing my first comment on the website. Actually, I didn't even know there was a website. But I fell in love with the mountain that day, and as I learn more and more about how everything works up here, I love it more every day.
The past two days have gone by fast. There is always something to do up here, and you really have to be a jack of all trades from what I've gathered while shadowing Kristin and Stacey. I had my first experience working retail in the gift shop, made best friends with the pricing gun that I know I'll be seeing a lot of, and personalized the computer where I will spend time organizing amazing photos taken at the summit and doing data entry. Going through old data and seeing the kind of weather that occurs up here in its rawest form is amazing, and it's making me more and more excited for the winter months ahead. I've learned how to take and record weather observations with Stacey, give tours with Kristin, and a plethora of other daily tasks. We had a beautiful sunset last night that we watched through the clouds with the Summit Adventure that was up for the night.
The weather so far has been pretty nice, aside from the usual fog. Winds have been fairly light and temperatures pretty moderate since there is a high pressure system over Canada keeping the storms and anything else at bay. The best thing so far was the Perseids Meteor Showers that occurred last night and the night before that Mike talked about in a previous comment. They keep telling me I'm spoiled because it's been crystal clear for a good amount of time the past two nights, allowing us to see some meteors and the Milky Way clear as day. Living near Boston, I never get a chance to really see the stars over all the light pollution so being able to see everything up here is spectacular. Even though I'm a city girl, I'm thrilled to be working on the mountain for the next few months and am looking forward to experiencing the world's worst weather…once it comes.
Jennifer Finn,  Summit Intern
Ellen Estabrook
Adjusting to Life on the Summit By Charlie Peachey Working on the summit of Mount Washington is not your average job. There aren't too many other places where the employees work and live together for
Ellen Estabrook
A Surprise Aurora By Francis Tarasiewicz After 17 months of working at New England's highest peak, it finally happened. On the night of November 12th, 2023, I was lucky enough to view the famous and
Ellen Estabrook
A Glimpse at METAR Reports By Alexis George, Weather Observer & Meteorologist METAR observations are submitted every hour of every day at Mount Washington Observatory. METAR is a format for reporting weather information that gets