NULL
2010-07-30 16:45:54.000 – Kristin Raisanen,  Summit Intern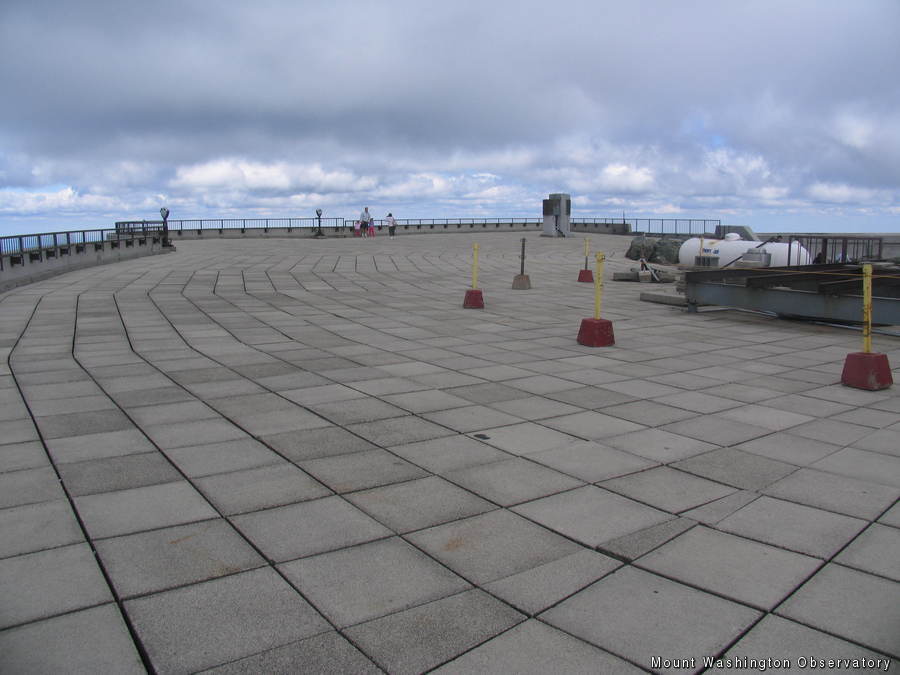 Visitors braving the cold
It's been a fairly warm July up here on the summit. There have been 23 days since the beginning of July that were above normal. All the warm weather for the past month has made our recent shift to cooler temperatures a bit more surprising and more difficult to adjust to. A cold front passed through our region yesterday, bringing with it cooler temperatures and stronger winds. Since the passage of the front, our temperatures have dropped into the 30's and lower 40's.
This is definitely not cold, especially for Mount Washington, but it is definitely a rude awakening from the mid and upper 50's we were experiencing a week ago. It's also very surprising to a lot of people who come up the auto road and cog from the valley and it's in the 70's and 80's down there. This afternoon the fog cleared, and typically there would be lots of people on the observation deck taking in the views. For a while this afternoon, these masses of people were replaced by just a few brave souls who ventured out onto the deck for a quick picture before retreating into the Sherman Adams building.
I am not immune to the cold either. I have wanted to put on mittens for most of the day to warm up my hands, but I know from experience that doing computer work with mittens on is very difficult. Luckily, the cold spell won't be lasting much longer. Temperatures are supposed to be back above normal by Sunday. So it will be just one more day of cooler temperatures before it warms up, for now at least.
Kristin Raisanen,  Summit Intern
Ellen Estabrook
Adjusting to Life on the Summit By Charlie Peachey Working on the summit of Mount Washington is not your average job. There aren't too many other places where the employees work and live together for
Ellen Estabrook
A Surprise Aurora By Francis Tarasiewicz After 17 months of working at New England's highest peak, it finally happened. On the night of November 12th, 2023, I was lucky enough to view the famous and
Ellen Estabrook
A Glimpse at METAR Reports By Alexis George, Weather Observer & Meteorologist METAR observations are submitted every hour of every day at Mount Washington Observatory. METAR is a format for reporting weather information that gets