NULL
2010-06-06 17:17:55.000 – Kristin Raisanen,  Summit Intern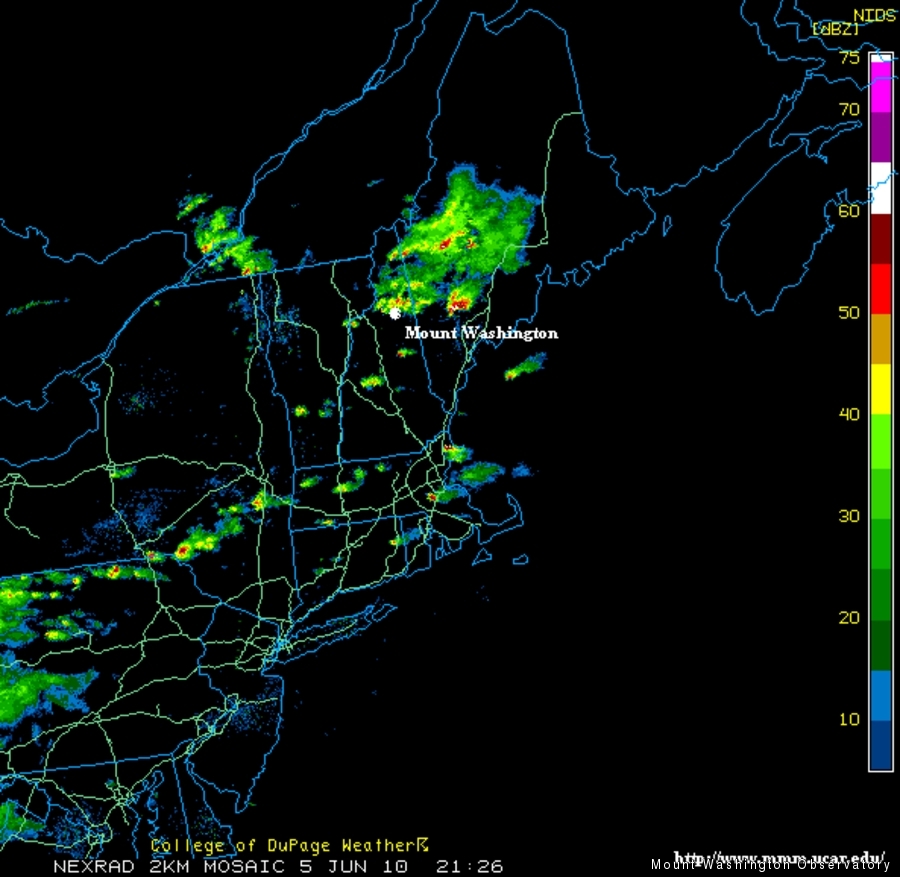 Radar image of storms over Northeast on 6/5/2010
As a lover of severe weather, I heard the three words I had been waiting for on Friday afternoon, 'Thunderstorms possible tomorrow.' Thunderstorms had hit my hometown on Thursday afternoon, but I missed the storm because I was here on the summit. With thunderstorms forecasted for Saturday, I knew I wasn't going to miss out on the fun this week!!
Yesterday, with severe weather looming, Sabrina and I headed down to the museum shop to help out and give everyone their lunch breaks. Upon returning, the summit museum attendant asked if we were aware of the tornado watches for our area. Being from NH, I know we don't have tornado watches very often, and here they were over the entire state. Very exciting if you like severe storms!!
We watched on the radar as the storms strengthen and went to our north and south leaving fallen trees and hail in their wake. However, we could not see any of these out our windows since we were in the fog. There was hope that it would come closer with every update of the storm trajectories, but they just seemed to be getting further away. Then it was our turn, a storm had popped up to our west and was heading our way! Excitement built as I returned to the museum shop to help with the daily cleaning. When we returned to the weather room, the storm had weakened, and we were only getting rain. Disappointment set in. How could there have been so many good storms yesterday and we weren't hit by any of them? Very frustrating!
So now, with most of the storms today traveling to the south and only a slight chance of seeing severe storms, I'm looking forward to tomorrow night, when I am hoping to see some below freezing temperatures and hurricane force winds. That should be sufficient for this week.
Kristin Raisanen,  Summit Intern
Ellen Estabrook
Adjusting to Life on the Summit By Charlie Peachey Working on the summit of Mount Washington is not your average job. There aren't too many other places where the employees work and live together for
Ellen Estabrook
A Surprise Aurora By Francis Tarasiewicz After 17 months of working at New England's highest peak, it finally happened. On the night of November 12th, 2023, I was lucky enough to view the famous and
Ellen Estabrook
A Glimpse at METAR Reports By Alexis George, Weather Observer & Meteorologist METAR observations are submitted every hour of every day at Mount Washington Observatory. METAR is a format for reporting weather information that gets