NULL
2006-10-17 16:43:46.000 – Steve Walsh,  Summit Volunteer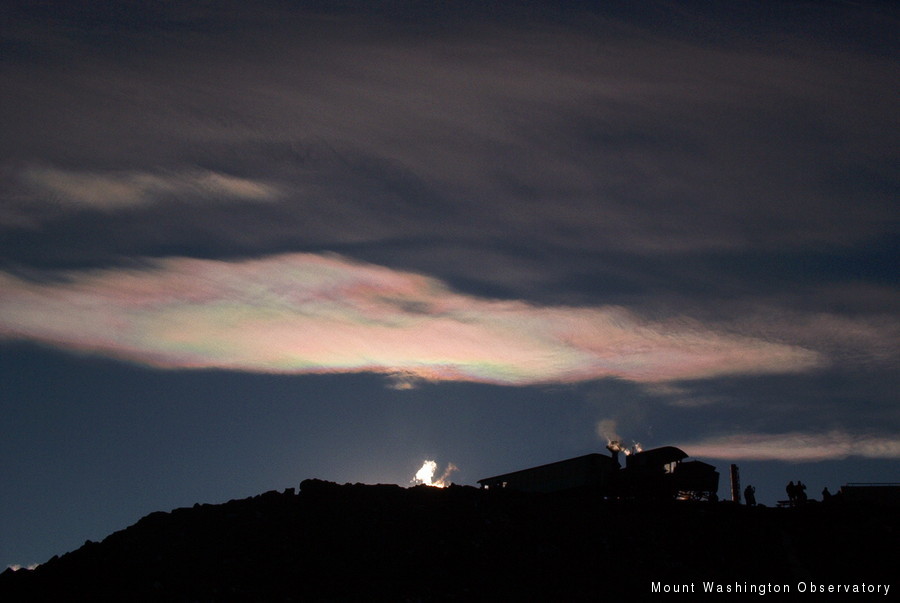 Cog and clouds
Being a Mount Washington Observatory volunteer is not your typical week's vacation as say, going to the Caribbean. I packed enough for three seasons; late summer, fall and winter. When I arrived at the base, I was in 60 degree weather followed by a few days later on Saturday night the temperature bottomed at 15.5 degrees with a wind-chill of -5. In my week here, I have taken 2 hikes, seen snow and rime ice and winds approaching 70 mph.
The photographic opportunities have been awesome. I will have hundreds of pictures to weed through when I get home, along with video of the extremes in which this place shares with us.
I have been very impressed with the way the people here accomplish their jobs. They are taking obs every hour, writing reports, giving live radio interviews and conducting public tours. This is where the volunteers step in. We make sure the staff gets fed well and we act as an extra pair of hands to get some of the odd tasks done, such as putting on storm windows, snow shoveling, and most importantly, supply fresh conversation on a number of topics.
This experience has been educational, exciting, breathtaking, unique and most of all memorable. I would recommend this to anyone reading this web site. People that do not visit the summit would not truly understand this place or the people up here living and working at 6288 feet. If you are not a member, become one. Then fill out an application to volunteer on the summit, you will be happy you did.
Steve Walsh,  Summit Volunteer
Ellen Estabrook
Adjusting to Life on the Summit By Charlie Peachey Working on the summit of Mount Washington is not your average job. There aren't too many other places where the employees work and live together for
Ellen Estabrook
A Surprise Aurora By Francis Tarasiewicz After 17 months of working at New England's highest peak, it finally happened. On the night of November 12th, 2023, I was lucky enough to view the famous and
Ellen Estabrook
A Glimpse at METAR Reports By Alexis George, Weather Observer & Meteorologist METAR observations are submitted every hour of every day at Mount Washington Observatory. METAR is a format for reporting weather information that gets